Why the love scene between Tamannah and Prabhas in Baahubali is not 'Rape'
This scene in Baahubali didn't seem particularly thought-provoking at first, but has generated a lot of conversation of late.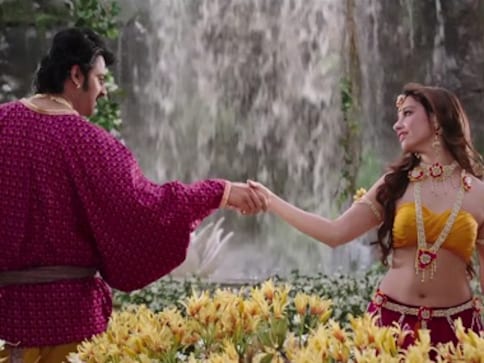 There's a scene in SS Rajamouli's Baahubali that didn't seem particularly thought-provoking at first glance, but has generated a lot of conversation of late. Shiva (Prabhas) chances upon a mask and gazing at its features, he imagines the mask fits the face of a beautiful woman. The vision is compelling enough for him to make an arduous journey up a waterfall and a mountain. When he finally finds his dream girl in flesh and blood, she's a much plainer version. Reality bites, even in the world of epic fantasies.
Let's look at Avanthika's (Tamannaah Bhatia) version of these events. Part of a guerrilla outfit, Avantika spends her days fighting, spying and (supposedly) ignoring details like her wardrobe and hairstyle. When Avanthika first encounters Shiva, she becomes aware that she isn't just a warrior, but a woman who finds an equal and opposite side to her self – one that can't help but be struck by the prettiness of the tattoo that Shiva painted on her hand while she was asleep. Does he tattoo her to mark her as his own? Perhaps. Is it his attempt at beautifying (and therefore, feminizing) her with sringaar? Absolutely.
Avanthika's reaction – despite the prettiness of the tattoo – is anger. Her world and her sense of self are being unsettled, and she resists the change. But resistance doesn't mean she wipes off the painted design. Neither is she outraged enough by her lurking makeover-inclined admirer to cut Shiva down to size when she finally meets him. Not just that, she lets him strip her and apply eco-friendly make-up, which includes everything from crushed berries to a dash of Shiva's own blood. No pain, no gain, to quote an old adage.
While Shiva is wreaking this transformation upon Avanthika, her reactions are limited to parted lips and widened eyes that suggest she's furious. It's this expression that's led to a debate about precisely what's going on in this scene. Is this courtship ritual a disguised rape scene?
A couple of weeks ago, this Hindu Business Line article, titled 'The Rape of Avanthika', went viral. The writer Anna Vetticad and those subsequently discussing the article pointed out there is no consent from Avanthika and therefore, she was raped by Shiva. And there we were, lapping it up as romance.
The idea of "rape-y" lovers isn't new to popular Indian cinema, both in Bollywood and its southern counterparts. But does this scene from Baahubali deserve the rape tag? Is Avanthika served by this interpretation or reduced by it? Because lest we forget, she is no damsel in distress.
Avanthika is a hardened warrior; one who killed ten-odd soldiers on her own, with just a sword and her own brute strength; one who is considered good enough to take on an important (even if it is suicidal) mission by her leader. If the woman who is that skillful with a sword and as physically agile as Avanthika is in her introductory scene wanted to make Shiva stop, what are the chances that she wouldn't be able to do so? Yes, she glares at Shiva, but she doesn't lift even a pinkie to resist him even though a warrior as skilled as her would probably have enough moves to counter his brute strength. To assume Avanthika is incapable of resisting Shiva – despite proof to the contrary in her introductory scene where she cuts a swathe across a contingent of soldiers – is about as sexist as Shiva thinking he needs to teach her about lipstick and eyeliner.
Of course it's chauvinistic to say a woman needs to be feminine, that she needs a man to discover her 'inner beauty', that a man marking her as his is her ultimate sringaar. There's a very strong case to be made about how we sexualize and the beauty standards we set for female heroines and women in general, through cinema. But is this rape?
Conversations about sexual consent need to happen in India and it's great that writers like Vetticad discuss these issues. However, with the surging interest in women's rights and violence against women since the infamous Delhi rape case, words like rape have also become something of click bait. It's a term that attracts attention, and encourages anger and outrage among many today. This is a good thing. It's certainly better than associating rape with shame and silence, as it has traditionally. But let's not use the word rape casually.
Rape is a crime in which one person forces another to commit or submit to sexual acts without consent on the victim/ survivor's part. Even if you think the swashbuckling Avanthika is incapable of resisting Shiva physically, the scene in which she's stripped and re-dressed is not a sexual act. That comes afterwards – during the song sequence when a thoroughly willing Avanthika rolls in the grass with Shiva. In the offending scene, Shiva is seen leaping around, dressing Avanthika and doing her make-up in a frenzy. That's more like being backstage at a runway show than in a romance.
What is happening is between Shiva and Avanthika in that scene is a sexual game. The politics may be dodgy, but it is unmistakably playful. It's the little back-and-forth that characterizes flirtations and romances in real life – when you're not sure about someone, but don't want to walk away just yet; when you send flirtatious text messages without thinking about political correctness. Shiva and Avantika's little session was like that. Yes, it's a battle of power, and yes, it shows the mindset of our macho heroes, who can only win by distracting their woman opponent by arousing them. But let's not be such slaves of sensationalism and call this scene a rape.
Why are we ruling out the fact that while Avantika may be angry at this stranger who leaves his mark on her body, but it doesn't mean she doesn't like him or isn't intrigued by him? What is wrong with his desire for her making Avanthika see herself in a different light? Isn't that what happens to us when we fall in love in real life? Why must we discount the idea that Avanthika likes a man who can match her strength both physically and in terms of will? Why is the first assumption that women can be and are overpowered?
There are some people who can and do boldly state their consent. There are those who enjoy being more coy about it. Everything can't be reduced to "yes, let's have sex" or a "no means no". There's a middle ground between those two extremes, a space where we negotiate and evaluate, where we check each other out. That's the world most of us operate in, and it's where Avanthika and Shiva's relationship in Baahubali sits.
The scene between Avanthika and Shiva ends with two flowers bobbing at each other, the age-old code for consensual sex in Indian cinema. At best, he's bringing out her femininity – infuriating as that idea might be – and that may be called foreplay. At its worst, the scene depicts what happens to those who are in denial about their sexuality: they "fall in love" in five minutes with the first stranger that crosses their paths and are at it like bunnies in no time. While that really isn't sensible or advisable, neither is it rape.
Sports
According to the National Crime Record Bureau's data on the no. of rape cases reported throughout the last eight years, the heinous crime against women has come down to 31,677 cases in 2021 from 36,735 cases in 2014
India
The 13-year-old lived with her mother, who worked as domestic help, and four brothers. Her father had died during the COVID-19 pandemic
India
Police investigations revealed the convict had kidnapped his landlord's 14-year-old daughter in December 2021 and took the girl to Delhi, where he raped her at a hotel. He then took her to Lucknow, Haridwar, Chandigarh and Shimla