At NH7 Weekender this year, fans are clear who they're attending for: Steven Wilson
The biggest draw at NH7 Weekender is Steven Wilson, the former Porcupine Tree frontman, without a doubt. No one in the current lineup commands the same kind of fandom he does.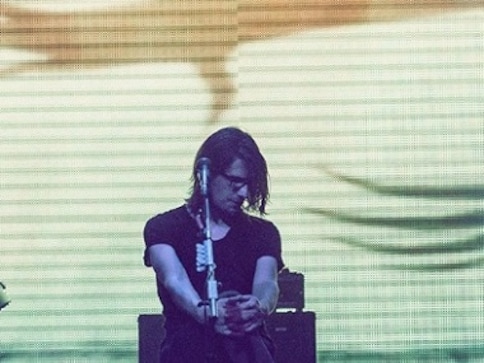 What are you looking forward to at this year's NH7 Weekender in Pune?
I asked this question to several people — across age groups, professions, gender — and a majority of those people replied in two words, or rather variations of the same two words — Steven Wilson.
Wilson, best known the frontman of progressive rock band Porcupine Tree, is sort of a cult figure among music lovers. Many young rock fans have found their feet in the genre with Lazarus or have been addicted to Trains as youngsters. Wilson's melancholic melody has gained hundreds of fans in the country for being just just that — music so deep, it borders on brooding and has resonated with almost everyone who hears it.
With the surge of fans thronging to witness Wilson's performance at this year's NH7 — Shillong in October and in Pune this weekend – it is evident that the festival is living up to its tagline of being 'The Happiest Music Festival'.
For all the questions on the soul of the festival, criticism of the lineups and sometimes lukewarm response in the recent past, the enthusiasm among fans this time is palpable. As one poster at the Shillong edition said — 'You are our God, Wilson'.
"I booked my tickets soon as it was announced that Steven Wilson was coming. I am a huge Porcupine Tree fan and I was ready to do anything to be there to watch Wilson perform, especially so close to home," says Candice D'souza from Mumbai. Sanjana Pai, a 22-year-old student, echoes the sentiment. "I am looking forward to Steven Wilson perform."
For many, this is their first time at the Weekender, a festival that many refer to as pretentious or mainstream. But the presence of Wilson has drawn new fans.
"Yes, this is my first time at NH7 Weekender. I've heard it's a hipster festival and normally wouldn't bother going. But it's Steven Wilson. If SW comes, you go. Anywhere," insists Siddharth Parwatay, the Managing Editor of Digit magazine.
Of course, there are a bunch of other artists who are going to be part of the music extravaganza, and many of them enjoy a strong fan following as well. Performers such as Nucleya, Jose Gonzalez, DJ Premier, Shankar Mahadevan, Anoushka Shankar to name a few, have considerable repute, and cater to a different kinds of music fans, all brought together under one (open) roof.
But the biggest draw is the former Porcupine Tree frontman, without a doubt. No one in the current lineup commands the same kind of fandom he does among the music aficionados in the city.
Sambhav Dafu, a 30-year-old Assistant Director says, "I have been an ardent fan of Porcupine Tree over the years and in effect, a Steven Wilson fan as well. I have been wanting to attend his concert for close to six to seven years now. He's the only reason I am attending the NH7 Weekender."
This is not to say that Wilson is the only draw at the festival. Nivedita Nair, a 19-year-old student from Pune, believes the Weekender is "something every student in Pune must do." "It will be interesting to be introduced to new music, I am looking forward to performances by Kenny Sebastian, Papon and Anoushka Shankar," adds Ananya Lokare, a second year student at SSLA.
Of course the big names have always been there, headlining the Weekender since it began in 2010. Some of the more popular artists to make an appearance have been Mark Ronson, Mogwai, AR Rahman, Indian Ocean, Imogen Heap, The Vaccines, Megadeth, SBTRKT, Chase & Status, Bombay Bicycle Club, MUTEMATH, Karnivool among others.
But it feels different this time around. Very few of these artists have been as big crowd pullers as Steven Wilson.
"When you decide to attend any music festival or even choose an NH7 venue, you look at the headlining artists or the lineups. But this time, there was no need for it, Steven Wilson, the one name was enough," says Sneha Bendre who attended the NH7 in Shillong back in October. "It was cold, it was the last half of the second day, people were exhausted, but none of that mattered when Wilson came on stage and began his set – it was like the crowd had just woken up fresh, that was intoxication right there," she recounts.
There are several reasons for this unprecedented response to Steven Wilson. Apart from the legacy that he has with Porcupine Tree, his presence at NH7 is like a breath of fresh air. Rock, or the lack of it at the festival, has been a constant grouse of many music fans. But with the prog rock icon headlining the event, it has opened the doors to the more niche, critical fan, part of the the cult fandom that Wilson enjoys.
Of course, this is not Wilson's first time in India. He has performed before in the country, back in 2009 with his band Porcupine Tree at the Mood Indigo festival of Indian Institute of Technology - Bombay. In fact, in an interview with Rolling Stone India back in February this year, he spoke about how he was looking forward to visiting here:
I'm always asking my manager and my agent "When am I going to India, when am I going to India?" and they're trying, believe me, they're trying. But the problem is my show is quite elaborate—I have screens, I have quadraphonic sound, I have films… That's been the problem, I think. It's been an expensive show to bring, and I think some of the promoters in India have been concerned about the cost of bringing my show. And I understand that. But listen, I'm still very optimistic, I'm almost positive it must be this year, it's got to be!
Seems like the feeling is mutual.
also read
Entertainment
From melodic instrumental music to a punk song that will compete against the rains lashing your windows, The Firstpost Playlist is back with a mix of songs.
Entertainment
Swedish progressive metal band Opeth is back in India for their third performance here, close on the heels of the release of their album In Cauda Venenum
Entertainment
Even topline music festivals and now, club venues are beginning to trust progressive rock as the most dependable subgenre of rock and metal.