Why Ranveer Singh and Kangana Ranaut are true representatives of the ever-evolving Hindi film industry of today
In an era where content and talent is being given precedence over stars and big names, Ranveer Singh and Kangana Ranaut are two actors who are the embodiment of an industry that is trying — and slowly succeeding, with baby steps — to be a content/talent-driven industry.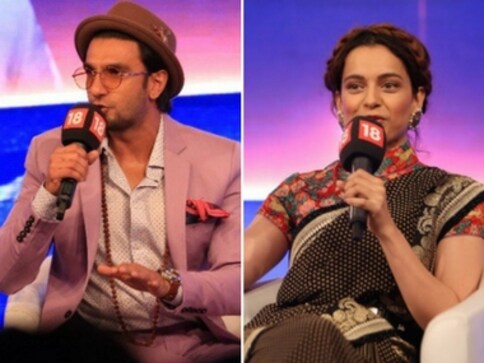 "I am fine being called a witch." It takes gumption for a Hindi film heroine to say this on a highly visible, celebrated media forum. Kangana Ranaut displayed signature chutzpah and gumption at the News18 Rising India Summit, where she represented Hindi cinema as it stands today along with Ranveer Singh.
Once a livewire who would speak his heart out, Singh revealed temperance but a clear, steady mind that has strong opinions of his own. Drawing from his experience in cinema, he quipped, "I made my own luck."
Singh and Ranaut don't look or behave like matinee idols as Hindi cinema has celebrated for a century. They have blazed their paths with hard work, steadiness and sheer talent. In their conversations at this summit, they proved that their outsider status and stratospheric success are what make them role models.
Both consummate non-filmy people, Ranaut and Singh are now comfortable presenting themselves with a 'take it or leave it' undercurrent — this is who I am, like it or leave it. Surprisingly, in an industry where clans, families and boys clubs hold power and purse strings, that they have been loved and admired, indicates a definite evolution — of who can or can't become a hero or heroine. It's the audience that is driving this change by accepting their films. And the system has had to follow suit.
Singh made his debut in Band Baaja Baraat after Ranbir Kapoor refused the film, making impact as a typical Delhi type boy when he has lived all his life in the tony Bandra- Khar Mumbai suburb. His versatility and range as a performer stands validated by the fact that any role that requires a strong, solid performance, now comes to him first. Khilji in Padmaavat remains a milestone, and there is still the rapper in Gully Boy, the colorful cop in Simmba and cricket captain Kapil Dev in 83 to come.
That Singh has carved out his space as the superstar of this generation also emerges from his artful navigation of touchy topics. He didn't criticize the government directly on it's handling of Padmaavat related protests, but mentioned being enraged at the near fascism on display. He didn't confirm his relationship with Deepika Padukone, calling her a blessing. He moved focus to his achievements, all the more relevant because it didn't inspire tremendous faith even in his mentor Aditya Chopra. Chopra had advised him to work doubly hard to make audiences like him, stating that he is "not conventionally good looking."
Singh has beat the hero looks cliché to style himself as this jazzy, experimental dandy who can look good in almost anything. Singh spoke about struggling for three years with a portfolio under his arm and auditions to get a break. Unapologetic about his success — a smart balance between commitment to good cinema and a walk on the wild side — Singh represents the new approach that young people in India tend to take. Risk it all to live a dream. As he has consistently expressed his desire to challenge himself as an actor, challenging films with mainstream budgets are being written around him. Each time he succeeds in such a role, the Hindi film benefits.
Interestingly, Ranaut, a very different person from Singh in many ways, is also similar to the actor in her career choices and commitment to redefining the heroine in Hindi cinema.
But first, one must take note of the polar opposite that her conversation at this forum was. Ranaut continues to stoke controversy and speak her mind without a filter. Not one to defend her obsession with finding love, she explained that if anyone considers her love psycho, she is fine with it. Being called a witch is okay. She spoke in favor of a ban on Pakistani artistes in Indian cinema, and reiterated that her nepotism critique of Karan Johar brought the issue to center stage. She also joked about the many men that have dumped her.
Ranaut's frankness often leaves one discomfited. But that's her charm. She does not pander to conventions and propriety, all this while, doing better work onscreen. Despite a promising debut with Gangster, Ranaut has lost many years to random multi starrers and non-starrers. It has taken a Queen for her latent acting talent to shine through; and ever since, despite delivering duds like Rangoon, Simran etc, Ranaut's performances have gained praise and brought her fans. Now with Manikarnika: The Queen of Jhansi, her expensive home production, she takes a big risk; and then surprises with Mental Hai Kya. She remains unpredictable and therefore, fresh. That she won't be diplomatic endears her more to audiences and the youth.
Between the two of them, Singh and Ranaut have delivered memorable performances and something more valuable — the promise that talent and determination can make a sizeable difference to Hindi cinema. Their willingness to challenge themselves as actors is because they don't carry the burden of legacies and lineages. They've got nothing to prove to anyone. And as their current confidence establishes, their films will continue to bend rules and make way for the new in an industry that is creaking under the burden of outmoded thinking for some time.
Singh and Ranaut are true representatives of the ever-evolving Hindi film industry of today. Both come from humble backgrounds, both are known more for their talent first and later, star quality. In an era where content and talent is being given precedence over stars and big names, here are two actors who are the embodiment of an industry that is trying — and slowly succeeding, with baby steps — to be a content/talent-driven industry.
Entertainment
The 10-episode series will see 21 prospective suitors competing for the love of 3 women.
Entertainment
Ranveer, who got his debut in YRF's hit Band Baaja Baaraat that turned him into a star overnight, says, "I wanted to be an actor since as far back as I can really remember."
Entertainment
In an exclusive interview with Firstpost, Jim Sarbh talks about season two of Rocket Boys, playing characters that have actually existed way too often (Sanju, Neerja, Padmaavat), and what if he met Homi J. Bhabha.