Why I admire Kangana Ranaut: She's an example of new Indian womanhood
I am a fan of Kangana Ranaut — a zealous, devoted fan at that. But for what she stands for in her person rather than what she enacts on screen.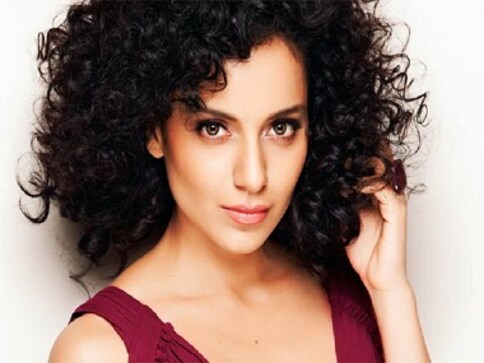 Is Kangana Ranaut a great actress? Must be I suppose.
She is a three times National Award winner after all and she is not even 30 as yet. But I wouldn't know. Fed on a diet of Satyajit Ray and Rittwik Ghatak from our childhood we were taught to sneer at Bollywood very early on. And Kangana Ranaut's mega box-office triumphs with such cringe-worthy names as Tanu Weds Manu are, from all accounts, brazen money-making missions achieving their goal hand over fist.
Yet, I am her fan, a zealous, devoted fan at that. For what she stands for in her person rather than what she enacts on screen. As was revealed in her spell-binding double act on television on 3 May, the day she was awarded her third National Award. I was glued to the idiot box all through, enthralled till the very last minute of her two interviews on two channels. She looked stunning of course and being the actress she is, making her presence felt must be second nature to her. But it was what she said that was so exhilarating, so electrifying.
Admittedly, told not very well. Without scripted lines, her words didn't quite flow, without someone hollering "cut" she didn't know when to stop. She kept repeating herself, going on and on saying the same thing in the same words over and over again. Yet, nothing could detract from the substance of what she said, so prettily, with such ease and with such quiet confidence.
To be able to declare so openly, knowing that the interviews were being beamed straight into people's living rooms and bedrooms across the country, that there is "Nothing gross about our period blood, Why do we need to tell women that period blood is gross?"; to talk so freely about "bodily fluids" of men and women; to admit publicly about being "sexually active" without a hair or hide of a husband in sight; to be so unapologetic about her many flings ("It's very hard for me to find any sort of shame or blame in my life); to dismiss the name-calling she's been subjected to ('whore' and 'witch' being the more innocent ones) as "very old-fashioned, it won't work" — who was this woman, Kangana or Madonna?
Precisely. If it was Madonna and Shakira in the West some years ago, it is Kangana and Sunny Leone in India in 2016. Sunny Leone, who burst onto our consciousness at the beginning of this year, refusing to beg mercy for her stint as a "porn star", maintaining her poise and dignity despite the interviewer's desperate efforts to name and shame her. Together they are busy breaking moulds, shattering images, sending out of court the cherished fantasy that the "ideal bharatiya nari" is one who values her chastity belt more than her life. A proud Sunny Leone not only acts in a film named One Night Stand but also unabashedly admits to such one-nighters during her days as a single woman.
What's your favourite beverage? an interviewer had once asked Kangana. "Coffee!" she had promptly replied. "I can drink it any time. And red wine. Over the years, I have bought a whole load of fine red wines from Paris." Even a few years ago, our most successful heroines would romp about half-naked on screen but when it came to their off-screen personas they wouldn't be caught dead in any such attire or with a drink in their hands or a cigarette dangling from their fingers. Kangana received her third National Award from President Pranab Mukherjee on Tuesday dressed not in the regulation Kanjeevaram but in an off-shoulder dress, very Western but very Indian too.
Evidently a new Indian womanhood is being scripted and Kangana and Sunny are the prime but not the only examples of this phenomenon. Just look at the enormous outpouring of support for both these women on the social media where the new India lives and plays. It is clear as daylight: More and more urban Indian woman are refusing to subscribe to the belief that you can't be a true Indian woman unless you live by certain age-old norms. The sexual revolution is here to stay and for women too.
Ironically, the women are racing ahead but Indian men are unable to keep pace. In the Kangana-Hrittik Roshan kerfuffle it is Roshan who has gone out of his way to project a sati-saddhvi holier-than- thou image, not Kangana. As for one of her other exes, Adhyayan Suman, the mind boggles.Someone who by his own admission has studied in London and New York and got his dream car BMW7Series for one of this birthdays, turns to mummy's pundit-ji with his girlfriend woes.
"My mother was very worried," Suman told an interviewer, "and she called the family's Panditji to come home and meet me. The first thing he asked me was: 'Khana banati hai tumhare liye?' When I said yes, he said, 'Apna impure blood milati hai khaane mein black magic ke liye'... The same Pandit later on came on Salman Khan's Dus Ka Dum also and he looked at Kangana in the middle of the show and said 'Aap pisachini hai.' She treated it as if it was a joke. It's there on national TV." In what century is he living in, I ask you.
Come on Indian men, grow up. Or be prepared to be left behind while women not only enter heretofore forbidden temples and mosques but dance on your foreheads too.
Entertainment
Saba Azad starrer Minimum also features Namit Das and Geetanjali Kulkarni in prominent roles. It is jointly produced by Platoon One Films and Ellanar Films.
Entertainment
The trailer of Bobby Deol starrer Aashram 3 has been dropped by the makers. Directed and produced by Prakash Jha, the film will stream on MX Player from 3rd June.
Entertainment
Sunny Leone is celebrating her 41st birthday today. The actress is known for her portrayal in films like Ragini MMS 2, Jism 2 and many others. She is married to Daniel Weber.