Why doesn't Bollywood find sleazy older men hitting on young girls creepy?
Sixteen opens with a lingering shot of a teenaged schoolgirl's bare legs as she walks down a school corridor; as it closes, we're made, uncomfortably, to wonder if we've been tricked into sharing the perspective of the creep.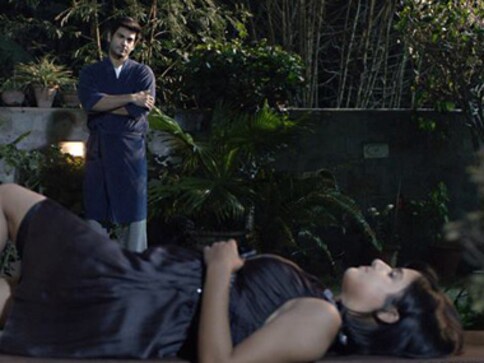 By Aishwarya Subramanian
When 32-year-old Vikram Kapoor comes to stay as a paying guest with 16-year-old Tanisha and her young aunt, he immediately shows a suspicious interest in the schoolgirl and her life. It is from this teenager and her friends that Raj Purohit's film Sixteen takes its name.
Sixteen follows the adventures of four teenagers at an elite Delhi school over a period of about six months. Ashwin is in love with his best friend and pressured to do well academically by a physically abusive father. Anu wants to be a model, but becomes the victim of a cruel prank. Nidhi is being pressured into sex by her boyfriend, but wants to wait until she's ready. At the centre of this little circle is Tanisha, who worries that she may be cursed to hurt all those around her.
Vikram is a writer from London (a fact backed up by a rather inexplicable accent); he has written one book and it hasn't exactly been a huge success. Writers often pop up in literature and film and they're always a little suspicious when they do. It's possible that the writer is just an innocent person trying to make a living, but more likely that the character has been slipped in to make a point about narrative. Writers can act as authorial stand-ins (or stand-ins for the scriptwriter or director); they can also remind the audience that what we're reading or watching is a story. Sometimes they are even revealed as authors of the story we've been watching.
This is true of Vikram in Sixteen. At the end of the film, we discover that Vikram has written a book titled Sixteen about the various trials and tribulations of being teenaged, and it's heavily implied that his research consists of the time he spent observing Tanisha and her friends.
Despite being a cluster of teen clichés and written in dubious prose, Vikram's book is shortlisted for the Booker Prize (which may sound similar to the Man Booker Prize whose longlist was released this week, but is actually a very different Bollywood animal. Previous recipients of this award include Baghban in the film with the same name, written by one Raj Malhotra who was played by Amitabh Bachchan).
Sixteen the film could have been a much worse cluster of teen clichés than it is. If the young actors are inexperienced and often awkward, their gaucheness may serve them well by seeming all the more convincingly teenaged. Mehak Manwani as Nidhi has the most convincing upper-middle-class Delhi schoolgirl accent imaginable. Highphill Matthew plays Ashwin and is convincingly brooding and tortured. And if Wamiqa Gabbi (as Tanisha) and Izabelle Leite (as Anu) are occasionally forced to say the most embarrassing of lines –Tanisha discoursing on Freud, for example – it's easy to look back and cringe at things one has said in one's own youth.
Yet the sense of boxes being checked off remains. Sixteen doesn't judge its characters for having and enjoying sex – but the first time one character does have sex, she ends up pregnant. There are sex-MMS scandals, vengeful exes, and parents who are either too liberal or too conservative for their children.
And there are crushes on older men. This isn't particularly odd; we've all done it. What is weird about Sixteen is that it chooses to show us the relationship between Vikram and Tanisha through Vikram's eyes rather than Tanisha's. Vikram's first sight of Tanisha is enough to make him choose to rent her aunt's extra room, and he frequently watches her from his window and eavesdrops upon her conversations – his interest in her definitely precedes hers in him, since she thinks of him as an "uncle" at first.
While watching Sixteen, I was baffled by how comfortable it seemed with the relationship between these two characters after the initially threatening vibe of an adult man spying on a teenaged girl. The film doesn't question for example (and even more confusingly nor do its teenaged characters), what Tanisha's aunt or her paying-guest would be doing at a party of teenagers, or why these adults should be willing to play truth or dare with the children, or why Vikram should be willing to perform a "sexy strip-tease" for the children when asked. Nor does it cringe at the appropriateness of Vikram and Tanisha's subsequent relationship. The film's scriptwriter and director are so comfortable with their romance that they have Tanisha tease Vikram about the age difference and ask if it makes him a paedophile. In a different film I'd think this had been done on purpose to unsettle the audience; here, since it's never addressed, I'm forced to wonder if it's just blithely unconscious.
But then there's that scene at the end where Vikram's book is feted during a television interview. We're forced to wonder to what extent Vikram faked his own feelings for Tanisha in order to gain material for his book. Which is more creepily exploitative – a love affair conducted in order to write a book that the writer hopes will be sensational enough to revive his career or a real romantic relationship between a 16-year-old girl and a man twice her age? We're also forced to reassess, now that Vikram appears to be the teller of this tale, to what extent the gaze of the camera is his, and to what extent that "creepy uncle gaze" informs the film's normalisation of some of his stranger actions.
Intent can be difficult to discern in a Bollywood where aging male actors continue to act opposite an ever-changing roster of much younger women. There's much to be said here about sexism in the industry; about the lack of substantial roles for women too old to be the early-twenties love interest and too young to be the hero's mother (Amitabh Bachchan is five years older than Rakhee, who starred opposite him in Kala Pathar. Some years later, she would play his mother). There are movies in which we see this age difference reversed – the difference is that when this happens (think of Dimple Kapadia in Dil Chahta Hai) it's usually treated by the film as extraordinary. But the older man-younger woman dynamic is taken for granted onscreen. Rab Ne Bana Di Jodi doesn't ask us to notice that Shah Rukh Khan is a good couple of decades older than Anushka Sharma, nor does Dabangg ask us to consider the age difference between Salman Khan and Sonakshi Sinha. Nishabd does ask us to notice the gap between sixty-something year old Amitabh Bachchan and nineteen year old Jiah Khan, but that's an extreme case.
At least all these women are adults. But audiences used to this sort of thing could certainly be forgiven for thinking that older men onscreen being interested in girls decades younger than them aren't doing anything particularly weird. It's considered romantic actually.
And sometimes the actresses aren't adults. Think of Sneha Ullal, who was 17 when Lucky: No Time For Love was released in 2005 (her co-star, Salman Khan, was 39). Then there's Sabrina, who played a teenager opposite a 75-year-old Dev Anand in 1998's Main Solah Baras Ki (women who sing about being sixteen seem to make particularly bad romantic choices). Given this context, how is one to decide when the creepy uncle gaze is cinematic technique, and when it's a default made comfortable by repeated use?
Sixteen opens with a lingering shot of a teenaged schoolgirl's bare legs as she walks down a school corridor; as it closes, we're made, uncomfortably, to wonder if we've been tricked into sharing the perspective of the creep.
Entertainment
The authoritarian fathers that we see in our film are not always likeable. But when played by actors of Anthony Hopkins, Mammootty and Paresh Rawal's stature they exude a lived-in scent.
Entertainment
Sujoy Ghosh has directed films like Kahaani, Jhankaar Beats and Badla. The ace director is known for setting the trend of multiplex movies and as well as short films by mainstream directors.
Entertainment
Cinema without heroism would impugn its own existence, but in the years of and after the Indira Gandhi led emergency, our formative understanding of heroism underwent the surgery of circumstance.