Shah Rukh Khan detained again at US airport. So?
What is amusing from the entire incident that Khan, a product of our deep-rooted VIP culture who was banned for five years from entering Mumbai's Wankhede Stadium for allegedly misbehaving with a security personnel, apparently believes that his 'celebrity' status gives him automatic immunity from secondary screening.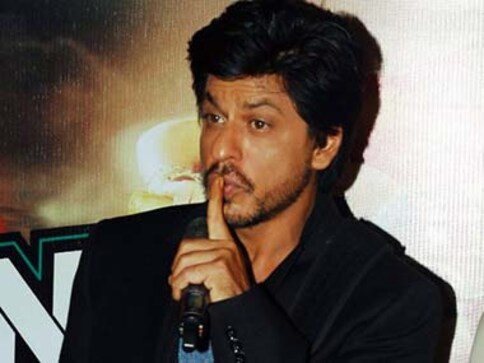 In an apparently earth-shattering move on Friday, US immigration officials (again) detained Shah Rukh Khan at a US airport for questioning. And outraged at the latest instance of ostensibly 'discriminatory' treatment, the Bollywood superstar tweeted his anguish, throwing an entire nation (or its media anyway) into the throes of collective outrage.
Shah Rukh's tweet refers to similar experiences of additional scrutiny, which he underwent while trying to cross America's borders.
In August 2009, the actor was stopped at the Newark airport and was released after two hours at the intervention of the Indian consulate. In 2012, he was again held up at New York airport for over two hours, prompting an angry response from India, which summoned a top American diplomat and also asked Nirupama Rao, its then ambassador in Washington, to take up the issue with the highest authorities. The matter then ended with US expressing 'profound apologies'.
In this case, though the US State department has not released any information yet on why the actor was detained on Friday at Los Angeles airport, it has been reported earlier how Shah Rukh Khan's name matches that of another individual, who has been blacklisted by the US. During the 2012 controversy, US officials reportedly told NDTV that during immigration checks, what pops up is a name without any other detail to help draw a distinction.
Be that as it may, here's the simple point Mr Khan.
The US, a sovereign nation governed by a set of rules and regulations, is perfectly within its rights to choose its own procedure while letting in visitors. It is for the US to decide on whom to allow, question or block in the interest of its security.
Khan would do well to remember that he always has the option of not flying to the country if he is uneasy or uncomfortable with security checks.
And for those outraging against Shah Rukh Khan's detention, the issue wasn't that an Indian was subjected to additional checks without any seeming justification (that would have been still understandable) but that a Bollywood superstar, no less, was made to undergo such an ordeal.
The point of outrage is not against the strict procedures adopted by the US, but the apparent 'humiliation' of an Indian VIP for whom the US should have rolled out the red carpet because Shah Rukh, by his act of flying into the US, was doing Washington a big favour.
The Twitter storm and outrage generated by what should have been a non-issue is the greatest example of how we Indians actively encourage VIP culture and hammer into celebrities and netas a delusion of self-importance. This results ultimately in them suffering from a deep sense of entitlement which gets reflected in their actions.
The outrage would have been legitimate had the Bollywood actor been holding a diplomatic passport as Meera Shankar did. The former Indian Ambassador to the US was in 2010 pulled from an airport security line and frisked by a security agent in Mississippi — even after her diplomatic status had been revealed. Or if Shah Rukh was a former Indian President like APJ Abdul Kalam, who was frisked at the New York airport in 2011. These were serious protocol breaches and the US has had to express "deep regret" in each case.
It is pertinent to remember that US is at the cross-hairs of global terrorism. Its homeland security rules were thoroughly revised after 9/11. Ironically, this was pointed out by Nirupama Rao, India's former foreign secretary who once had to deal with this very issue back in 2012. In a tweet on Friday following the controversy, the former Ambassador to the US and China said that the US, post-9/11, is a changed country.
In a series of tweets on the issue, Rao, who should know a thing or two, said no foreigner is exempted from heightened security and that we should refrain from questioning the customs and border protection laws of any sovereign country.
What is amusing from the entire incident is that Khan, a product of our deep-rooted VIP culture who was banned for five years from entering Mumbai's Wankhede Stadium for allegedly misbehaving with a security personnel, apparently believes that his 'celebrity' status provides automatic immunity from secondary screening. His tweet may also be construed as a subtle attempt to portray himself as a victim of Islamophobia.
It is admittedly difficult for Khan, coming from a country where VIPs grow on trees and they have grown to be so numerous that new categories of VVIPs have been instituted to differentiate among them. The US action should come as a periodic reality check.
The US, it must be said, has gone out of the way in trying to assuage Khan's ego. US ambassador to India Richard Verma subsequently apologised "for the trouble".
To his credit, Khan's response was immediate and sensible.
But the final word in this needless controversy was best expressed by US Assistant Secretary of State Nisha Biswal, whose politeness was wrongly construed as an "apology" by Indian media. She said even American diplomats get pulled for extra screening.
That should put things in perspective.
Entertainment
According to recent media reports Shah Rukh will once again reunite with his Chennai Express filmmaker Rohit Shetty. This is not all. In the past few months, after the success of South biggies like Kantara and KGF, we all have become very familiar with the production house Hombale Films.
Entertainment
Guneet Monga took to social media this morning sharing her love story and penning a sweet note that strongly has a connect to SRK and DDLJ, and everything about the magic of 90s filmy romance!
Entertainment
Treating his insta family a few hours back, Shah Rukh dropped a video, wherein he has expressed his happiness that the Dunki team was able to finish the shoot on time and talked about his experience of shooting in Saudi.