What Kamaal R Khan is saying about Ajay Devgn's claims of Karan Johar paying him
Hate him or hate him (please point us to someone who loves him), you can't ignore Kamaal R Khan. Not because of his one and only film  Desh Drohi, not because of his Bigg Boss stint, and not even because he's plastered all over Twitter.
You can't ignore him because he always finds a way to make it to the headlines, every once in a while.
Also read: The battle begins: Ajay Devgn accuses Karan Johar of paying for negative tweets on Shivaay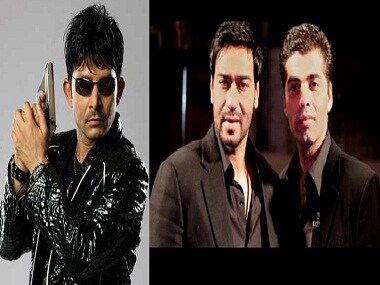 This is why we can't believe the biggest clash of the year between two big ticket films Ae Dil Hai Mushkil and Shivaay, has its origin in Kamaal R Khan.
Upon reading the above Firstpost report, it should be clear what the whole drama is about.
Devgn claims Karan Johar paid KRK to tweet negatively about Shivaay, KRK claims Devgn-Kumar Mangat (his business partner) paid him to tweet negatively about Ae Dil Hai Mushkil, Devgn is putting out emotional statements about the clash (it's not his first) and Johar is maintaining a shocking silence.
Phew.
The only draw to make out of this whole situation is that it is baffling that people don't know how to use the phone in today's age. Devgn's wife Kajol has been best friends with Karan Johar for years. This is a matter that can be easily solved by having a conversation privately.
This brings us to our primary deduction from this messy drama (and be warned, Firstpost was the first to say it): if it's out in the public domain, it's most likely to have been pre-decided. Devgn is far too dignified to play the victim card and allege conspiracy against him, unless his film is involved. This usually only happens around the release of his film (Son of Sardar in 2012 was the last time a bitter clash occured). #ConnectTheDots
And now, this sting operation/clash drama/battle of the clashes (what have you) has given fodder to Kamaal R Khan to make it all about him.
Today @ajaydevgn has proved that KRK Sirf Ek Naam Nahi Hai Balki Aaj KRK Ek brand Hai.

— KRK (@kamaalrkhan) September 1, 2016
Sir @ajaydevgn 2-4 Dafaa Aaraam Se Suniye Isko Thande Dimag se, Aur Samajhye Ki Maine Kaya Kaha. Lol! Exposed😛 https://t.co/2iWMWeq3eW

— KRK (@kamaalrkhan) September 1, 2016
Let me clear it. Karan Johar has never paid me or asked me to bash #Shivaay n you can hear it in the tape. I said 25 Lakhs to avoid Kumar.

— KRK (@kamaalrkhan) September 1, 2016
Ppl thinking that I called Kumar Mangat but not true. Actually he is close friend n he only called me n he called me many times before also.

— KRK (@kamaalrkhan) September 1, 2016
One side Ajay Devgan is calling me self claimed critic n other side he thinks that I am really powerful no.1 critic who can harm his film.

— KRK (@kamaalrkhan) September 1, 2016
Today both films #Shivaay n #AeDilHaiMushkil got free publicity of millions of ₹ with my name and this is the power of The Brand KRK. G.N.

— KRK (@kamaalrkhan) September 1, 2016
If you are talking with Kumar Mangat or @ajaydevgn then you should be careful because they can tape you.

— KRK (@kamaalrkhan) September 2, 2016
And finally, because his Twitter timeline was not enough, Kamaal R Khan is holding a press conference today (2 Sept) to clarify all the allegations made on him.
My press conference today at 5pm at my office 7/70, mahada, Andheri West, where I will give detailed reply for all allegations of Ajay Devgn

— KRK (@kamaalrkhan) September 2, 2016
Better have your popcorn ready.
Updated Date: Sep 02, 2016 16:44 PM