Wonder Woman's origin story and many versions of the celebrated female superhero
Come 2 June, we will see something completely unprecedented in the comic book cinematic universe: a film about a female superhero.
In DC Comics and Warner Bros Wonder Woman, Gal Gadot stars as the lasso bearing, golden bracelet wearing superhero from the magical land of Themyscira.
After American pilot Steve Trevor crashes on her home island of Themyscira, the warrior princess Diana decides to leave her secluded birthplace and head out into the larger world to help Steve fight World War I. Unfortunately, she's not the only immortal interested in the progress of WWI; while she's busy trying to end the war, Zeus's son Ares is out there trying to keep it going.
This 2017 itiration of the comic book herione has a long story of evolution behind it — before Diana Prince became the feminist icon she is today, she has had a very coloured past
Origins
The pop culture obsession with Wonder Woman started soon after maverick psychologist William Marston created the character.
Since Marston was deeply involved with women's rights, including issues of birth control, voting and career equity, it is no surprise that William Moulton Marston's most famous work is the creation of the comic book heroine, Wonder Woman.
But a look at the earliest issues reveals a shocking fact: the original herione had heavy, very heavy (with emphasis on the heavy) undertones of bondage in the comic book series.
As Comic Book Resources sums it up, "Tying people up, getting tied up, the consequences of tying people up or getting tied up, it was a major theme."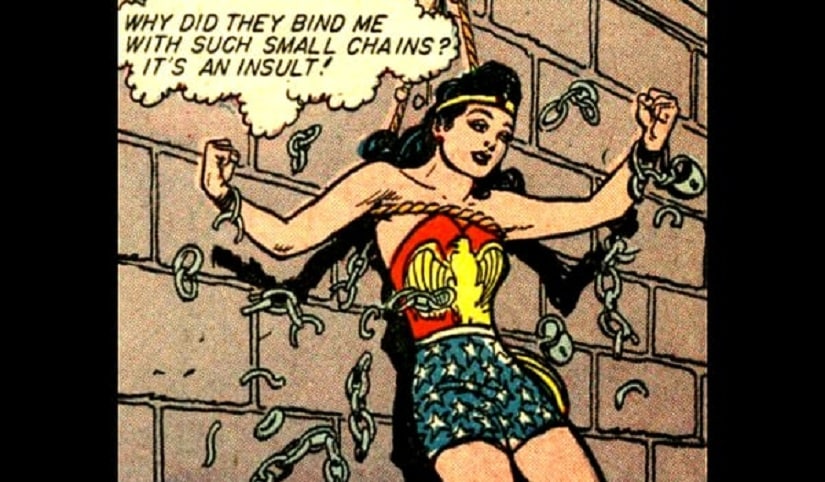 Marston believed that making people submit to power, peaceful and kind authority would put people to their most comfortable, their strongest and most productive best.
A look at Wonder Woman's weapons of choice reveals the same details: her lasso of truth and golden bracelets (they were once called bracelets of submission) were tools in the whole submission theme.
Marston was inspired his mistress's bracelets (he was into BDSM) which he used to create allegories to his dominance-submission philosophy of freedom. In the earlier comic books, Marston wrote how the Amazons (Wonder Woman's tribe) by pledging to submit to a loving authority protect themselves from evil & corruption–mainly from within–by not succumbing to their personal ego's destructive wills.
Her lasso of truth too was used to tie up criminals in numerous scenarios.
This image of a superhero, who wanted to bring about peace through submission to power worked very well because it was concieved during the Second World War (1939 to 1945) and the post war periods.
Transition to the big screen
As the feminist moment came into play in the 1960s and 70s, the tones of bondage in the Wonder Woman books became lighter and gradually disappeared. Since she was one of the first female superheros in the world, the fasnination with her remained.
In the 60s, she had transitioned into a goodie two shoes Captain America-ish patriotic character. Many filmmakers and actresses tried to bring her to life and failed.
Here's one of the first unnamed Wonder Woman TV pilots out of the many, made in 1967:
Then came Cathy Lee Crosby's direct-to-home film in 1974:
This gave impetus to one of the biggest and most successful itirations of Wonder Woman starring Lynda Carter in 1975. The TV series had a five year run, and Carter introduced the world to the spinning way Diana Prince transforms into Wonder Woman, a la Clark Kent-to-Super Man. Prince is a bespectacled demure character, while Wonder Woman has perfect eyesight and doesn't mind bearing flesh:
Cartoon Network Wonder Woman 
Cartoon Network's Wonder Woman in Justice League (2001-2004) is by far the most popular version. They have also incorporated Lyda Carter's spin into the character.
Nobody attempt to take on Wonder Woman till 2011, after Christopher Nolan revived Batman with his Dark Knight series.
Warner Brothers and DC Entertainment based was directed by Jeffrey Reiner. Adrianne Palicki starred as the main character. Diana Prince runs a corporation called Themyscira Industries. The corp owns and operates the concept of Wonder Woman as both a privately run crime fighting operation and for marketing the image of Wonder Woman as a role model to the outside world. Diana's frustration with having to maintain a perfect image to the outside world in both these capacities leads her to create a third identity for herself, "Diana Prince," so that she can have an element of normalcy in her life and sit at home with her cat watching romantic comedies and surfing the internet.
Also, Wonder Woman's costume became tighter and more revealing, her makeup brighter:
Meanwhile in pop culture
The extremely hyped 2011 Wonder Woman pilot brought with a Wonder Woman and MAC cosmetics collection that was hugely successful, unlike its TV counterpart.
The Press release read:
Banish any thought of being a Plain Jane: M∙A∙C and Wonder Woman have joined forces! For Spring 2011, take a trip to Paradise Island with a legendary line up of super-sized Mineralize Skinfinish, bold Eye Shadow quads, Pigment, Opulash, Lipsticks and oversized Lipglass, jumbo-big Powder Blush and Penultimate Eye Liner, Nail Lacquer and Lash inspired by the larger-than-life Bold Babe. Dashing and dazzling, the iconic super heroine reminds us that inside every woman is a Mighty Aphrodite full of courage, confidence and charisma. Kaboom! Mission Accomplished!

Wonder Woman has always known the importance of astounding accessories. For her collaboration with M∙A∙C, we've infused her sense and fantasy and wonder into a vivid collection of awe-inspiring accessories as fierce and feminine as the heroine herself. Bright, bold, superhuman designs in Makeup Bags – from radiant Red to Bulletproof Blue, Utility Belt Brush Sets, and exclusively online, the WW T-Shirt and Invincible Mirror. Shazam!
Here's the poster:
Wonder Woman also served as the United Nations honorary ambassador for the empowerment of women and girls, a role that she was stripped off in 2016. The objective was to reach out to Wonder Woman fans to raise awareness of UN Sustainable Development Goal No. 5 — to stop the objectification of girls and women.
But does a red lipstick, tight bustier wearing white woman serve as a ambassador to stop objectification of women?
Tomorrow will be the judgement day where Wonder Woman can finally redeem herself and become the feminist icon she was meant to be.
Updated Date: Jun 02, 2017 19:59 PM