Watch: Ranveer Singh paid a really funny homage to 'Raja Hindustani' in Switzerland
Ranveer Singh belts out his version of 'Pardesi Pardesi Jaana Nahi' from Aamir Khan's hit film Raja Hindustani .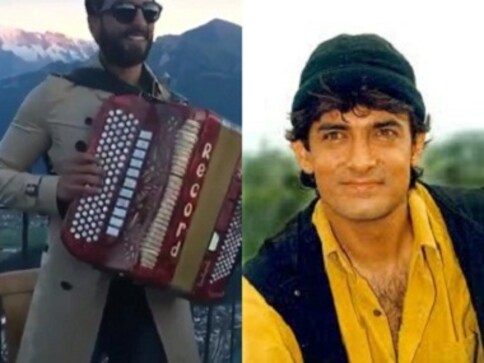 Ranveer Singh is living it up in Switzerland from the looks of his Instagram account.
After doing some extreme water sports, making chocolate and recreating Shah Rukh Khan's song 'Tu Mere Saamne' from Darr, Bollywood's funnyman is at it again.
Ranveer sang 'Pardesi Pardesi Jaana Nahi' from Aamir Khan's hit film Raja Hindustani on an accordion while pretending to play it like a harmonium. The star put his own twist on the song, singing it in an extremely nasal and high-pitched voice.
Ranveer shared the video on Instagram with the caption 'Belting out a cult hit for confused tourists in Switzerland. Just because. #JustBefikre' in a bid to promote his upcoming film titled 'Befikre' directed by Aditya Chopra.
Shah Rukh Khan had responded to Ranveer Singh's rendition of 'Tu Mere Samne' with an equally admiring tweet saying 'Woke up & saw Darr song, thot 'o wow I can dance' till I realised it was u my man. Dont know Tujhe dekhoon ke pyaar karoon!'
We wonder if Aamir Khan will respond in the same way?
Entertainment
Bollywood actor Ranveer Singh recently arrived in Abu Dhabi to attend the year's last F1 race. He was snapped with Usain Bolt, Manchester City Football manager Pep Guardiola, England cricketer Ben Stokes, former West Indies cricketer Chris Gayle, and Italian footballer Francesco Totti.
Entertainment
The film will be co-produced by Aamir Khan Productions along with Sony Pictures International Productions, India, and 200NotOut Productions.
Entertainment
KJo wrote in the caption, "An entire lifetime of memories, in a heartbeat! This film gave me so much more than just that - it gave me joy, unbreakable bonds, a different lens for storytelling, and of course - the last film set I could be on with my father."