Watch: 'Mirzya' trailer shows the film's stunning setting, lead pair's sensuality
What the Mirzya trailer tells us about this Rakeysh Omprakash Mehra film about star-crossed lovers Mirza and Sahiba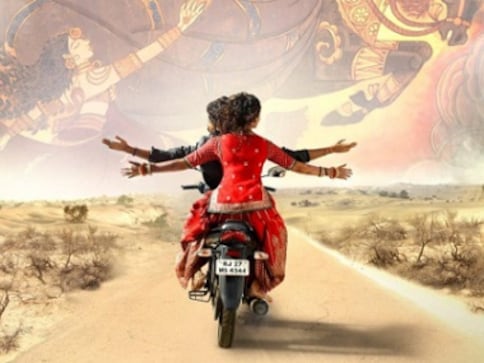 When the teaser for Rakeysh Omprakash Mehra's Mirzya was unveiled back in December 2015, it sparked plenty of curiosity and anticipation about what the film itself would be like.
The teaser, however, told us little beyond the fact that it was a contemporary retelling of the Mirza-Sahiba love story. A tragic romance in the vein of Heer-Ranjha, Mirza-Sahiba is a story that has been popular in the Punjab region for generations. It has been adapted into pop culture as well in several ways, including the 2012 Punjabi hit Mirza — The Untold Story.
Mehra's Mirzya is (like Mirza — The Untold Story) an 'updating' of the legend. Harshvardhan kapoor (Anil Kapoor's son) and Saiyami Kher are cast as the star-crossed lovers in this movie, and while we do not get to see too much of their faces, we do get to see them against the stunning, vinrant backdrop of Rajasthan.
The trailer sets out the storyline: Two children who grow up together, fall in love when they become adults — and their passion and fervour isn't tempered any by the fact that their romance is frowned on by their elders.
The "modern" scenes show Mirza and Sahiba as children, riding a bicycle, exulting in their freedom; and then they are shown growing into adulthood — still exulting in their freedom, and togetherness. Interspersed with these scenes are those that are a throwback to the original legend — the warrior Mirza, whose arrows never failed to reach their target, and Sahiba, who had to choose between the life of her lover and that of her brothers.
The trailer offers tantalising glimpses of not just Rakeysh Omprakash Mehra's stunning imagery, but also of the chemistry between its lead pair — Harshvardhan and Saiyami. We're reminded of another film about star-crossed lovers — Goliyon Ki Rasleela: Ram-Leela; although Mirzya seems more raw, elemental.
The sad thing of course is that despite the passage of time, love — unless it conforms to society's norms — can still be a dangerous emotion. And that generations after folklore idolised the doomed couple Mirza-Sahiba, there are still many more Mirzas and Sahibas who lay down their lives for love.
Watch the trailer for Mirzya, which releases in October this year, here:
Entertainment
When Karan questioned him if he felt insecure about Jackie Shroff's accomplishment, Anil Kapoor admitted that he did feel so.
Entertainment
Varun Dhawan, the poster boy of Bollywood's new generation and among the youngest entrants of the coveted Rs 100 Cr club, revealed why his competition is not restricted to actors alone.
Entertainment
The eleventh episode of Koffee With Karan Season 7 on Disney+ Hotstar sees Varun Dhawan and Anil Kapoor share marriage wisdom.