Watch: Jackie Chan shows his 'bhangra' moves, grooves to 'Tunak Tunak Tun'
We've always known that Jackie Chan has some serious moves! Every film, in which he shows off his martial arts prowess, attests to the fact.
This little picture is a handy little reminder — if we needed any reminding.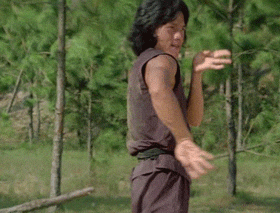 Sorry, we meant this one!
But Jackie pleasantly surprised us when he showed off moves of quite a different sort at a recent film event.
The action-comedy superstar was making a promotional appearance for his upcoming film Kung Fu Yoga, along with his Indian co-star Sonu Sood.
Sood then convinced Jackie to perform a brief jig, to Daler Mehendi's 'Tunak Tunak Tun'. Jackie, ever the good sport, promptly complied.
After a few hesitant steps, where he checked the choreography with Sony, Jackie proceeded to do a very nice rendition of the song. The other actors on the stage clapped along encouragingly.
Sonu later tweeted a short video of Jackie's jig. Here it is:
Impromptu dance moves with my brother @EyeOfJackieChan #Shanghai #jackiechangallery #kungfuyoga pic.twitter.com/vv8mtLKPtS

— sonu sood (@SonuSood) June 14, 2016
Find latest and upcoming tech gadgets online on Tech2 Gadgets. Get technology news, gadgets reviews & ratings. Popular gadgets including laptop, tablet and mobile specifications, features, prices, comparison.
Updated Date: Jun 14, 2016 13:19:52 IST