Watch: Diljit Dosanjh takes revenge on the egg that broke Kylie Jenner's most 'liked' Instagram post record
After an egg dethroned Kylie Jenner as the most 'liked' photo on Instagram, her self-proclaimed biggest admirer Diljit Dosanjh decided to take revenge.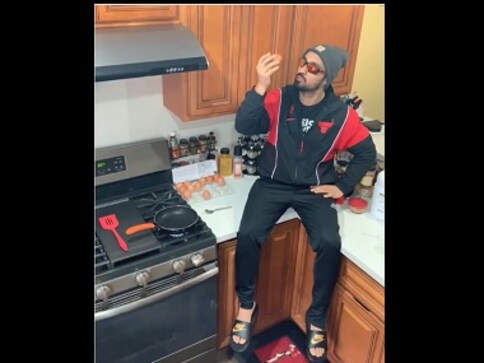 Last week, the news of social media queen Kylie Jenner getting dethroned by an egg spread like a wildfire. For the uninitiated, an Instagram picture, which had nothing but an egg with the caption asking people to like it to break Jenner's record, actually broke her record of the most 'liked' Instagram picture. The internet went crazy and double tapped the picture to make the experiment a success.
However, the news did not settle well with the self-proclaimed biggest admirer of Kylie Jenner, Diljit Dosanjh. It is no secret that the actor-singer is fascinated with the reality TV star. He is often seen commenting on her posts and photographs. Hence, to show his disappointment and take a 'revenge' on the egg, Dosanjh took to Instagram and shared a hilarious post.
In the video, he is seen interacting with an egg, referring it to the egg which broke the record. The actor then cracks the egg and cooks it, as a revenge. He then addresses Kylie and asks her to be "tension-free" and continue to share "posters" (photos of her.)
Entertainment
"When Bill Cosby was released, it retraumatized me, it terrified me. I was really horrified for any woman or girl that would come into contact with him," says the accuser.
Entertainment
With all its imperfections, Rashmi Rocket ends up being provocative, convincing in its plotline about politics in India's sporting establishment and entertaining.
Entertainment
Sanak over-emphasizes the action, leaving the story and the emotional core under-developed.