Watch: Dev Patel at the SAG awards says Trump's ban is 'horrible and divisive'
The SAG (screen actor's guild) Awards culminated on Sunday night, with Denzel Washington winning the best actor for Fences and Emma Stone won best actress for La La Land. Dev Patel had been nominated for Best supporting actor, for his film Lion, alongside Jeff Bridges for Hell or High Water, Lucas Hedges for Manchester by the Sea and Hugh Grant for Florence Foster Jenkins.
When the media caught up with Patel at the red carpet of the event and asked him about US president Trump's ban on nationals from seven Muslim-majority countries from entering America, this is what he had to say.
"I just flew in from India a day ago. When I heard the news it was utterly devastating. The first thing that came into my head was the children who arrive on these shores with hope in their hearts. It's horrible. It's divisive. I hope something changes and something can be done because it really is terrible."
When the reporter asked him if this situation resonates with the idea of his film Lion — which is about a Indian boy who gets adopted by Australian parents, and how he returns to India to find his family — Patel said he didn't want to make this about his film because it's much larger than that.
In an interview with Associated Press, he speaks about his role as a displaced citizen in his film.
I traveled the trains in India. I wrote a diary. I went to orphanages. I'd watched every piece of material about (Saroo Brierley, the character Patel plays) out there on Google and YouTube. When I met him I felt like, 'God I've known you for eight, nine, months already. The first thing I said was, 'You found a needle in a haystack from space. You literally did that.' And he started laughing.
Brierley's (also the author of the book that the film is based on) traumatic separation from his home, his mother and struggle to survive on his own is a major theme in Lion.
This can be seen as a parallel to the hundreds of displaced families and immigrants now after the US president's executive order.
"I can't say that the majority or even half the movie is sensationalized. It really isn't. It actually happened in real life," Brierley said, to AP.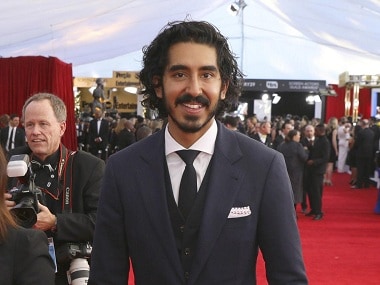 Meanwhile, singer John Legend, also spoke about the ban at the SAG awards.
He said, "everything our government does is being done in our name. I believe our country should be open and inclusive, particularly for refugees fleeing war-torn areas. They are fleeing terrorism, they are fleeing war, they are fleeing genocide."
Big Bang Theory actor Simon Helberg held a sign when he entered the ceremony, that read: 'Refugees Welcome'.
Emma Stone in her winning speech said, "We're in a really tricky time in the world, in our country, and things are very inexcusable and scary and need action and I'm so grateful to be part of a group of people that cares and wants to reflect things back to society so thank you."
Watch Dev Patel on the SAG awards red carpet here:
Updated Date: Jan 31, 2017 10:12:04 IST