Watch: Aamir Khan's Dangal 'Fat to Fit' video does not tell you about health risks
A fitness and wellness coach Ranveer Allahbadia contests the claim that Aamir Khan achieved the ripped look in Dangal without the aid of steroids.
Earlier this week, the makers of Dangal released a video depicting Aamir Khan's transformation — from 97 kg to a toned avatar with six-pack abs. Khan went through the process in order to portray the different life stages of Mahavir Phogat, a former Haryanvi wrestler, on whose life Dangal is based.
The video evoked a huge response from fans who were awestruck by Khan's metamorphosis. While Khan did insert a disclaimer that he received constant supervision from health experts and fitness trainers, there was apparently a fact that he chose to conceal.
Fitness and wellness coach Ranveer Allahbadia has alleged that Khan gained the muscle mass, that he is sporting in the promos, with the aid of steroids or growth hormones. In a video posted on his Facebook page called BeerBiceps, he argues how it is impossible for Khan to achieve that physique without the additional support of steroids.
He provides three arguments that justify his allegation: Firstly, he asks the viewers to compare Khan's evolution to that of fitness freak Akshay Kumar. While Kumar remained fit throughout his career, Khan gained a lot of muscles within a short span of time in the recent past. Allahbadia claims that gaining so much of muscle mass takes a much longer time period of five to six years. Since Khan achieved it in months, it is hard to believe that he did so without injecting steroids into his body. The steroids help one's body to synthesize protein more rapidly and consequently gain muscle mass more quickly.
In his second argument, Allahbadia points out how the age factor comes into play. He says that the testosterone levels in the body of 50 year-olds like Khan is very low which prevents the body from becoming so bulky. Thus, supplements in the form of steroids play a huge role in attaining the look that Khan sports in the promos.
His final argument analyses the shape of Khan's physique. He draws an analogy to a UFC wrestler demonstrating how the shape of one's deltoid muscles determine whether one has used steroids or not. He shows a picture of Khan from his training schedule which clearly highlights his bulging deltoid muscles.
Allahbadia confesses that though he is an ardent admirer of Khan, he is sure that a majority of film actors use steroids to sport that ripped shirtless look on celluloid. He adds that he intends to educate Khan's followers about the unrealistic physique goals that they are nurturing in their minds and about the harmful side-effects of steroids.
"Even though he is the host of Satyamev Jayate, don't think that Aamir Khan has come out all clean," says Allahbadia.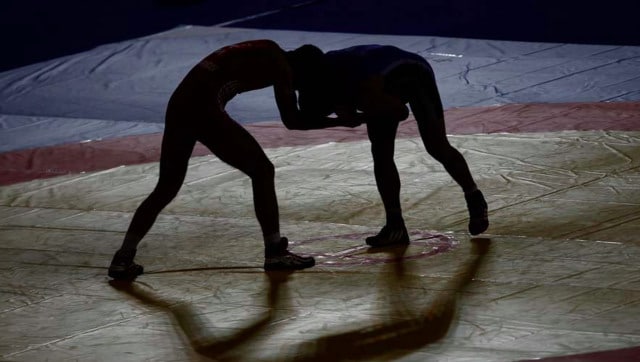 Sports
The Sports Ministry last month recognised ISWAI as a national federation for running the affairs of mud wrestling, the traditional style of the sport (Dangal).
Arts & Culture
Part of the appeal of activewear is that it is comfortable and functional. But it has also been designed to physically shape the body into a socially desirable hourglass female form.
First Cricket News
Rohit Sharma missed some part of the IPL last year and the initial portion of the Australia tour, including the white-ball leg, due to the hamstring injury.