Vivek Agnihotri recounts his Jadavpur University ordeal: No room for the Right
Just imagine if this were done with the Leftist students — campuses and TV channels would have been flooded with the Barkha Dutts of the world raising questions about the Freedom of Expression under the Narendra Modi government
Disclaimer: These are strictly my experiences at Jadavpur University, from my point of view, as seen with my eyes, both Left and Right.
For a film that was canned with no backing, no support, no money, a screening at Jadavpur University (JU) couldn't have been a small event.
For a film that exposes the sinister politics of the Naxal-NGO-academia nexus, screening it in a Naxal citadel couldn't have been a small event.
For a film that has become an India-loving students' movement, a screening at JU amidst anti-India sloganeering couldn't have been a small event.
In the life of Buddha, 6 May, 2016 was an enlightening day.
By now there are a plethora of stories and a slew of controversy about what happened at JU that day. No journalist has bothered to ask for my version. A few did, but printed exactly what I never said. The Indian media, especially the English electronic media is the most dishonest institution of India. They are always in a hurry, their questions are statements, they have no courtesy, they are arrogant, rude and humiliating. They are always running late for something or the other, and therefore, cannot concentrate.
I am not talking about those hundreds and thousands of hard-working young girls and boys who are running from one bit of 'breaking news' to another. I am talking about those who instruct them to twist the news. Or who twist it themselves to further their agenda.
And it's no rocket science to understand the design of this parallel politics. For the last 70 years English media has loved to paint any rightist organisation, especially the RSS, as regressive, uncivilised, aggressive and fundamentalist. Any organisation connected with the RSS — in this case, the ABVP — is considered a party of goons. Meanwhile, the student members of left-wing parties are considered rebels, revolutionaries, progressive and intellectual.
It's more like a perception battle.
The media has created a 'group of somebodies' and a 'group of nobodies'. Those raising slogans against the State of India are painted as 'the Superiors' and the ones singing Vande Mataram as 'the Inferiors'.
Some people like to believe they are liberals. Liberals are those who do liberal things, not the ones who are against the Right. If you look at the reporting of the JU event, they always write 'left-wing students' and ABVP goons or outsiders. I realised this when a journalist asked me at JU: "How do you feel about the presence of some ABVP boys?" I wondered, "Aren't they students here? Aren't they called 'Akhil Bhartiya Vidyarthi Parishad'? Vidyarthi means students," I explained. She was taken aback and said, "But… no… yeah…. But…" I knew she had no answer, only biases. I again asked her, "Aren't they students of the same university? What do they need to do to be recognised as students? Raise anti-India slogans?"
She became upset and left me to go and cover the protesting students — the real students according to her.
Somebody had to challenge this myth. I did it by making Buddha In A Traffic Jam. I did it by taking the film directly to the students and that too into their own citadels like JNU, IITM, National Law University, Hyderabad Central University and now at JU. They hate my guts. I exposed the shallow arguments of Manuvad se Azadi and Brahmanvaad se Azadi.
I explained to them how one has to innovate, make profits, create capital in order to get Bhukmari se Azadi.
I took them on with logic. And they hate logic, for logic will destroy their illusory world. They have been showing an 'invisible end of suffering' exactly like tantriks, fake babas and godmen or magicians do, and they protect it by not allowing debates, dissent and rationality. When was the last time you heard a dissenting voice — the Right voice — in these universities? And if one still challenges them with facts and logic they try to destroy you. My inbox is flooded with such messages. Also, I am saying this with conviction only after visiting 35 top institutes of India and with over 100 hours of intense question and answer sessions, debates and discussions, especially with Leftist students.
Wherever the faculty and administration is Left-leaning, attempts were made to cancel the screening or just sabotage it by creating inane hurdles.
It happened at one of India's top law universities, located in Bengaluru. On the eve of the screening, it was anticipated that students would attend in large numbers. Just hours before the screening, the director sent out an email declaring a holiday on that day. It happened to be Ramnavmi and a Friday. The institute is far from the city, so students who don't live on campus stayed away. Most of the resident students are from nearby towns so they left for an extended weekend. In the end, a screening that was supposed to be attended by 1,000 students, saw 100 instead.
In the history of this university, two things had never happened: A holiday on Ramnavmi, and an impromptu holiday that's not on the calendar. This was my first encounter with a resistance that I later realised was their modus operandi. Later on, students told me the director of the institution fought an election on an AAP ticket – the Leftist director, it turns out, had to accept Rama in order to reject Buddha.
This modus operandi played out once more at IIT-Madras.
A group of IITians invited us for the screening and we accepted. By this time, we had begun to insist on formal permission from the institute, which they mailed us. I flew from Bhopal to Chennai just in time. The screening was scheduled at their Open Air Theatre, which screens movies for the film club every weekend; they had screened another small film there just a week earlier. We had formal permission from the dean to screen at the OAT.
On the eve of the screening, students expected an attendance of five to six thousand. This is when the administration realised the impact of the film. They sent a mail limiting "outside entry" to 40 students. This was unprecedented. Those students who organised the screening agreed. Nevertheless, there were three or four thousand resident students who were expected to attend. This is when they received a mail from the dean cancelling permission on the pretext that the secretary of the Film Club, was not in favour of the film. I had promised the students not to make the correspondence between them and the dean public, but I think its appropriate to reproduce a part of long email chain which will give you an idea how the voice of the non-Leftist students is shamelessly curbed even in one of India's top IITs.
In the morning, one IITian tweeted that the posters were torn off at night.
Just imagine if this were done with the Leftist students — campuses and TV channels would have been flooded with the Barkha Dutts of the world raising questions about the Freedom of Expression under the Narendra Modi government. NDTV refused to even listen to our story, whereas it was covered by all Chennai newspapers. Times of India's Chennai Times, which is a 100 percent paid supplement, ran a front page story on the issue but our national mainstream media conveniently ignored it.
This is when we got a call from a research scholar from JU who said he was interested in organising a screening. He said it was going to be a very difficult task, but he felt it was important for him to screen it, so that an alternative narrative could be introduced in an extreme Leftist university. Our schedule was already chock-a-block. My director's assistant, Naireeta, is from Kolkata. She insisted that we somehow find the time or cancel any other screening. The theme of the film is exactly what ails JU, which makes it the perfect place for a debate; our screenings last 110 minutes but our Q and A sessions last for hours.
In one Q and A at NALSAR, a student ran to attack me. Later, another boy was so angry that he boycotted the screening but came for the Q and A session. In IIT-Kanpur, a boy held me tight, shook me violently and asked, "How dare you make such a film, you bloody…?" Whereas in the same institute, moments later, an Adivasi girl began to cry as it reminded her of atrocities by Naxals. If I collate material from these Q and A sessions, which I will, I believe it will prove valuable R and D material on student and Naxal politics in India.
We confirmed 6 May as the date for the screening.
JU students kept doing the rounds of the administration office without any movement on their application. They were sent from one desk to another. In normal course (if you are a Leftist student), it would have taken a day on the outside. Then they started citing absurd reasons that many students don't want this anti-Naxal film to be screened (please note that nobody has seen the film in this part of the country). When organising students asked them why they allowed anti-India sloganeering, marches and graffiti, when most of the pro-India students don't like it and when the admin realised that they couldn't win the argument, they put forth another condition: The film could be screened only after their 'internal censor committee' saw and approved it.
Really?
Students argued that the film had already been censored by the CBFC and they had no right to re-censor it. They called me for my reaction and obviously, I refused to be censored by a bunch of professors who were hellbent on declining permission on some moral or ideological grounds. Students asked the registrar that since the decision of the 'internal censor committee' was already known, why they didn't just refuse to screen it. This went on for over two weeks. Finally, they called me and said that as always that admin won't give them permission and the entire exercise is futile. They told me that there is an auditorium on campus — the Triguna Dev Audi — that is managed by the alumni association and they could book it after making a certain payment. They contributed money and booked the hall.
Then some people spread the word that Think India, a right-wing group was showing a radical Hindu, casteist film. The only time the movie makes a reference to any religion is when the protagonist goes to a brothel and there are photos of Hindu gods on the walls. The film is about innovation. It's about eliminating the middlemen, the antidote to Leftism in India.
I realised they weren't fighting the film. They were fighting me.
Think India is a nationalist body of students. So, in a way, you can call them right-wing. Yes, they are connected with the ABVP, which is connected with the RSS, which is connected with the BJP, which is connected with Modi, who is connected with India and Hinduism.
So, in a way Modi's Hindu BJP invited me.
So by the Left's logic, I wasn't invited by the students because to be a student, one has to raise anti-India slogans and have to be anti-Hindutva. To be a student, one has to be pro-Dalit and anti-Brahmin. To be qualified as a student, you have to hate everyone who disagrees with you and love poverty. To be a student of JU, your mind has to be crowded with negativity, anger and a utopia that can never be accomplished. If you are attacked for having an alternative narrative, you must be in JU — a country with its own Constitution.
I flew from Pune to Kolkata only to find that at the last minute, permission to use the Triguna Dev Hall had been cancelled, with the moral code of conduct due to elections cited as a reason. But, the elections were over. Sumit told me that it happened with them all the time, therefore this time they had decided to go ahead with the screening even if was done in a hostel room. There was genuineness in his voice. With anguish he narrated to me how there is a systematic 'institutional minoritisation' of their voice.  Simply put, nobody hears them. They are labeled 'Sanghi' and aren't considered intellectual because they speak against Maoism and Naxalism.
By the way, he is a research scholar in Physics. Yet, he is 'the Inferior'.
I was alone. If nothing else, this film has taught me 'Aekla chalo re'.
At 4.15, I left the hotel in a Toyota Innova driven by a Bihari driver named Prabhu. He was telling me how he wanted to leave Kolkata, but due to bad financial conditions back home, he couldn't go to Delhi (his dream city). He had no idea who I was. When I asked him to take me to JU, he looked at my beard and asked me if I was a professor. 'No. I'm going there to meet some students.' He looked at my beard, took a pause and showed me a dug lane. "For last couple of years, it's been dug up and nobody repairs it, causing hours of traffic jams." Prabhu didn't know that he was about to be stuck in one very soon. 'Why?' I asked him. "In Kolkata, nobody wants development', he replied.
We entered JU from Gate number eight. There were hundreds of students smoking, chatting and preparing placards and black flags. This is when some students saw me and in less than a second, the car was gheraoed by an unruly, violent mob of students. They started raising slogans, hitting the car and wanting to pull me out. This is when a mob of journalists ran towards the car. An angry media was on one side and violent students on the other. I heard a big sound and realised they had broken one of the windows of Prabhu's taxi. He was really scared. I am sure the first thing he thought about was how his boss would cut his salary and how his kids would suffer. Ignorance is bliss for he did not know that the student's crusade was for "the poor man". For a moment, I didn't know what to do. It was claustrophobic. They were banging on the car, abusing me in Bengali.
Some girls were even spitting on the window.
I opened the window to speak to them.
A student put his hand inside and called me the murderer of Rohith Vemula. I told him Rohith wasn't murdered. He had committed suicide. He screamed, "You f***ing liar! He was murdered!"
"I have stronger reasons to believe Rohith than you," I told him.
He got angry and tried to pull me out of the car. Anticipating violence, Prabhu tried to roll up the window and in that haste, my hand got stuck in the window. This boy kept pulling my hand out. As I tried to pull it back, I felt a shooting pain in my shoulder. Later the physiotherapist told me that I had ruptured a muscle and that it would take three to four weeks to heal. Some students jumped in front of the car in what seemed to be a typical highway thug tactic. This is when some students started banging on the car, which caused at least eight dents in the vehicle. A skinny student came running and jumped on the bonnet. One boy tried to climb up the bonnet from my side and in that mayhem, the side mirror broke.
This is when the organising students came running and tried to make a human chain to protect me. In this half hour, there were no security teams, administration or police.
It was a free-for-all.
"They could have killed us," Prabhu told me later.  I always knew JU was strictly Leftist but I had just come to show my film, complimenting their idea of dissent.
Finally, the car was guided to a playground. It contained only protesters and no film players. I was told this was the adda of Leftist students and a 'playground' in name alone. In this chaos, the projection screen couldn't arrive on time. It was a moment of judgment. I had never thought that the film we had worked so hard to make and promote was to be shown on a screen, the whereabouts of which couldn't be traced. If the film was not shown, these students who risked their lives to organise the screening, would never ever be able to assert their voice. For me, the only objective was to somehow ensure the screening.
It took less than a minute to find a solution. After all, the theme of all my speeches has been how our students can convert this 'jugaad' country into an innovation hub of the world. This was our only chance. A student ran and got a bedsheet from the hostel and in no time, a makeshift open-air theater was ready with stone age speakers connected with naked copper wires.
That day I learnt that the power of collective thought is more powerful than anything. Even the protesters learnt, when the end titles rolled, that it's not about the numbers; it's about the conviction of those who want to assert themselves.
I had read about it. but I learnt it that day.
When the film was running, I asked Sumit to introduce me to the leader of the protesters. He told me it wasn't safe. But when I persisted, he took me to him. This medium height, tough man was taken aback when I called him by his name and extended my hand and said, "Hello, I am Vivek Agnihotri. Can we talk?" He didn't extend his hand. So I told him, "It's okay. You don't have to like me. I just want to know if you are protesting against the film or me?"
"You," he said. "Why?" I asked him.
"What's the point telling you aren't going to listen," he said.
"If you buy me tea without sugar, maybe I will listen to you quietly," I offered.
He was too rigid.
There was anger in his eyes. I am sure he was angrier that I confronted him when he was away from his mob. Some media guys came running in anticipation of a big fight. Some organising students asked him to talk to me. Before he could decide, I called one journo from a Bengali channel and asked her to record this historic moment where the victim and the attacker were going to discuss their ideologies. She started recording our walk, which couldn't materialise as in the meantime, the assistant registrar, intervened and tried to stop the screening. I ran towards the screening spot and told the boys not to stop it until the registrar spoke to me. There were massive arguments, allegations, sloganeering for the next half hour.
Such anger, hatred, name-calling and unproductive and irrational protest is something I am not competent to even fathom. It felt I was in a warzone. Jadavpur, it felt, had everything barring freedom of expression. This isn't political activism. It's gundagardi — supported by the administration and faculty. It is a sad commentary that these students don't even realise that they aren't anti-establishment anymore. They have become anti-India and anti-anybody that is pro-India. What can I say about the students when our media also writes headlines like them versus us? It's not a Left vs Right fight. It's an intellectual war between pro-India and anti-India sentiments.
Well, the film ended. I thanked everyone. I have been to over 30 top institutes and universities in India and every single time, we have extended Q and A sessions. Mostly Leftist students ask me tough questions. I have to say it with deep anguish that Jadavpur is the only university where I didn't have a Q and A session. They believe in only raising questions, remaining unwilling to listen to answers. To substantiate my observation, I would like to take you back to my conversation with their leader.
Me: Why are you so against the film?
Leader: Because you right-wingers are regressive, oppressive.
Me: But the film is a positive, progressive film.
Leader: I don't care what it is. I don't want it to be seen here.
Me: Why? It's a point of view. Reject it, but hear it first.
Leader: I just don't want your alternative narrative here.
After the screening was over, the media left and slowly all the students also left. Lights shut down. It was pitch dark. My driver was trying to fix the bumper of his car and had gone to get some screws. Over the next 15 minutes that I was there, all I could feel was immense happiness, joy and excitement as the organising students kept hugging me, taking selfies with me, shaking my hands, not knowing how to express their feelings. For them, it was a victory. For me, it was a shameful commentary on 69 years of democracy.
The car came. I asked them to take me around and to their mess for a cup of tea, but there was a professor who was invited by them.
He pulled me aside and said, "Sir, you please leave."
"Why?" I asked.
It was quiet and one could hear even the crickets in that dark.
"They won't take it lightly. For them, it's their defeat and they will strike back. And strike big and sharp. You must leave now."
And he literally pushed me into the car. After an hour-and-a-half, I received a call from one of the students and he told me that they were being beaten up very badly by the Leftist students and that they hadn't spared the professor either — the same professor who had a hunch and saved me.
I found out that the fight started with a Dalit boy called Sandeep Das. Leftist boys came and asked him why he was supporting these other boys when he was a Dalit. He told them he liked the film and he liked my speech and it made sense to him. Of course they didn't listen to him.
Sandeep, along with five or six other boys, was later taken to hospital.
Then the riots broke out and the entire thing became political. The BJP and the Left started furthering their agendas. I was advised to stay in my room and not tweet until I leave Kolkata. I obeyed.
I have nothing more to say on this issue. This is all I saw. There is one small conversation I had with terrified Prabhu that summarises this brand of politics.
Prabhu: Why are they against you?
Me: Because I talk about working hard and making money and being successful
Prabhu: What's wrong with that? (pause) But what are they fighting for?
Me: They are fighting for the poor
Prabhu: But I am poor. Why did they have to damage my car?
Me: Even I am trying to figure that out
If you have the answer, tweet me @vivekagnihotri.
The author is a filmmaker and the writer/director of Buddha In A Traffic Jam
Politics
Karnataka CM Resigns Latest News LIVE Updates: As per reports, within hours of BS Yediyurappa submitting his resignation, BJP workers in Shikaripura, the constituency he represented seven times, hit the streets raising slogans in favour of their MLA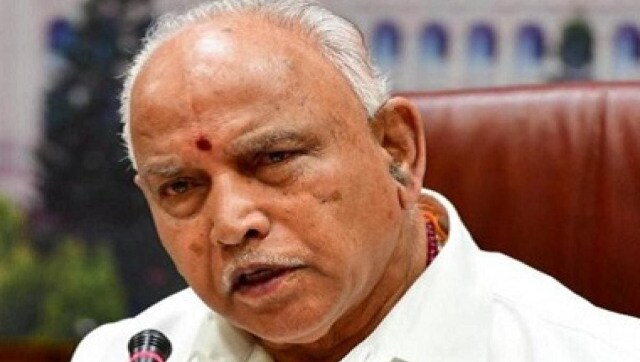 Politics
Yediyurappa on Monday submitted his resignation as the chief minister to Governor Thaawarchand Gehlot
Entertainment
Noted voiceover artiste Harish Bhimani also contributed Rs 5 lakh to help the artistes in need, Sanskar Bharati said.