Vivegam's Yazhini shows how Tamil cinema balances out macho heroes with hyper-feminine heroines
The relationship between Ajith and Kajal Aggarwal's characters in Vivegam depicts how Tamil cinema needs its female protagonists to be traditional, feminine and perfect rather than autonomous and flawed.
By Shruti Sunderraman
In the brand new Ajith-starrer Vivegam, we are taken to a plush lake-side bungalow in a cozy corner of Europe (nope, no specifications). A wedding party is on and white people are demanding idli-dosa. White people are also talking to each other in Tamil, one of whom sings Ilaiyaraaja songs. Okay.
The scene then focuses on a beautifully distressed Kajal Aggarwal. In a mysterious foreign kitchen, she's Tamil Nadu represent — her jhimiki is large, her pottu is red, her sari and her full-sleeved mustard blouse is a gorgeous cotton, her thali shines in the kitchen light. A chorus of 'Yazhini! Yazhini! Yazhini!' (her name) strums from the wedding party — they all want her idli dosa and she's cracking under pressure. (Maybe she should have pre-ordered the 57 kg idli Ajith's fans prepared to celebrate Vivegam.)
Suddenly, a breeze blows her curled hair away from her kohl-lined eyes. Within a minute, order is restored. Idlis are served, life is cured. Her husband, Ajay Kumar (Ajith) also known as AK, has mysteriously done her job for her. I expect her to look pissed off — the man proved to her own friends she can't handle what she set out to do — but love is pouring through her eyes and tears are staining her face in gratitude. Her kajal and exotic Tamizhness remain untouched. Meanwhile, white people continue to talk in Tamil.
In late 2015, functions and weddings in my family saw women try different versions of the same look. Large red or maroon bindi, arched eyebrows, three strokes of kajal, curled hair loosely tied and sari blouses very high on the retro aesthetic — puffed up sleeves/ backless/boat neck/full sleeved/minimalistic with a touch of kitsch — a lovechild of grandmother's pallus and Fabindia. Everyone was going Hemanika, Trisha's character in an earlier Ajith movie Yennai Arindhaal (2015). Ajith would go weak in his knees whenever her exotic kohl-brushed eyes looked in his direction. She would look more sure of herself and less blushy-blushy. She spoke traditional words in seductive tones, like eating Maggi in a ceramic petri dish. She doted on her daughter and showed strength of character. She goes to the hospital during labour on her own and is seductive tone-polite to Ajith (who is undercover as an autowala) even then.
The 'Hemanika look' had become widely popular and YouTube tutorials to wedding make-up artists tried to replicate her look. She gave the 'Tamizh penn' image, (you know, the cultured, traditional and soft-spoken) an exotic make-over.
Tamil cinema has recently been riding the 'exotic Tamizh penn' express. Female characters in hypermasculine action films cannot be your average Priyas and Sonias and Priyankas. They have to be a Yazhini or a Hemanika. How can a regular woman with soup stains and bad hair days ever support the likes of log-lifting, gun-loading, hand-to-hand combating Ajith? If he's ultra masculine, she has to be ultra feminine — extra chamathu. Balancing the scales, right? More like bench-pressing Tamil heritage.
Aditi Rao Hydari's character Leela in Kaatru Veliyidai too underlined this exoticness. When I wear a pottu, it's a dot on my forehead. When Leela does it, it's an oh-so-pottu. This would counter Karthi's Air Force office dudebro character Varun Chakrapani. Even Shraddha Srinath's character in this year's Vikram Vedha does this to an extent. She has her exotic Tamil looks — the staple diet of pottu, kajal eyes and aesthetic salwar suits and sarees. She falls in love with Madhavan's tough righteous cop and "balances out" his toughness.
This was not always the case though. Movies in the past like Manathil Uruthi Vendum, Mouna Ragam and Nandha depicted everyday, autonomous women opposite headstrong men. Suhasini in Manathil Uruthi Vendum was as autonomous as they come: longing for love, but taking control of her own life at every turn, even financially supporting her entire family and not just the leading man's masculinity. In Mouna Ragam, Revathi is an everyday Tamil woman with a traumatic past. She isn't afraid to ask her husband for a divorce. Even Asin in the more recent Ghajini (2008) played a regular ad film actor (even if a tad annoying) opposite a violent, beefy Surya. She gave him strength with her regular-ness, by making decisions of her own and not by epitomising what Tamil society dictates women should be like.
But the recent spate of exotic Tamil woman doesn't stop at the looks in extrapolating Tamil femininity. They also give these women cliché Tamil penn careers to support the leading man's macho choice of career. Hemanika is a Bharatnatyam dancer, Yazhini is a Carnatic music teacher. There's even an incredulous scene in Vivegam where she's teaching white kids to sing Bharatiyar's song 'Accham Illai'. These women's allure comes from traditionally Tamil gender role defining careers. When AK is shooting down terrorists (he leads an anti-terrorist organisation) with his flexing muscles and measured fiery dialogues, Yazhini's main job is waiting for him to come home. Everything else, even the Carnatic lessons, are just fillers. She packs his suitcase with food, clothes and guns, every time he leaves. She really doesn't even need to know how to make idlis, while he dotes on her Tamizhness in life-threatening situations.
Whatever happened to regular women in Tamil movies? The ones who made us feel okay for not being able to afford to be human mannequins in Chennai's three-storey saree shops. While I do love doting on all the sarees and jewelry paraded like Tamil fashion week (c'mon, they're beautiful), watching the hot dude fall for us regular, pyjama-clad girls would be encouraging once in a while. It's a little tiring to see recent Tamil movies show actresses as the Mahalakshmis of the modern world. If she's a bird, she has to be a Tamil phoenix — rising from what someone somewhere obviously feels is the ashes of Tamil culture burnt by cruel modernity; the likes of gun-loading Ajith will never look at sparrows. It will be very nice to see a sparrow take her own flight once in a while, on the big screen. As beautiful as they are, these phoenixes don't exist.
The Ladies Finger (TLF) is a leading online women's magazine.
Entertainment
Hrithik Roshan and Saif Ali Khan's Vikram Vedha is set to hit the screens on 30th September and will lock horns with Chiyaan Vikram and Aishwarya Rai Bachchan starrer Ponniyin Selvan: 1.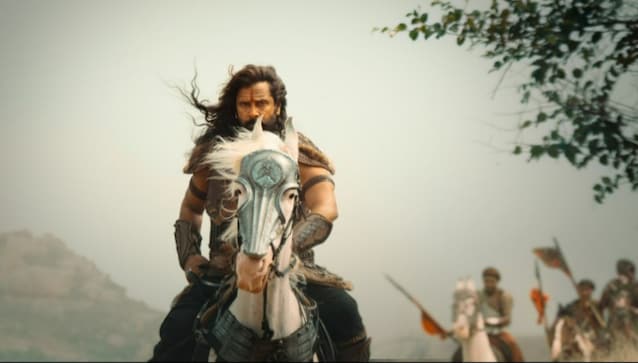 Entertainment
Ponniyin Selvan 1 is a brilliant experience that doesn't chase the same high as other recent commercial films did. The spectacle lies in the setting and the story of the film that unravels beautifully.
Entertainment
Ponniyin Selvan, at first, feels like it was shot in the same terrain as Ratnam's other Vikram and Aishwarya Rai Bachchan starrer, Raavanan (2010). There's water everywhere – and unrest, too.