What Vivegam tells us about death of the villain: Have superstars erased concept of a great antagonist?
The need to project a superstar as a demigod has eroded the concept of a powerful antagonist which is changing how we watch films. Case in point: Vivegam.
Before we talk about superstars and villains, I must confess that I spent the last 24 hours, 8 minutes and 56 seconds trying to play chess. I say 'trying' because my opponent was not a human, but an algorithm on an app. The algorithm, even when I was playing at level 3, saw my game before I made my fourth move and it wasn't until much later that I realised that I lost the game. How did the algorithm know what my next move was? And what were my chances? I certainly couldn't have thought about all those permutations and combinations that an algorithm is capable of doing. I resigned from the match. 
The tragedy is that this moment of epiphany came much later. By then, I had watched 'Thala' Ajith's latest film Vivegam, which also involves a game of chess between the protagonist and the antagonist. Ironically, the antagonist is clueless about playing chess against a powerful protagonist. If only he had resigned from the match, we would have been saved from the agony of exposition and terrible decision-making skills of the antagonist.
Vivegam, if you haven't heard about it yet, is a film about Thala, for Thala, made by an ardent Thala-Worshipper. In this democracy of Thala-land, there can be no opponents because they have no meaning to their lives. Thala is the wisest man in this world and hence, his wisdom even rubs on to the minions (read as 'villains'), who bite the dust soon. Perhaps, their epitaphs would read - "Well done, Thala." Although they don't show it, but every time the antagonist marvels at Thala's wisdom, in his head (and thus, in all our heads), he's being converted into a Thala-worshipper. You don't see the flowers, but they are replaced by dialogues where the antagonist praises how amazing Thala is. Such are the true powers of a wise man who prevails over evil, no matter where he is. Even if it's the snow-capped mountains of Bulgaria. 
This, however, doesn't take away the fact that Vivegam has some of the best choreographed action sequences and Ajith pours his heart and soul into making it work. Yet, the film left me with a certain degree of restlessness. Yes, the protagonist undergoes a lot of hardships and heartburn, but for all the slick action bits, the villains in the film have surprisingly nothing to do, except for waiting for their destroyer. And that is perhaps the biggest limitation of Vivegam which doesn't let you immerse yourself into the world. It becomes a show-reel of all the heroic things that its lead actor can pull off, without any empathy for other characters.
Are villains in films dying a slow death? We are a land of Amjad Khans, Amrish Puris, Raghuvarans, Prakash Rajs, Mukesh Rishis, and you name them. But in the past few years, the superstars of the respective industries have achieved a demigod status and quite rarely do we find a powerful antagonist to make the drama more interesting. Except for a S Shankar, SS Rajamouli and a select few other directors, who invest plenty of energy and time into developing great antagonists, most filmmakers base their entire story on elevating the status of the hero to stratosphere that the whole point of watching a film becomes exhausting. 
It's not just Vivegam alone. In the recent past, numerous Telugu films have fallen prey to this trend, where the antagonist is either immaterial or is so powerless that the hero is forced to brood over his existential crisis. No wonder, we don't even remember the faces or names of the characters of most villains these days. It is mostly brawn, without the slightest hint of a well-etched role that have turned so many yesteryear actors into legendary villains.
In Hindi cinema, the concept of strong villains has been wiped off from most Salman Khan, Shah Rukh Khan's films, even when they do an action drama. Bhallaladeva, played by Rana Daggubati, was the last great villain in a Telugu film. Prior to that, it was Siddharth Abhimanyu (Arvind Swami) in Dhruva. And long before that was Jeetendra (Jagapathi Babu) in Balakrishna starrer Legend. But people of their breed have become rare to find. 
Traditionally, Indian cinema has drawn plenty of inspiration from epics like the Mahabharata and the Ramayana, where there is no dearth of powerful antagonists. Would the heroics of Rama be as epic if it wasn't for Ravana? Or the revenge of the Pandavas be as brutal as it was if it was not for the brutality of Duryodhana and the Kauravas? It is not that filmmakers do not see any of this or do not consider that the power of the antagonist has been diminished when he is pitted against a superstar. And the tide is clearly not turning anytime soon.
Not long ago, in an interview, Rajamouli explained that he believes in creating powerful villains because only then a hero's journey would seem more epic. It is true for almost all his films over the past 15 years. Shankar has a different take on it. The villains in his films are not always made of flesh and blood. The heroes in most of Shankar's films are pushed to the brink and they rebel against the system itself. Take Mudhalvan for instance. When Arjun takes on Raghuvaran, it isn't about their duel alone. Arjun takes on the whole political system and bureaucracy, and he brings new hope to the people that it is possible to be honest within the system. Shankar also makes a similar case in Gentleman and Anniyan, which call for a complete eradication of corruption in society.
Contrary to all this, cinema of today has devolved into a state where the heroes are often given a free pass, without any major obstacles in their way. It might make for a great slam-bang entry in the opening sequence, but a film can't be just all about its hero. That is boring. And we are treading on that surface for a while now. 
This brings me back to the reason why you ca not remember anything about Vivegam, except for the omnipresence of Ajith and a few action sequences. Everything else is treated like garnishing to decorate and make the film seem much bigger than it is. It is a film where no one says their dialogues, they make announcements. Even the villain does the same. It's a miracle that Vivek Oberoi doesn't break into a dance to pay an ode to Thala and garland him in the end for blessing him with moksham.
Entertainment
Was 1971 the gold standard for pop, rock and soul? Any answer would be drenched in subjectivity. But it was absolutely an exit point from the '60s into a hectic new era, hard to define but rich in conflict and possibility.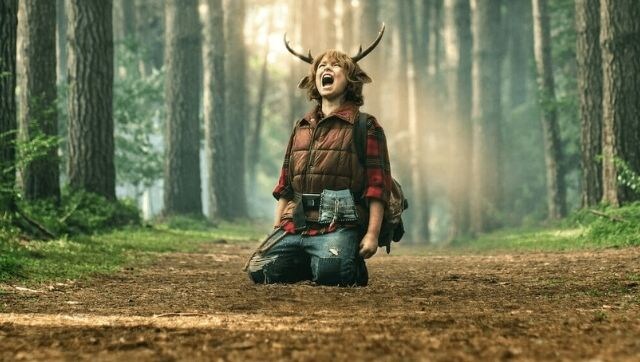 Entertainment
Sweet Tooth is much tamer than its source material, but nonetheless, is a wholesome and beautiful, if unthreatening road trip.
Entertainment
The Mumbai Police said that the incident is old and involves a 17-year-old complainant