Viswasam music review: D Imman delivers a partly enjoyable, partly middling album
Viswasam is definitely a missed opportunity for D Imman, who is long known for his dependable, foolproof albums of rural entertainers.
Besides hitting the century mark in films with India's first space thriller Tik Tik Tik in January this year, music composer D Imman was also part of one of the most profitable blockbusters of 2018,  Kadaikutty Singam, starring Karthi and helmed by Pandiraj. Amidst a lot of speculations, Imman then bagged his first film with Ajith in Viswasam in February 2018, which had turned out to be his most anticipated album.
Viswasam marks Imman's first collaboration with director Siva, who had earlier worked with Devi Sri Prasad on Veeram, and Anirudh Ravichander on Vedalam and Vivegam. Since Imman has delivered numerous chartbuster soundtracks for films set against a village backdrop, the expectations for the album among fans spiraled naturally.
Imman has produced a partly enjoyable, partly middling album in Viswasam, which comprises five songs, an instrumental and a theme track. It is definitely a missed opportunity for Imman, who is long known for his dependable, foolproof albums of rural entertainers. Among director Siva and Ajith's collaborations, Viswasam, is, unfortunately, the weakest album of all.
Adchithooku

'Adchithooku' is a toe-tapping feast from Imman for Ajith fans. While the song may work solely as a celebratory material for fans. It is nowhere near the all-time chartbuster 'Aaluma Doluma'  from Vedalam, a universally acclaimed song which has witnessed endless references in Tamil films, released in the last three years. Viveka's lyrics, which lavishly sing the praises of Maduraikaarans (people who hail from Madurai), are quite enjoyable. Although Imman's experimentation with the interlude in the folk space sounds outlandish. His vocals pep up the proceedings to an extent. Surely, 'Adchithooku' is one of the energetic tracks to kickstart the album with.
Kannaana Kanney
His rendition is familiar. We are quite accustomed to his vocals. Music buffs are no stranger to his focused improvisations. Despite everything, Sid Sriram never ceases to amaze with his remarkable singing talent. With 'Kannaana Kanney', Imman churns out an enchanting melody, spearheaded splendidly by Sriram. Thamarai's beautiful lyrics lend weight to Imman's soulful tune and Sriram's passionate vocals. With 'Kurumba', 'High On Love', 'Ennadi Maayavi Nee', 'Inkem Inkem Inkem Kaavaley' and 'Maate Vinadhuga', the male playback singing in the South in 2018 easily belongs to the inimitable Sriram, with his countless tracks topping charts across various platforms.
Vettikattu
 
Despite veteran singer Shankar Mahadevan's perky rendition, 'Vettikattu' never sounds exciting at any point of time. Imman delivers a pedestrian folk track in 'Vettikattu', which is the first middling song of the album. The over familiar arrangement adds to the already-existing woes of monotony in the song.
Vaaney Vaaney
In 'Vaaney Vaaney', Shreya Ghoshal, one of Imman's most regularly used singers, joins forces with Hariharan. Despite a beautiful start and the lovely Maangalyam bit, the song struggles with an utterly old-fashioned tune. Imman lays out a run-of-the-mill track, which is only partially saved by Hariharan's and Shreya Ghoshal's time-honoured vocals.
Danga Danga
Imman brings together reality show Airtel Super Singer-fame Senthil Ganesh and Rajalakshmi for 'Danga Danga', another mundane folk track that goes down the drain. After a promising start with 'Adchithooku' and 'Kannanaa Kanney', the album struggles to pass muster with Imman's lack of variety unshielded. Hopefully, the song should work with the visuals better since 'Vettikattu' also featured colorful visuals of Ajith in a festival setup when the team released the lyric video.
Rise Up Theme
'Rise Up Theme' is, undoubtedly, one of Imman's best theme tracks. Maxwell's trumpet (who recently impressed in 'Ullaallaa' from Rajinikanth-starrer Petta for Anirudh) induces sheer goosebumps. The "Mukkarai Muzhangida... Kombu Urumida.." bit is hugely uplifting and takes the track to a different level.
Kannaana Kanney - Instrumental
Steered effortlessly by Grammy Award-winning Bangalore-based slide guitarist Prakash Sontakke, the instrumental version of 'Kannaana Kanney' is constructed in mesmerizing fashion by Imman. The album ends on a high note, thanks to Prashanth's surprise contribution with his guitar.
Entertainment
The actor also said, "We not only saw youngsters going separately but also saw parents making their own friends group and going separately and apart from that families that gone together."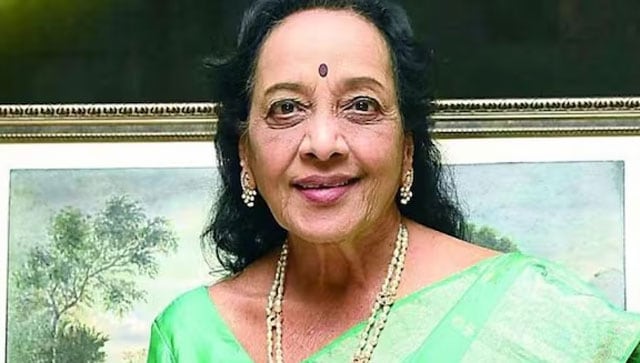 Entertainment
She had won the Filmfare award for Hindi Film 'Milan'. Some of her iconic films include 'Missamma', 'Gundamma Katha' and 'Sri Krishna Tulabharam'.
Entertainment
Allu Arjun's 4-year-old daughter Allu Arha is all set to make her acting debut in Samantha Ruth Prabhu starrer Shaakuntalam