Vishal Bhardwaj's Pataakha is a fierce deviation from Bollywood's sugary sisterhood tropes
If you have longed for something you could relate to in the way Bollywood films represents sisterhood, Vishal Bhardwaj's Pataakha will offer you hope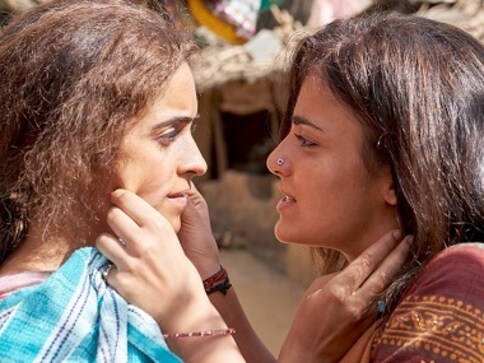 By Aashika Ravi
Those of you who grew up in the nineties and were forcefully subjected to Sooraj Barjatya family movies of the time (read: diabetes inducing Hum Saath Saath Hain kind), you would have had many reasons to go: life is not like that! And a simple reason might have been this: siblings don't get along like that.
Remember our collective confusion at this happy family where siblings actually looked out for each other? Whether it was Laddu's lifelong mission to reunite his estranged bro with his parents in K3G or Max beating up guys that flirt with his sister in Josh. Sure, siblings get along. In the way that Gaitonde and Bunty get along in Sacred Games. (You know which one you are. There is no in between.)
And yes, you'll point me to the occasional Deewar, with its nuanced portrayal of sibling rivalry but for every Jo Jeeta Wohi Sikander where Ratan and Sanju have moments of healthy competition and admiration, I raise you a bouncing Rani Mukherjee and Preity Zinta duo in matching fluffy yellow towels in Har Dil Jo Pyaar Karega, or a sensuous first thing in the morning flash mob featuring Kareena Kapoor, her two sisters and colour co-ordinated satin togas in Yaadein.
If you have longed for something you could relate to in the representation of sisters, if you have simply wanted a pair of girls of shared parentage but not identical clothing, here is some hope. Vishal Bhardwaj's Pataakha is a game-changer if you want to feel better about your messy, complicated and disastrous relationship with your sister. And you will, because Badku and Chutku's relationship is an MTV Roadies episode on drugs. It's Sooraj Barjatya's seventh circle of hell.
While I may not have encountered any sisters whose raison d'etre was to spite the other, Badku and Chutku's relationship is a shade closer to reality than the sugary sweet sisterhood of Bollywood. Sisterhood that revolves around sacrificial passing the parcel games with the hero like in Har Dil Jo Pyaar Karega, or gushing over cute boys like in Bride and Prejudice. As far as portraying depth in sibling relationships goes, Badku and Chutku's hate to love, love to hate interaction is Bollywood sister goals. Where other Bollywood sisters spontaneously burst into song and dance, Badku (Radhika Madan) and Chutku (Saanya Malhotra) are different. Their preferred interactions with each other are impromptu wrestling matches in the school ground.
Imagine the carefully choreographed fight sequences in every action movie ever. Badku and Chutku's fights about bumming each other's cigarettes occur with the same intensity and frequency. Never before have I been so enthralled by multiple angles of two girls clutching at each other's hair with this ferocity, and I blame Bollywood for not championing the cause of girl fights as vociferously as they show their boys fighting. Give me more scrappy brawls with biting and kicking, I say. That's how we would all fare in a fight, let's be real.
For those of you who underestimate the intensity of a girl fight, here's my favourite Tumblr post to remind you that girls fighting is some serious beef, yo. Of course, the only one brave enough to break up this girl fight is their father, a pitiful Vijay Raaz (credited as Bechara Bapu) who gets tossed aside into some fresh kheechad while the girls continue to spar. He learns his lesson soon enough, and grants them permission to duel to the death in the final scene. A+ parenting is respectfully making way for survival of the fittest.
The sisters even mix it up a little with a dance-off during a pre-wedding ceremony which has me convinced that I witnessed the birth of a new fighting style whose signature moves include "accidentally" elbowing your opponent while twerking and putting them in a friendly stranglehold with a dupatta while several aunties cheer on, clueless.
Apart from literal mudslinging, you best believe that they engage in their fair share of petty psychological warfare too. Badku shows off a cool city girl haircut, and Chutku has to immediately up her ante with a wardrobe makeover and a personal procession to hype her up. Badku gets reprimanded for an outfit choice and wastes no time in ratting her sister out for having a boyfriend. Take notes, Bollywood. Sisters thrive on spite, mind games and whataboutery, not just synchronised dancing.
I'd choose Badku and Chutku's reunion after realising they've married brothers over the reunion of Rahul and Laddu in K3G any day. It's got all the same ingredients — the slow motion walk towards each other and the crying. The rightful horror of realising you have to live under the same roof as your sibling yet again is just a bonus.
Their only solidarity is in forbidden cigarettes and paradoxically enough, a conspiracy to separate their husbands. This they accomplish masterfully and the result is two brothers once like Salman and Salman in Judwaa, now a Badku and Chutku themselves, yanking each other's hair out.
Once they are out of each other's lives, we expect the two sisters to finally be content. But soon enough, their lack of an outlet for their frustration leads to them developing psychosomatic disorders — Badku becomes mute while Chutku loses her eyesight. The climax is akin to that of a Shakespearean comedy, and there was a moment after the village trickster Dipper ominously declares that the only solution is 'yuddh' that I thought the film would veer away from the unpredictable, but it ends in a cliched lesson learnt and hugs all around.
I had hoped that Bhardwaj would stick with the arch-nemesis narrative, but ultimately, he takes an unconventional route to deliver a similar message as a KJo or Barjatya: "It's all about loving (to hate) your family."
That said, Badku and Chutku's relationship is a step beyond your average brutal sibling rivalry, in that I wouldn't have been surprised if one had killed the other and felt no remorse after. In the movie, others compare them to India and Pakistan, always inventing reasons to fight it out, to a point where they are purposeless without active hatred for each other. Where else would you see a movie that gleefully fails a kind of reverse Bechdel Test: the only real interactions that take place between the men of the movie are about Badku and Chutku's legendary rivalry.
The Ladies Finger (TLF) is a leading online women's magazine delivering fresh and witty perspectives on politics, culture, health, sex, work and everything in between.
Entertainment
Stating that 'every age is great', actress Shefali Shah asserted that one's value and happiness are more important in the industry.
Entertainment
Noting that she never gives any excuse to skip her training, not even while being on the set, Shilpa wrote, "This routine is called 'Bird-Dog'. It strengthens the core, glutes, shoulders, and arms. It works on improving balance."
Entertainment
Priya Runchal added a funny caption for Sia and Bailey in her Instagram post