Vishal at Irumbu Thirai audio launch: 'I would have played the villain's role if given a chance'
The shooting of Irumbu Thirai took longer than expected since Vishal was busy with the elections for Nadigar Sangam and the Tamil Film Producers' Council, followed by his political plunge by contesting in RK Nagar by-polls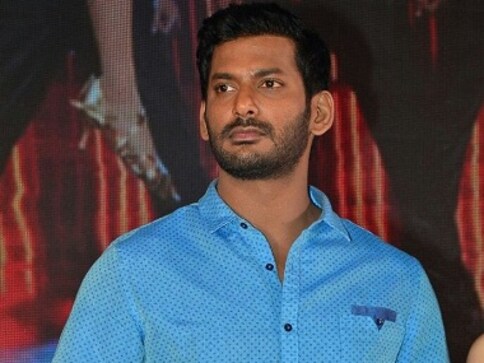 The audio launch of Vishal's Irumbu Thirai happened on 20 January in Chennai. Since Samantha Ruth Prabhu was busy with other shooting commitments, she could not join the function. Also, 'Action King' Arjun, who plays the antagonist role in the film, was conspicuous by his absence.
Directed by debutant PS Mithran, the movie is produced by Vishal's home banner Vishal Film Factory. DOP George Williams, best known for his work in Vijay's Kaththi, has handled the film's cinematography. Initially slated to hit screens on 9 February, Vishal has now postponed the movie to March-end to avoid a clash with Jiiva's Kee, which is bankrolled by the debt-ridden producer Michael Rayappan.
"Irumbu Thirai is an essential film for the people living in digital era," says Vishal
The shooting of Irumbu Thirai took longer than expected since Vishal was busy with the elections for Nadigar Sangam and the Tamil Film Producers' Council, followed by his political plunge by contesting in RK Nagar by-polls. "I'm the sole reason for the delay in Irumbu Thirai's release, and I owe an apology for that. Our team at Vishal Film Factory always decide the film's release date beforehand and work and plan accordingly. But we failed to do that for Irumbu Thirai since I was busy juggling a lot of things," said Vishal.
Summarising the crux of the film, Vishal said, "Irumbu Thirai is about the dangerous digital scams around us. Nine in ten members among us would have been directly or indirectly affected by such scams; my father was also a victim of one. So are we ready to face the consequences of this digital era? Irumbu Thirai is an essential film for the tech-savvy audiences."
"If given a chance, I would have opted for Arjun sir's villain role," says Vishal
Irumbu Thirai marks composer Yuvan Shankar Raja's 125th film in his career. Talking about the momentous feat, Vishal said, "Yuvan is a brother from another mother. One hundred and twenty-five films is a fantastic achievement. I'm looking forward to the background score. He has recorded individual themes for me, Samantha and Arjun separately. We are planning to release the original soundtrack too after the film hits screens."
Vishal who is sharing the screen space with Samantha for the first time appreciated her as a very brilliant and honest professional. He also said Arjun has a very meaty role in the film, unlike the cliched villain characters in Tamil cinema. "When Mithran gave me the idea to approach Arjun sir for the antagonist role, I was a little hesitant. He was the one who launched me as an actor. After the discussion, he called my father and expressed his happiness to do that role. If given a chance, I would have opted Arjun sir's character. It is a parallel role to the protagonist, and he has rocked it in his style," said Vishal.
"Vishal's confidence in me pushed me to deliver a compelling film," says director PS Mithran
Director Mithran, who had met several producers to narrate the script of Irumbu Thirai before finally getting a nod from Vishal, recalled how he felt overwhelmed by the film's first-day shoot. "I was very nervous and hazy. I couldn't even light a matchstick. I'm not sure if Vishal had noticed my anxiety. He came up to me and said he would surely be a proud person after the film releases for introducing me as a director. That was a great moment for me, and everything started to fall into place there onwards. I would never forget that moment in my whole career. His motivation and confidence in me pushed me to deliver a compelling film. The entire technical team in the movie worked together as friends. I would proudly say that I earned good friends through this film."
Mithran confessed to being an ardent fan of composer Yuvan Shankar Raja right from his childhood. "From my childhood to teenage to adulthood, my entire life is punctuated by Yuvan Shankar Raja's music. I'm his huge fan. Be it my love failure or a relationship; his music has always played a role in my life. I'm pleased that he has composed the music for my debut film. I assure that this movie would be an experience for the audience."
"Vishal slips into his role very effortlessly," director Lingusamy
Director Lingusamy, who is currently shooting for the sequel Sandakozhi 2, heaped praises on Vishal's ability to get into the skin of a character quickly. "The kind of transformation that Vishal undergoes for a character is astonishing. I've watched him at close quarters in Sandakozhi. The Vishal I witnessed when I shot the film's climax and how he was during the previous day was completely different. He slips into his role very effortlessly. Once he steps into something, he would give his cent percent effort to make sure it succeeds. He deserves to reach more heights in his career."
Talking about his regular collaborator Yuvan, Lingusamy said, "Yuvan and I share a long-standing relationship. He has composed the music for all my super-hit films. Going by the visuals and music of Irumbu Thirai, everything looks futuristic. And since Yuvan is vouching for it, I'm sure it will be a great film."
Entertainment
Vegan beauty and personal care brand Plum on Thursday said that actor Rashmika Mandanna has come on board as an investor and brand ambassador.
Entertainment
Releasing on June 17 on Disney+Hotstar, Nayanthara's O2 is shot inside a bus where we see a mother fighting for her son's survival
Entertainment
Nayanthara's O2 is a rancid piece of cinema with a message thrown in to make the end-product look more palatable to a more discerning audience.