Vikram Vedha sans Madhavan, Vijay Sethupathi would have been different, says filmmaker Pushkar
In an exclusive chat with Firstpost, ahead of the release of Tamil crime thriller Vikram Vedha on Friday, director Pushkar talks about working with Tamil cinema's stars: Vijay Sethupathi and Madhavan.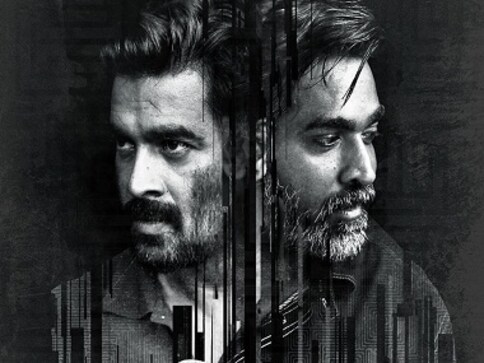 In an exclusive chat with Firstpost, ahead of the release of Tamil crime thriller Vikram Vedha on Friday, director Pushkar talks about the experience of writing and directing films with his wife Gayatri; the concept of exploring good and evil in the film and working with R. Madhavan (plays an encounter specialist) and Vijay Sethupathi (plays a gangster).
Excerpts from the interview:
It's been seven years since the release of your last film Va - Quarter Cutting. Isn't it a really long gap between films?
We are not very driven to make films in quick succession. We wrote another script soon after the release of Va – Quarter Cutting, but we weren't satisfied with it after two drafts and it was eventually put on the back-burner. It was around the same time we started toying with the idea of Vikram Vedha.
Our writing process is generally very slow and it took us nearly two years to finish writing this project, including all the research that went into character development. Even though Madhavan and Vijay Sethupathi were ready to come on board, the logistics involved in putting together a project with two stars - taking into consideration their dates and other factors - took us another year and a half.
You write and direct films with your wife Gayatri. How do you guys distribute work? Who calls the shots, who takes the creative decisions?
If one of us is not too convinced about something, then we look for the third option. We never get into a state of compromise. We have very high level of understanding because we studied together. We watch same kind of movies; listen to similar kind of music. This collaborative effort, which I find really hard to define, really helps in the writing process as one person doesn't let the other get carried away by something which might seem exciting at that point but may not work later.
Vikram Vedha marks the union of Vijay Sethupathi and R. Madhavan, two of Tamil cinema's popular stars. Were they your first choice or you had other options?
As soon we finished writing the script, we were sure we wanted Vijay Sethupathi for Vedha's character. We couldn't think of anyone else as Vedha. When we met him for narration, he was shooting for some other project. We caught up with him after his shoot in the night and he gave his nod after he heard the first half.
Our producer Sashikanth suggested that we try out Maddy (Madhavan), with whom he was working on Irudhi Suttru (Saala Khadoos) at that time. After we signed Vijay, we wanted an actor who could match his performance. We didn't rope in Madhavan because he's a star but because he's a real performer in true sense. When he heard the story, he immediately came on board.
We really enjoyed working with them. They are very devoted actors and their style of working is very different. Even before we started shooting, Vijay would call us in the middle of the night from the sets of another film to discuss the scenes. He would ask us if he could play his character in a particular way. Maddy, on the other hand, would call us from abroad to understand the back-story of his character and what motivates him as an encounter cop. These were things that were not part of the script but they still wanted to know to play their parts well.
Going by the film's trailer, you guys seem to have used black and white colour palette extensively. Was that done to differentiate the good and bad in the characters as well as in the film?
The film explores the space between good and bad. Every character in the film has shades of grey. You really can't pin them down and say if they're good or bad. This is the concept on which we approached the writing process. It sort of extended to every decision that we took with regards to the film. Even if we were to pick the costumes, we would go predominantly with black and white. Even in terms of shot compositions, in every frame in the film, you'll find white as well black space.
Madhavan and Vijay are the biggest stars you've worked with in your career. Was there ever a sense of apprehension about how you were going to deal with them?
As directors, Gayatri and I had to be convinced that whatever Maddy and Vijay would do on sets was for the sake of their characters. It was only possible when we started seeing them as Vikram and Vedha but not as stars.
Entertainment
Akshay Kumar's Prithviraj will lock horns with Kamal Haasan, Vijay Sethupathi, Fahadh Faasil's Vikram and Adivi Sesh's Major at the box office on 3rd June.
Entertainment
The lyrics of Pathala song from Vikram is written by Kamal Haasan, who also crooned the track. It is composed by Anirudh Ravichander.
Entertainment
Before Vikram, Suriya made a special appearance in Kamal Haasan's Manmadhan Ambu. The Lokesh Kanagaraj directorial also stars Vijay Sethupathi and Fahadh Faasil in prominent roles.