Vikram Vedha Hindi remake will maintain gritty tone of the original, say director duo Pushkar and Gayatri
Director duo Pushkar and Gayatri will be remaking their blockbuster Tamil film Vikram Vedha in Hindi.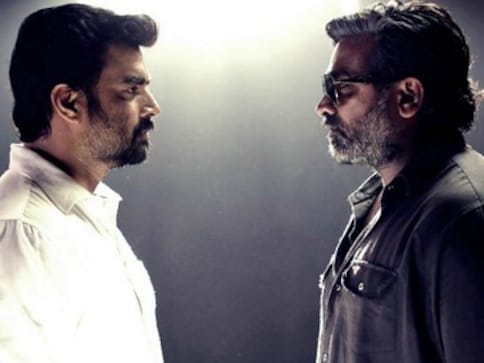 Director duo Pushkar and Gayatri will be remaking their blockbuster Tamil film Vikram Vedha in Hindi. Exclusively talking about the remake plans to Firstpost, Pushkar said: "Talks were on for a long time but only now, we have made it official. What we are planning for the Hindi version is to maintain the gritty tone of the original but the backdrop will be different. Vikram Vedha can be set in anywhere in North India, we are planning to explore the culture and the world of people who live there".
In Tamil, Vedha (played by Vijay Sethupathi) is a notorious gangster who rules North Chennai and Vikram(Madhavan) is an upright cop. Every time when Vikram tries to arrest Vedha, the latter escapes and tells a series of stories which helps the former to understand the dark sides in his profession. The characterisation of Vikram and Vedha are based on the classic Vikram-Betal tales.
Neeraj Pandey is not just the creative producer of Vikram Vedha remake, he also takes care of the Hindi script. "More than translation, Neeraj contributes to set the flavor and mood of the film for the Hindi audiences". Vikram Vedha's producer Sashikanth is joining hands with Reliance Entertainment and Neeraj Pandey's Plan C Studios for the Hindi remake
Looking back at the original version, Pushkar says that he and his wife Gayatri had written many rough drafts and corrections before locking the final script so even on screen, they didn't see any flaws. "What we believe is that our films are collaborative efforts of actors and technicians whom we work with, they are our co-creators. Though we retain the same story of Vikram Vedha for Hindi, it will be a whole new film because of the actors and technicians we are going to choose. Also, the backdrop and the world of Vikram and Vedha will be different", says Pushkar.
There were reports that Shahrukh Khan and Madhavan will be playing the lead roles in the Hindi version. "All those decisions will be finalised in a couple of months. As you know, many actors have expressed interest in the remake so we have a lot of options but things are at a nascent stage. Our style of work is to first lock the script and then choose the right actors and collaborate with the technicians. Once the script gets ready, we will sit and discuss with actors and technicians so that everyone will be on the same page. In another two months, we will make an official announcement on the cast and crew", adds Pushkar, who is also working on the script of a Tamil film with his wife Gayatri but they haven't finalised the lead actor.
Even before Vikram Vedha, Pushkar and Gayatri had made two films—Oram Po and Va Quarter Cutting but those weren't box office hits. "Our job is to write proper scripts and make good films but the box office success depends on whether audiences are in sync with your product. There are a bunch of people who liked Oram Po and Va Quarter Cutting and there are many people who didn't like those films as well", says the director who believes that audience's taste during the release of Vikram Vedha also played a vital role in the film's success.
also read
Entertainment
The month of October 2021 was unarguably the darkest chapter of Shah Rukh Khan's life, a chapter that nearly ripped him and his family, and exposed the hideousness of unfair treatment and trials
Entertainment
Aryan Khan to set to make his directorial debut with Stardom