Vijay Antony on Kaali, and why he doesn't have body language like Dhanush or Vijay Sethupathi
Composer-turned-actor Vijay Antony is back on the silver screen this week with his latest release Kaali, a title which Tamil cinema considers a bad omen for multiple reasons.
Known for going against the grain with his uncanny choice of titles for his films (Pichaikkaran, Yaman, Saithan), composer-turned-actor Vijay Antony is back on the silver screen this week with his latest release Kaali, a title which Tamil cinema considers a bad omen for multiple reasons. Karthi and Kabali filmmaker Pa. Ranjith's Madras was also initially titled Kaali before the makers changed it.
"We actually wanted to break the jinx of the title Kaali. Our director and I received a lot of calls after we announced the title warning us to change it. That's when we decided that we shouldn't change it. I was really impressed by the character Kaali, and we decided the title of the film after thirty minutes of our story discussion. The film is all about how a US-bred doctor Bharat becomes Kaali," a candid Vijay Antony told Firstpost in this exclusive conversation.
Antony said it was an immediate decision to produce and star in Kaali after Kiruthiga Udhayanidhi narrated the story. He is all praise for Kiruthiga, who has returned to wield the megaphone five years after her debut rom-com Vanakkam Chennai. "She was my classmate during college. And she has not changed a bit since then. The shoot was scheduled for 73 days, but she wrapped it up in 58 days and saved a lot of money for us," said Vijay.
Talking about the multiple roles he plays in the film and working with Kiruthiga, Antony said, "I played four different roles in this film and to be honest, I have not done anything different to make the characters stand apart from each other. It's the script that makes the characters look different. I give all the credits to my director. I will not expect the directors I work with to always get along with me well. If they have a difference of opinion, they should be able to tell that. Kiruthiga is one such person, and we had different views which we will always talk through and decide based on what is essential for the story."
Antony is one of the trend-setters in Tamil film industry to showcase the first few minutes of his movie for free on YouTube as a marketing strategy. The first seven minutes of Kaali was also released two days back and received good response from netizens. "Apart from the promotional aspects, there is one more reason in airing the first few minutes of the film well in advance. The audiences including me can never make it to the theatre on time. So this dream sequence is essential to know why Bharat travels all the way from the USA to India," he said.
Asked about the recurring mother sentiment angle in his films, Vijay said, "All I look for in a script is the degree of realism and logic in it. I can't do a stunt where I can thrash 100 goons; I look for logic in the film. And, mother sentiment in Kaali is not the significant part of the story. There are so many layers in the story apart from that. My next film Thimiru Pidichavan will be my first cop film. It is about a person who is very honest and does what he feels is right."
Antony has a unique way of preparing for his roles. He believes that he doesn't have a specific body language or an image. "Be it Dhanush or Vijay Sethupathi; everyone has unique body language, but I don't have one. So I always choose a script based on a character and try to get into the shoes of that character with my performance. Even during the composition, it will be the character that I will be scoring music for and not me. When I say performance, I don't mean to be a different person; I will emote on-screen the way I will emote in my real life. Maybe I can try to learn the art and improve myself in future," he stated.
Vijay Antony will be seen in a special cameo in the biopic of social activist Traffic Ramasamy, which has veteran director SA Chandrasekhar playing the titular role. Talking about his relationship with SAC and his son Vijay, Antony said, "Vijay sir and I have worked in three films; he used to give me a lot of inputs during the composition. After watching Salim, he called me and appreciated my subtle performance in the movie. The rapport we share started with his father SAC sir, who had signed me for Sukran even before the success of Dishyum. He has been a great support to me ever since. I have rented his place and modified it a lot for my studio purposes, and he had never asked a word."
Also starring Anjali, Sunainaa, Shilpa Manjunath and Amrutha as lead heroines, Kaali is produced by Vijay Antony's home banner Vijay Antony Film Corporation. Antony has also composed the music for the film, which has hit the screens on 18 May.
also read
Entertainment
In his upcoming film, Manasuki Nachindhi, Sundeep plays an aspiring photographer, who elopes along with his to-be-bride from their own wedding.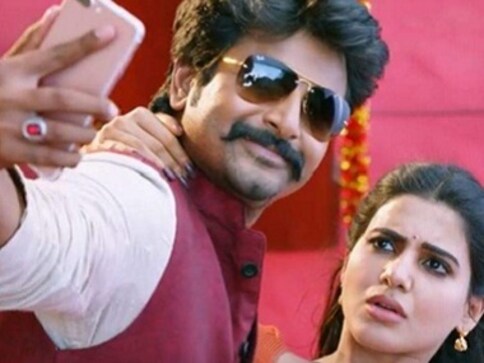 Entertainment
Sivakarthikeyan, popularly known as SK, is currently one of the hottest stars in Kollywood.
Entertainment
Mersal director Atlee recalls how his collaboration with Vijay on Theri and Mersal was a result of their common association with S Shankar.