Vijay Antony on his choice of films, limitations and why he stopped composing music
Vijay Antony's life as a music director and actor has been that of perseverance and paradox. He admits that he isn't a good actor, yet he has been acting consistently since 2012
Vijay Antony's life as a music director and actor has been that of perseverance and paradox. He admits that he isn't a good actor, yet he has been acting consistently since 2012 during which he has also produced five out of the six films that he has been part of.
He never learnt to compose music, yet one of Tamil cinema's biggest hit songs 'Naaka Mukka', from the film Kadhalil Vizhunthen, carries his name as the singer and music composer. So, what explains his success story, so far, and what keeps him going?
"I cannot act, I'm a good technician. I just choose good stories and act in my own way. There's no confusion or discontinuity in my performance because I'm being myself. Not just acting and music composing, I also edit and produce my films these days. It keeps me so busy that I don't have time to compose music for other films. I want to be sincere with each task I take up and if I can't dedicate enough time to compose music for other heroes, then I would rather not do it at all," he says.
Thankfully, the directors he works with play along because he clarifies to each one of them about things that can and can't do. "I'm terrible at dancing and there's only so much romance I can pull off. The directors are well-aware about all this and my acting capabilities. If I work with other producers then they might not quite understand what I'm trying to communicate with them. Now you know why I produce all my films (smiles)."
For someone who has no qualms admitting that he has a long way to go before he can 'act' like some of his peers or maybe even 'dance' like others, Vijay Antony has had a handful of hits to his credit.
His debut film Naan (dubbed in Telugu as Nakili), Salim, and then Picchaikaaran were both critical and commercial hits. In fact, when Picchaikaaran was dubbed in Telugu as Bicchagadu, the film's remarkable run at the box-office, against all odds, was one of the biggest success stories of 2016. Later, Vijay Antony's subsequent films like Shaitan and his recent film Indrasena opened to bigger numbers than he had expected.
"I thought, perhaps, in 10 years, people in Telangana and Andhra Pradesh will recognise me as the actor who was in Bicchagadu or Nakili. But the recognition came much earlier than I had expected to be. I'll always be grateful to the audiences for that," Vijay Antony said at a recent event.
The thing is, Vijay Antony is a restless man. He admits to getting fidgety when the work is incomplete and that makes him work even harder to meet the deadlines. And this trait has spilled onto his personal life. For instance, more than a decade ago, when he first Fathima, who used to work with SUN TV, he knew that he had fallen in love with her instantly.
A day later, he told her, "If your parents are looking for prospective bridegrooms for you, please also consider my name." The next day, Fathima said 'yes'. And by fourth day, after he first met her, he introduced her as his wife to everyone around him. Recalling the incident, Vijay Antony laughs, "We didn't get married on the fifth day (laughs). It took us three months. On a serious note, Fathima has been my biggest strength all these years. We love each other a lot and she knows how hard I work for all my films, and ever since I turned actor, she has been taking care of production and publicity. I call her pattu (silk) and she calls me Mama. We are still old-fashioned, in that sense (laughs)."
That's not it. He is clear about what he wants, despite his limitations as an actor, and right from checking the font size on an Excel sheet to splitting his time evenly between his mother and his wife, Vijay Antony's life has been all about striking the right balance.
"When I edit my films, if the cut isn't smooth, it hits my eyes. I'm also very particular about my office structure and how my staff is positioned. Sometimes, when I have to walk four steps on black and white tiles, I walk the first two steps on white and then on the next two on black tiles. I do this all the time. If I talk to my mother, I have to talk to my wife too. Sometimes, I fail, but I make up for it. This is saving me. This policy has led me to produce films because I'm that particular about balancing everything," he laughs. Is it some form of OCD? "I don't know. Maybe it's a disorder. Now that you have said it aloud, maybe it is OCD (smiles)," he says.
In his latest film Annadurai (dubbed in Telugu as Indrasena), he played dual roles and the story revolves around what the elder brother does for his family. "It's a very positive film and I was really attracted to the characterisation of Indrasena," Vijay Antony says, adding, "There's an Indrasena in all our families. Your father is an Indrasena. He sacrifices a lot of things for your well-being, but you won't understand any of it until you are mature enough. It was the same case with my previous film Bicchagadu too. The film spoke a lot about human values and sacrifices we make for our family members."
Few weeks ago, the film was in news when the censor board in Tamil Nadu objected to the usage of the word 'GST' in a song. While Vijay Antony clarifies that the usage of the word was in reference to something which has come into the character's life all of a sudden, the censor board was adamant that the word be replaced with something else because of the GST controversy that spiralled out of control post Vijay-Atlee's Mersal's release.
Adding his perspective on the GST issue, Vijay Antony says, "Running a country is very difficult. Even running a family is hard. Within your own house, your kid might not listen to you, your wife and your mother might have different opinions. Now imagine how tough it is to run a nation. The government has just introduced Goods and Services Tax (GST), and I believe that we might see its positive or negative results only after 7-10 years. You cannot immediately compare our situation with that Singapore. I just used the word GST, as a metaphor for something which has come all of a sudden. But the censor board raised an objection because it was used in a very different context in another film. I felt their concerns were justified." The word was eventually replaced with EMI.
Given the political controversies that keep popping up every now and then in Tamil film industry and the state of Tamil Nadu itself, one might conclude that there's a internal turmoil that's constantly brewing in the state.
However, Vijay Antony begs to differ. "You cannot generalise it. I think you should segregate what's happening in film industry and in the political sphere, and look at it separately. If you ask me if there's a turmoil in state politics, it's not something which has happened all of a sudden. Politicians have been fighting with each other for a long time now, but when you look at the general public, everyone is living their own life and comfortable in their space. The law and order situation is in place. Things are fine," he adds.
Incidentally, his previous film Yaman (Shaitan in Telugu) didn't quite hit the bull's eye at the box-office, although he still avers that it was a good film. "On the second day after the film released, the then CM Jayalalitha passed away. There was nothing much we could do about it. I still think I have done a good film, maybe I should have tweaked the first half and introduced few characters there."
Ask him if he has any goals as an actor or a producer, given his penchant to find good stories, and pat comes the reply, "If you are going to live your life for someone else, then you won't really enjoy life at all. I don't have any big expectations or goals. I just want to do my job very sincerely. Fortunately or unfortunately, we are going to live on this planet for 20-25 years, during which we will strive to live in peace and help others, if possible. Our journey is going to continue no matter what. If I give you $1 million and ask you to stay inside a room and do nothing at all, you will go mad after a point. You'll want to follow your passion sooner or later. I'm not running behind money or power. In your childhood, you play with toys but that changes when you grow. Right now, my toys are filmmaking, editing, music and VFX. I'm really enjoying my life and trying to be genuine with what I'm doing. You can't face anyone if you aren't genuine. I'm happy with my life. The moment you have big expectations, it becomes a big burden. The moment you clear your mind and know that you should answer your heart, you don't have to worry about anything."
Entertainment
Kevin Clark's death has led the transportation alliance to renew its calls for safety improvements at the intersection.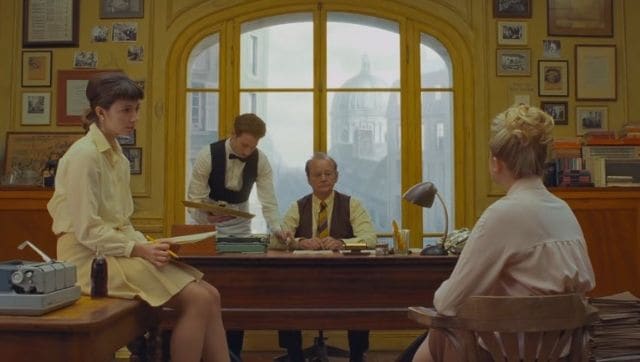 Entertainment
The French Dispatch was initially scheduled to premiere at Cannes 2020 but that edition was cancelled because of the coronavirus pandemic.
Entertainment
Vairamuthu, who is facing MeToo charges, said he wanted to make sure that the "scholarly jury should not be pushed to embarrassment" after they announced they're re-examining the award amid severe backlash.