Vidya Balan on Tumhari Sulu: I could visualise the entire film during the narration
In a chat with Firstpost, Vidya Balan talks about how Tumhari Sulu came around, her slate of box office failure since Kahaani in 2012, and working with husband Siddharth Roy Kapur.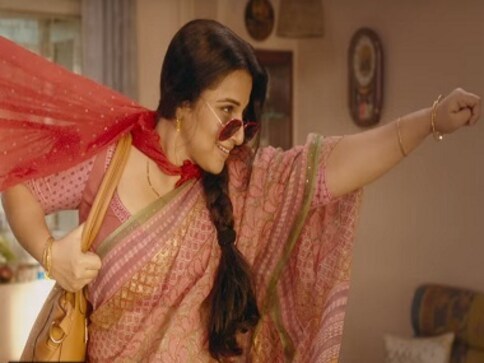 It's a muggy evening but the wind at the rooftop of T Series' office is a respite. The day is earmarked for Vidya Balan to finish her digital promotions of her upcoming film Tumhari Sulu. When I meet her at the venue, one corner of the round table has tiny, shredded pieces of paper. She is relatively at ease and not bothered about her disheveled hair, as there are no TV interviews to be entertained.
So has she ever listened to a night talk show on radio? "When I heard it for the first time I was completely taken aback. It seemed like a person sitting next to you is whispering in your ears. The content may not be sexual at all but the voice and the breathing makes it very sexual. Then there are also shows that are really naughty and make things that are not sexual in nature, sexual," she says, adding, "I don't think anyone would actually say that they listen to such shows."
One person who was instrumental in Vidya getting the film was her brother-in-law, Kedar. It was on Kedar's insistence that Vidya entertained a meeting with Suresh Triveni, director of Tumhari Sulu. "It was my brother-in-law, Kedar who in a causal conversation informed me about an ad film for his firm which was being directed by Suresh. He informed me about Suresh's brilliance and added that he wanted to pitch an idea to me. I have full faith in Kedar's creative instincts and it was also the first time that he was suggesting someone to me," she reveals.
The first meeting, which Vidya had with Suresh, was a bit of a buzzkill as the script failed to evoke any interest in Vidya. He was advised to make changes. The next time Suresh turned up for the meeting, he was armed with one more script. Says Vidya, "The second one was about a homemaker who becomes a late night RJ. This eventually turned out to be Tumhari Sulu and his narration was a clincher as I saw the entire film in front of my eyes."
For Vidya, a lot is at stake with Tumhari Sulu, as her current streak at the box office has been jittery, at best. The list of flops she has suffered after Kahaani is long. Bobby Jasoos, Kahaani 2, Ghanchakkar, Hamari Adhuri Kahani and Begum Jaan have slowly and surely dented the reputation of Vidya at the box office. So did her judgment go wrong somewhere? "I don't judge my decisions. I did whatever seemed correct to me at that point of time. In hindsight, one may feel that I should have devoted more time thinking before signing the films. I can't pin point the factors that force me to sign a film, it's more to do with my state of mind at point of time. I have realised over time that it's very difficult to point out the reason for the failure of a film," she says.
She furthers, "Initially of course it bothered me. When Ghanchakkar flopped I thought that its fine and such things do happen but by the time I reached Hamari Adhuri Kahani, I remember being devastated. I could not figure out what was going wrong with my selection. But it also helped me detach from my film, as films are basically collaborative effort. There is only so much I can do and I can't afford to get into every department."
Vidya reveals that of all her flops it was the failure of Kahaani 2 that really made her sad.
Much has been said and written about the possibility of Vidya working in a film for husband Sidharth Roy Kapur's banner. The Kahaani actress maintains that to keep a healthy marriage life she would prefer to avoid working with her husband. "If things were in my control, I would never work with him and I think it's only for a healthier marriage. It was a decision we took immediately after marriage. We are more objective if we are not working together because in that case you have vested interests which might color your perception," says Balan.
It's also astonishing that despite being an bankable movie star, and having spent 12 years in the industry, an offer to work with the Khans still pours in. "I think people felt that I do only women centric films. I remember screen testing for a film with Aamir Khan, which was to be directed by Vishal Bhardwaj, and this was immediately after Parineeta. I didn't get through the test only. I think I have no regret because my career has taken a different path."
While the world is talking about Harvey Weinstein, Vidya too has her views. She believes that such people are there in every sector. "Women find it very difficult to talk about such things. Invariably the fingers get pointed at them. If people are talking about it even if it's late in the day, it's fantastic," she says, adding, "Just think about the earnings of Hollywood actress, they earn in millions. They are all in powerful positions and even then it has taken so long for them to come out. Sexual harassment is very difficult to talk about as culturally there are lots of impediments."
Entertainment
Filmmaker Chandraprakash Dwivedi on Monday said the team of his upcoming historical film "Prithviraj" has been respectful in depicting the life of the legendary warrior king Samrat Prithviraj Chauhan on the big screen.
Entertainment
Actor Akshay Kumar calls his upcoming film educational and says it should be shown in schools.
Bollywood
"Excited to be in a film that's the antithesis of testosterone-fuelled cinema," Ranveer on his upcoming film 'Jayeshbhai Jordaar'.