Vidya Balan on The Firstpost Show: Conventional Bollywood movies are off-track for me
Real and confident, Vidya Balan has always bent rules and lived life on her own terms. Apart from being a trailblazer, she also has a successful career to talk about. Post the release of Kahaani 2, she joined us on The Firstpost Show to talk about the movie and the issue that it deals with.
The talented actress went through a series of rejections right at the start of her career. She was a part of a Malayalam movie which did not take off, and this state of struggle continued with a couple of other movies. She was at one point labelled "jinxed" due to the failure of her movies taking off. There was also a Tamil movie producer who said she wasn't beautiful and that crushed her confidence. However, she turned things around in tremendous fashion, and over the years has given several ground-breaking performances in some of the biggest films in Indian cinema.
On the show, we asked her what her current state of mind is and she replied that is something that is always fluctuating. She added that there was a point when she was unwell and had been really well for a very long time, but when Kahaani 2 came her way, she accepted it real quick.
We asked her about the kind of movies she does and why she prefers highly unconventional movies. We spoke about how she had a short stint with conventional mainstream Bollywood movies but then she quickly got back to doing her thing. She very confidently replied that "conventional movies" are off-track for her.
Vidya also said that she was really happy about having been able to tell the story of child sexual abuse the way the director wanted to in Kahaani 2 and urges everyone to watch the movie with their entire family.
There's a lot more in this latest episode of The Firstpost Show and to know what, watch the full episode right here, right now.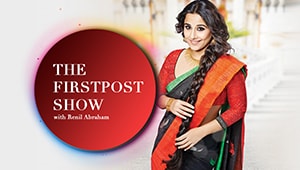 Updated Date: May 23, 2017 17:55:27 IST