Varun Dhawan, John Abraham look smoking hot in new 'Dishoom' poster
Varun Dhawan and John Abraham channel their inner Starsky and Hutch as Kabir and Junaid in Dishoom poster
Starsky and Hutch. Schmidt and Jenko. Tango and Cash. Detectives Lee and Carter.
Screen rules dictate that a film about a cool cop only gets better if said officer has a buddy. The yin to his yang, his partner in (solving) crime.
And carrying the grand tradition of buddy cop movies ahead will be Dishoom.
The poster for this Varun Dhawan and John Abraham starrer is out, and we can tell you that it is all kinds of awesome. It shows the pair walking down the road, in plainclothes, badges displayed prominently and a police dog on a leash (to add shades of Turner and Hooch, we suppose).
In this poster, John keeps it casual with a form-hugging tee, chinos and combat boots. Varun, on the other hand, is more nattily dressed, in a suit — paired with sneakers and a skinny tie to suit his personality.
In the background is a Hollywood-like boulevard with tall palm trees and an expensive-lloking sports car parked at the kerb.
The poster reveals little else, except that the trailer for Dishoom will be unveiled on 1 June. The film itself is supposed to release on 29 July and marks the Bollywood comeback of Akshaye Khanna, who hasn't been seen in a film for the past four years.
Sharing the poster with his followers on Twitter, Varun Dhawan wrote:
#Dishoom poster.So this is how Kabir and Junaid walk into work on a monday morning. #DhawanAndAbraham #Bulldogsrule. pic.twitter.com/KvLAwpcwa8

— Varun Dhawan (@Varun_dvn) May 30, 2016
If only our Monday mornings at the office were like that! Unfortunately, we're more likely to get this from our co-workers:
The cast includes Jacqueline Fernandez as the leading lady while Akshay Kumar and Nargis Fakhri have cameos in Dishoom.
Entertainment
Even as talks of Dishoom crossing Rs 35 crore are making headlines, John Abraham has already suggested the making of a sequel to the film. At an event on Sunday, the actor said that if the film does well they will plan for a sequel.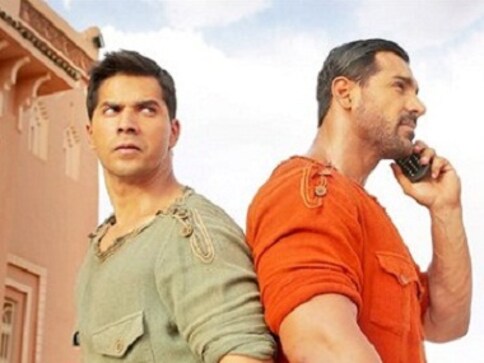 Entertainment
Dishoom had the sixth highest opening weekend collections of any film in 2016