Vada Chennai movie review: Dhanush's realistic performance, Vetrimaaran's direction make this film a winner
Vada Chennai is a layered, violent and mesmerising portrayal of North Madras, and the film belongs to Dhanush.
Vada Chennai is a layered, violent and mesmerising portrayal of  North Madras, the breeding ground of rowdies and its ambitious gang leaders, jockeying to take control.
This blood-soaked drama of cunning, ruthless men and women, their betrayal, loyalties and lust for revenge is set in late 1980s and goes on till the early 2000s. Vetrimaaran has smartly crafted the film against the political landscape in Tamil Nadu during that era with the death of  MGR, Rajiv Gandhi assassination and the ascendancy of Jayalalithaa to power. The film works for its multiple characters and terrific set of actors who bring them alive on screen.
In the beginning you get the feel that Vada Chennai is another Tamil gangster story set in North Madras (so many Tamil Kollywood gangster films have been set in the same milieu including Dhanush's Pudhupettai), but Vetrimaran's direction and characterisation makes the film different and gripping. The director is able to recreate the North Madras area accurately with real locations including the port area, fishing boats and dialogues-laced with cuss words.
(Spoilers ahead) The story begins with the principal characters, Guna (Samuthirakani), Senthil (Kishore), Velu (Pawan) and their close aide (Sai Dheena) sitting in a local restaurant with bloodstained hands. In a Tarantino-style scene, they are seen discussing what to do next after murdering Rajan (Ameer), their one time mentor and a smuggler who did a lot for the common people in the area. He was keeping the urban slum from being acquired by road-building contractors in league with politicians. A year later, a gang war erupts in the area as four men fight for the spoils of crime and want to be anointed as the next boss.
Meanwhile Anbu (Dhanush) is a budding carom player, a boy-next-door type of a guy who is in love with a feisty girl Padma (Aishwarya Rajesh) and is part of the generation next. The narrative keeps shifting between 1991 and 2003. But soon Anbu gets sucked into the cesspool of crime and gang wars and has to go to jail. It changes his outlook in life. The film ends with the rise of Anbu as the new godfather of the area, and his saga will continue in Part 2 and 3 of the film.
Vada Chennai belongs to Dhanush, who is fantastic as Anbu — his characterisation is well etched by Vetrimaaran. There is heroism, and at the same time the character is believable. But it is director-turned-actor Ameer who steals the show as Rajan, the do-gooder smuggler and people's man. Samuthirakani, Kishore, Pawan are aptly cast. Aishwarya Rajesh as the foul-mouthed love interest of Dhanush is a scream and Andrea as the mastermind is fantastic. Jackie's production designs and Velraj's camera adds a slickness to the technicalities in the film. On the downside at 2 hours and 46 minutes, the film is a bit too long and sags in the middle portion. It picks up speed only in the last 20 minutes.
Vada Chennai is another feather on Vetrimaaran's cap though not in the same league as his earlier films. The way he has built into the story, the rise of gangsters and thrown in political allegories is brutally honest. It also shows how politicians and the slum lords, in the name of development and welfare of the people, are similar in their opportunistic approach and selfish interests.
Find latest and upcoming tech gadgets online on Tech2 Gadgets. Get technology news, gadgets reviews & ratings. Popular gadgets including laptop, tablet and mobile specifications, features, prices, comparison.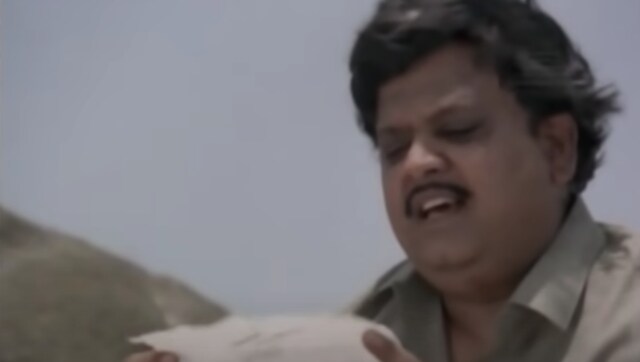 Entertainment
How SP Balasubrahmanyam lent his unique musical style to multiple leading men, from Arvind Swamy in Minsara Kanavu, to Rajinikanth in Thambikku Entha Ooru, to, more recently, Dhanush in Vetri Maaran's Aadukalam.
Entertainment
Palasa 1978 does not merely narrate the resistance of Dalits — the film sings it.
Entertainment
Enola Holmes doesn't just piggyback on Sherlock's beloved status, it promises a fresh origin story which is part coming-of-age comedy, and part literary revisionism.