Us: First look of Jordan Peele's Get Out follow-up reveals a bruised, bloodstained Lupita Nyong'o
After Get Out's immense success, Us holds higher stakes, especially with Jordan Peele as its director
Jordan Peele's Us has been surrounded by considerable mystery even three months before it's scheduled to arrive in theatres. Universal Pictures recently released a teaser of the film which may have fans wondering about the film more than ever.
Details are still quite obscure about Peele's upcoming film Us. The story is set in the present day and trails Adelaide and Gabe Wilson (Lupita Nyong'o and Winston Duke) as they take their kids to Adelaide's old childhood beachside home in Northern California for the summer. After spending a day at the beach with the Tyler family (which includes Elisabeth Moss and Tim Heidecker), Adelaide — who's traumatised by a lingering incident from her past — becomes increasingly more paranoid that something bad will happen to her family. As night falls, the Wilsons see four figures holding hands and standing silently at the bottom of their driveway.
The eight second long teaser focuses on a hand holding a pair of golden scissors. The disconcerting teaser raises more questions than it answers. Entertainment Weekly shared a few first looks from the film. One of them depicts four individuals standing in front of a house with ominous back-lights almost painting the image of a cult.
After the considerable praise that Get Out garnered across the board, Us will surely be worth the wait. Us is scheduled to hit theatres on 15 March, 2019.
Watch the teaser here.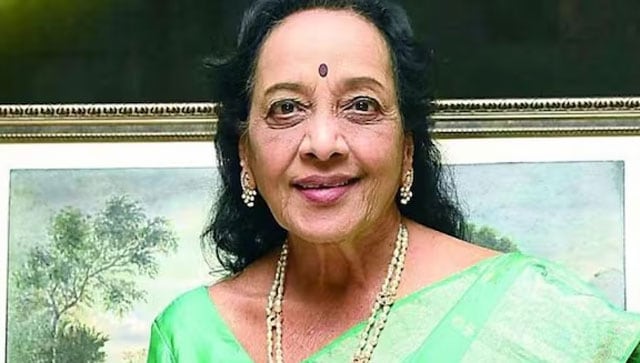 Entertainment
She had won the Filmfare award for Hindi Film 'Milan'. Some of her iconic films include 'Missamma', 'Gundamma Katha' and 'Sri Krishna Tulabharam'.
Entertainment
While Megan definitely is a humorous horror venture, to call it a horror-comedy would be impolite.
Entertainment
David Crosby became a star in the mid-1960s with the seminal folk-rock group The Byrds, known for such hits as Turn! Turn! Turn! and Mr. Tambourine Man.