Unfreedom movie review: This Netflix film starring Adil Hussain is a vicious assault on all senses
Unfreedom is 'un'feeling in its relentless pursuit of shocking images. It is 'un'faithful to storytelling. It is 'un'palatable in its perversity.
In a scene in the latest Netflix flick, an Indo-American film, Unfreedom, an old man — a certain Dr Fareed played 'bravely' by Victor Banerjee — screams in agony as a savage looking young man pulls out his nails.
A few minutes before that, he has been hit hard with a hammer on his face and his one eye seems to have been gouged out. And a few minutes before that, another young man before him has literally been crucified with his hands nailed to the wall. The tormentor somehow looks more miserable than the victims as he looks at all the torture instruments on the table to figure his next move. The sequence probably lasts around 10 to 20 long minutes in which Dr Fareed quotes the Quran and continues to preach while blood oozes from his head and face.
Victor Banerjee is indeed very brave to play this part. In his entire career, he has probably never done anything so dramatic and er… powerful. Probably the makers of the film have sold the concept and the roles with this one word: 'powerful'. One can only guess that Banerjee, both as Dr Fareed and as an actor, could not have felt more powerless when such mindless scenes had to be performed.
That torture scene defines Unfreedom. The entire one-hour-42-minute story seems to have been written by tortured souls who want to inflict the same on to us.
A parallel track in the film has nudity scenes which will put Ram Gopal Varma's obsession for sex and perverse fantasy to shame. There are two voluptuous women who are stark naked most of the screen time. The film starts with a young Indian girl sitting nude, with a pair of scissors in her hand. And yes, she looks tortured. Later, she is seen with hair chopped off, trying to push a gun into her mouth.
A visual of her father's face (Adil Hussain, intense as much as clueless) seems to show he is very evil. She clearly is unable to kill herself. It seems there is something really horrific happening here. Can it be that her father is sending her to bomb a place? Or is he forcing her into prostitution? All along, a sinister sounding music track plays in the background, trying hard to build a suspense. Well, it is revealed that she is only trying to run away from a marriage because she is gay. Her lover is a bisexual woman (Bhavani Lee) who, by the way, is also seen naked the first time on screen. No, she is not in bed or in the shower. She is a big international artist who paints other nude women, while in the buff herself. She lives in India and is fighting for the LGBT cause.
Here are two tortured varieties. One kind is the fundamentalist who wants to kill those who interpret Islam as a non-violent message from God and the other is a gay woman trying to break the shackles of society's (read male) aversion to homosexuality. Both kinds are trying to fight for their freedom. So, Young Husain (Bhanu Uday) has been sent from Pakistan to kill a Muslim scholar in America for raising his voice against terrorism. Hussain is tormented throughout by his own childhood memories and the conflicting voices of the right and wrong. Then in India, there is Leela (Preeti Gupta) who wants to be free to love a woman. Only, the woman in question keeps rejecting her. Why Leela would run around like a crazy woman and kill her girlfriend's lover and keep begging the girl to marry her, at the same time acknowledging that the girlfriend claims to be a 'slut' who needs other lovers, is beyond understanding.
If that is not weird enough, there is a lengthy sequence showing their ultimate 'union' on a beach. The girlfriend captures their sex video live and recites lines that goes, "... home without walls, earth, water, love, fire …" and soon the nudity fest begins again. It is as if the director is as much a part of their exploitation as the society depicted.
With this kind of forced writing by debut co-writer and director, Raj Amit Kumar, abrupt dialogues and laboured visuals of 'great' art playing to haunting music that grates on the nerves more than a scratched record; the film comes across as the most disjointed piece of work. It looks more like all shades of violence are mixed into a senseless assault to the senses. Moving rapidly from Times Square in New York to some exotic art studio in Delhi, without giving a sense of time or sequence of events, the film is just a series of wannabe hard hitting images of skin, blood, guns and oh, a huge sculpture in the shape of a penis.
Unfreedom has indeed done justice to the prefix of "Un' in its bizarre title. It 'un'does all the aesthetic values of cinema. It is 'un'feeling in its relentless pursuit of shocking images. It is 'un'faithful to storytelling. It is 'un'palatable in its perversity which stoops to its lowest when depicting rape. It is 'un'watchable and 'un'bearable, period.
Find latest and upcoming tech gadgets online on Tech2 Gadgets. Get technology news, gadgets reviews & ratings. Popular gadgets including laptop, tablet and mobile specifications, features, prices, comparison.
Entertainment
Dolly Parton's Christmas On The Square is overcaffeinated entertainment with a satisfactory jukebox committed to the task at hand — exude wit, wisdom and attitude — at least, somewhat.
Entertainment
Torbaaz, set in Afghanistan, is a story about child suicide bombers where Sanjay Dutt plays an army officer.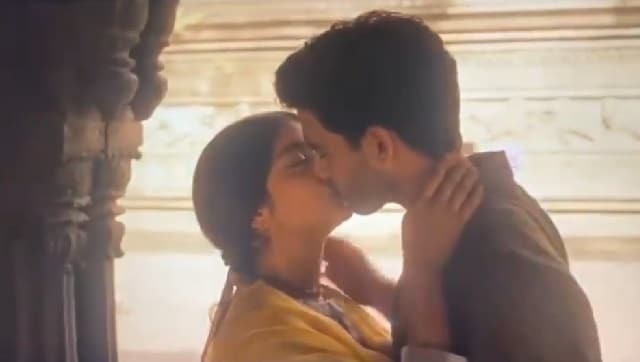 Entertainment
The officials were booked on a complaint filed by Bharatiya Janata Yuva Morcha national secretary who demanded an apology from Netflix and the makers of A Suitable Boy, and the removal of "objectionable scenes," which he stated were "encouraging love jihad."