'Udta Punjab will fly': Anurag Kashyap, Alia Bhatt and Bollywood react to verdict
The entire film fraternity stood together and supported Udta Punjab's release
As the Bombay HC passed a landmark judgment on Udta Punjab clearing the film with one cut out of a suggested 89, the entire film fraternity stood together and supported the film's release.
While some directors and actors completely condemn censorship, there were a few celebrities who also think having a sensible head in the censor board is necessary. Here is how the film fraternity reacted to the Udta Punjab verdict:
Vikram Bhatt, director
"Fabulous! It is the victory for creative spirits. I think now there is hope. This judgment makes me feel that there are still protectors of democracy, protectors of constitution. Now we will not be cowed down and we will fight for the entertainment industry. It is the independence day for the film industry today. I hope this will bring an end to the regime of oppression. Well, what happens to Mr Nihalani, I am not in power to say."
Hansal Mehta, director
"Very good, but unfortunately the film industry had to knock on the doors of High Court when the entire body has been set up by the government for the purpose. We can't be burdening the court. It is a wake up call for us. All the very best to the makers of Udta Punjab. I am looking forward to watch the film. Let this be the catalyst and not the reason. But it is great that they took a stand and fought for their right. But I am still upset that we had to go to court and CBFC failed to deliver. We have to wait and watch, am still cynical about the system. I will be convinced only if the Information and Broadcasting Ministry will take some action. But Congratulations to the Udta Punjab team."
Shatrugan Sinha, actor and BJP leader
To ANI, Sinha said, "Why there is a huge outcry to sack Pahlaj Nihalani? He is only doing his duty. One should ask the government to change the guidelines. If Udta Punjab is focusing on drug problem, I believe its sincere attempt."
Piyush Mishra, actor
To Times Now, Mishra said, "Films in the past have released without abuses and adult content. Golmaal, Munnabhai, Chupke Chupke, these are entertaining, timeless films. I do believe there is a need for the right kind of censorship, otherwise there will be jungle raaj, but not a dictatorship. Audience is very aware nowadays."
Shoojit Sircar, director
To Times now, Sarcar said, "This is a landmark judgment. We filmmakers are conscious Indian citizens, so I just want to say that we are fully aware of what we shoot, write, project. It is observations from our point of view. We have every right to show things the way see it."
Kabir Khan, director

"We were living in such an absurd situation and I am very happy, in fact, thrilled with this landmark judgment. This was definitely needed. It has emboldened the filmmakers who were really very frustrated with Nihalani's way of functioning. He has been running CBFC like his own feifdom. He would put lot of pressure on the makers. He is now made to feel that he is also accountable. I can't get over the fact that he had objected to my title Bajrangi Bhaijaan, he had said that I could either say Bajrangi or Bhaijaan which was the most ridiculous thing I have ever heard in my life. Nihalani has butchered lot of movies in the last two years and lot of people have succumbed to the pressure. How many can fight the battle and go to court but now the filmmakers have at least realised that they can fight it out if the need arises. This will also embolden the small time producers who have been suffering at the hands of Nihalani. This judgment has set a great precedent. This is just the beginning."
Entertainment
Rani Mukerji starrer Mrs Chatterjee vs Norway released on 17 March 2023.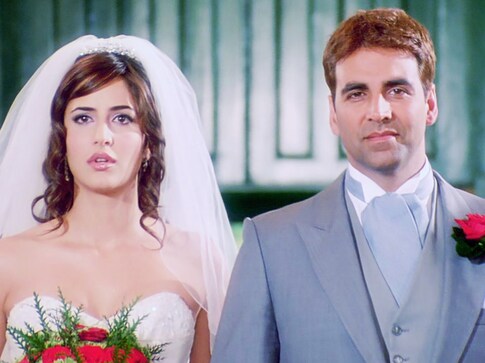 Entertainment
A story of a British girl and a Punjabi boy! Vipul Amrutlal Shah's directorial Namastey London completes 16 years
Entertainment
Ram Gopal Varma did his graduation from Acharya Nagarjuna University in Andhra Pradesh.