Twenty years on, Baazigar still charms but its stars have dimmed
Despite all the things that are wrong with it, Baazigar worked. It set up Khan and Kajol as stars and its wobbly moral compass didn't bother audiences at all. But what of its star cast now?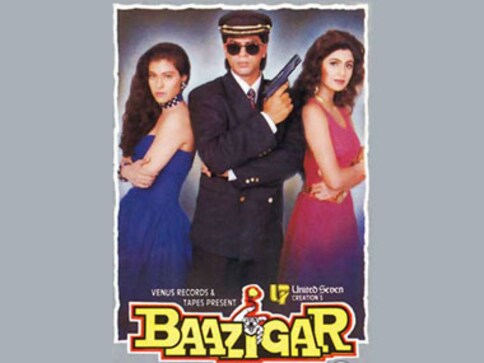 The poster for Baazigar showed Shah Rukh Khan flanked by Kajol and Shilpa Shetty. Khan is mostly hidden, thanks to the suit, cap and dark glasses. All you can really see of him are his flared nostrils and pouty lips. The two actresses look like wannabe Bond girls, but don't quite have the wardrobe. Let's be honest. That poster looks like it's for a forgettable love triangle between two women and an airline pilot who owns a toy gun.
But despite all the things that are wrong with it, Baazigar worked. It set up Khan and Kajol as stars and its wobbly moral compass - the film does, after all, have a deceitful serial killer as a hero - didn't bother audiences at all. No one can predict if a film will win audiences over, but often, in hindsight, the box office records make sense. Not with Baazigar. We can explain the film's success by bandying about phrases like "Khan's star quality" and pointing out Abbas-Mastan's ability to make twists twistier than ever as well as a catchy soundtrack, but that's not enough to obscure the film's weaknesses. Baazigar was a dilligent copy of A Kiss before Dying, had some godawful action sequences and a modest budget that meant the fake blood looked particularly incredible. Most importantly, it had no star power whatsoever. Yet, 20 years later, Baazigar remains weirdly memorable.
Baazigar was a bold move for directors Abbas-Mastan. The duo was keenly aware that they'd picked a terribly twisted tale. In fact, originally Sridevi was supposed to play both Kajol and Shetty's roles, to make the film more marketable perhaps. But ultimately, Abbas-Mastan decided against both the idea of a double role for the heroine and also dropped Sridevi. Back in the early 1990s, Sridevi was one of the most beloved actresses of Bollywood. Would audiences who were coming to the cinema to see her forgive a film that killed her remorselessly well before intermission? Abbas-Mastan decided it was best to go with actors who had no fan following. They picked one debutant (Shetty) and a two-film-old actress (Kajol) for the heroines, and a barely-known actor named Shah Rukh Khan as the film's anti-hero.
At the time, Khan's filmography contained unmemorable titles like Idiot and Raju Ban Gaya Gentleman. Worse still, there seemed to be a dangerous possibility that he was one of those arty intellectuals. After all, he had acted in Maya Memsaab (Ketan Mehta's take on Madame Bovary) and In Which Annie Gives It Those Ones (admittedly, Khan had a puny role that involved him describing a situation in which his piddle could evaporate). Baazigar established Khan as bona fide Bollywood and from then on, there was no looking back. The role of Ajay Sharma in Baazigar had been turned down by a number of actors, including Akshay Kumar. Unsurprisingly, not too many were comfortable playing a character whose solution to every problem is murder. Khan got the role and he played up the calculated evil of Ajay's action so convincingly that by the end of the film, you found yourself feeling sorry for the man who has killed his girlfriend, two of her friends and her father.
Ajay was the kind of man that audiences should have hated, but a few weeks after Baazigar's release, Khan was on his way to becoming a heartthrob and giggling charmingly when interviewers asked him why his hair flopped over his forehead. The hairstylists always despair with his hair because it won't behave, Khan would tell interviewers.
Today, Khan's hair obediently gets sculpted into whatever shape his make-up team requires of it. Just as his hair no longer rebels against Bollywood trends, neither does Khan. Over the years, he's become more and more neatly ensconced in the mould of the commercial hero, so much so that this year, in Chennai Express, he ended up parodying his own filmography. No more anti-heroes or acting challenges for King Khan; only heroics.
His co-stars have followed similar paths. Shetty's career as an actress went nowhere, but she is a celebrity today thanks to her appearance largely and reality TV. She has almost literally sculpted herself to fit Bollywood's conception of beauty. The only part of her that is the same as the woman she was during Baazigar is her height. Kajol, who made so many of us cheer for defiantly flaunting her unibrow and dusky complexion, fared better at first. Her first stint in Bollywood established her as one of its most charming talents whose success was particularly enthusing because she didn't submit to blow-dried hair and a war-painted face. Sadly, the fall from grace has been much sharper in Kajol's case. The actress is now a few dozen shades fairer, has two expertly-plucked eyebrows and hair that has been tamed by the blow-dry. And she's also selling you creams whose advertisements contain the unspoken suggestion that the cream will transform you the way it did Kajol, from duckling to swan.
Just recreate that old poster of Baazigar with Kajol, Shetty and Khan as they look today and you have before you an indicator of how Bollywood has changed. This is how glossy, slick and artificial it's become. And if Abbas-Mastan made it today, they wouldn't be satisfied with copying just one film or having just one twist
It almost makes you nostalgic for the good ole days when all you had at the start of a film was a disclaimer that read, "All characters in this film does not resemble to any body dead or alive if so by sheer co-incidence." Almost.
Entertainment
Witnessing King Khan next to her, the Basic Instinct actress gasps at first and then exclaims 'oh my God!'
Entertainment
Treating his insta family a few hours back, Shah Rukh dropped a video, wherein he has expressed his happiness that the Dunki team was able to finish the shoot on time and talked about his experience of shooting in Saudi.
Entertainment
Siddharth Anand says, "Pathaan has two spectacular songs. And fortunately both are so incredible that they are potential chartbuster anthems of the year."