TVF's Inmates is a hilariously desi version of FRIENDS — a review of Episode one
TVF's new show Inmates, written by Raghav Raj Kakker and Kashyap Kapoor — also the actors — and directed by Yazad Anklesaria, sees a bunch of people, literally in all shapes and sizes, fight, bicker, joke, struggle and of course, talk in the typical Indian web series language (abuse galore). Airtel could easily sponsor the nutcase friends ("kyonki har ek friend zaroori hota hai..")
There is Rahul Kapoor (Kakker), a typical struggling actor you see in the gyms and lanes of Mumbai suburbs, desperately seeking his next break. Then there is the casting director, Richa (Akanksha Thakur), who uses one particular pet Hindi abuse like an accessory, any time she wants to control a situation. Then there is the short and scared looking, Madhav (Ashish Verma), who we are introduced to as an unlikely man sitting in an office and staring at the picture of a bra. No, he is not shopping online for his girlfriend. Nor is he a closet cross-dresser. Madhav is a simple and sincere man  working on the product for his company — a lingerie startup.
What happens to him later in the day, constitutes most of the first episode of Inmates.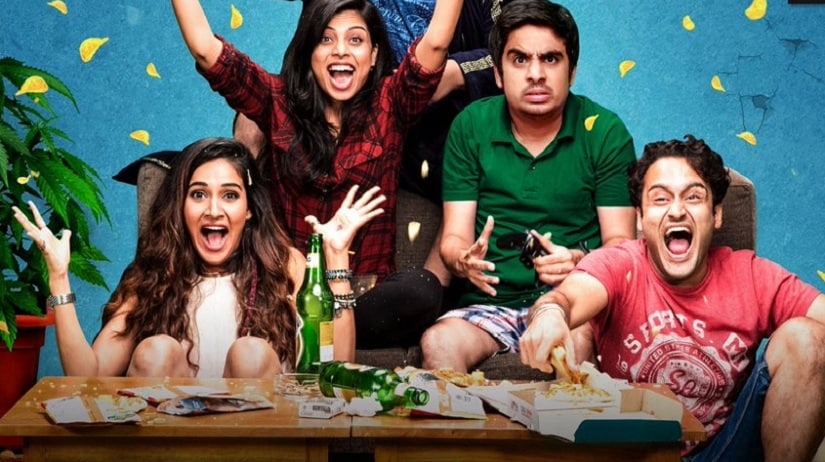 This brings us to the other two characters — Fooga (Kashyap Kapoor, great fun) the token fat guy in shorts, who lolls around in a sofa and plays video games like a 15 year old; and his tall, stunning half sister, Kay (Mukti Mohan) who is a mystery at this point.
Put these people together to share an apartment and you have a desi version of Friends with a liberal sprinkling of American Pie.
One of the highlights of the pilot is when we see Madhav get up from his office desk and head straight for a Tinder date. In a hilarious sequence in the lift, he has the most embarrassing phone conversation of his life, in front of the other sole occupant of the lift — a woman. For some reason, Madhav's phone is on speaker mode and no matter how much he keeps jabbing at the buttons , the person on the other side is heard, loud and clear… "climax le liyo ". What happens next is a LOL-worthy, classic sitcom scene.
Madhav's ordeal does not end at the lift. What happens at the Tinder date will be left for viewing. Suffice it to say that the evening is full of promising surprises.
The episode has another funny sequence when Rahul is giving an audition. His co-actor is an over zealous uncle who believes in acting with all the natya shastra rasaas like haasya ras. Rahul in his enthusiasm, keeps improvising and adding his own lines instead of letting the other guy say his. Richa, the casting director, comes on cue with her abuses. The scene works purely because of the writing. With a better sense of timing between the actors, it might have been as good as the lift scene.
We see all these friends come together in their apartment to find Fooga spring a surprise at the end of the episode. But the fun has just begun — what with Fooga talking about his missing dad to Rahul, a certain Pablo Chaachu, who, Fooga claims is, "Escobar… Narcos nahin dekha tune?" Seeing the befuddled look on Rahul's face, he dismisses, " ja, Sasural Simar Ka dekh."
Now indeed, if these gags and funny one liners don't keep you laughing for most of the episode's twenty minutes, you are better off taking Fooga's advice on what else to watch. I am quite happy watching this predictable yet hilarious bunch of friends in the following four episodes of Inmates.
(The show will air on October 13 on TVFplay.com)
Updated Date: Oct 09, 2017 18:17:22 IST
Your guide to the latest election news, analysis, commentary, live updates and schedule for Lok Sabha Elections 2019 on firstpost.com/elections. Follow us on Twitter and Instagram or like our Facebook page for updates from all 543 constituencies for the upcoming general elections.