Tune in: From Bob Dylan's 'Fallen Angels' to Eric Clapton's 'I Still Do', the albums you can't miss
From Bob Dylan's Fallen Angels to Eric Clapton's I Still Do, here are the big music album releases you need to tune in to
This week has been a big one for music. Look at the list of new album releases from 20 May onwards, and you'll find quite it liberally peppered with the names of several iconic artistes. Bob Dylan's Fallen Angels, of course, is probably the one that's most talked about, but there are several other equally high profile releases. Here are the top-five, chosen for you by Firstpost.
Album name: The Day of The Dead
Artist(s): Various
A tribute to the Grateful Dead, this album features covers of their greatest hits — 59 of them to be precise — by artists like the National, Wilco, the Flaming Lips, Courtney Barnett, Anohni among others.
Should you tune in?
"(This) is a well-intentioned collection to re-contextualise the music of the Grateful Dead — long shunned by hipsters — as something that has, in fact, been pretty influential on indie rock," says the review by radio.com, which also picks out the 10 best tracks from the 59, so you don't have to. The Guardian in the meantime contents itself by saying: "This collection's sonic ambition is exemplary."
Album: 2
Artist(s): Mudcrutch, Tom Petty
Mudcrutch was Tom Petty's band before he found fame with The Heartbreakers. 2 comes nearly eight years after their 2008 eponymous record, an features 11 tracks in all (seven written by Petty and four by the other band members).
Should you tune in?
The Boston Globe described 2 as "fiery and romantic as a youthful tryst, a rock 'n' roll experience unsullied by the inevitable passage of time and unspoiled by the burden of experience". American Songwriter says, "As usual, Petty makes it seem easy. And with help from his fellow Mudcrutchers, the unassumingly titled 2 is proof that even Tom Petty's modest side projects are better and more compelling than many acts at their best."
Album: I Still Do
Artist: Eric Clapton
He still does! Make magical music, we mean. I Still Do is Eric Clapton's 23rd solo studio album.
Should you tune in?
Reviews have been somewhat mixed for Clapton's 23rd. Consequence of Sound's critique reads: "I Still Do, a sleepy, cover-heavy, forgettable batch of tunes, will fit pleasantly soundtracking Sunday morning coffee with a newspaper — and if you're not old enough to be up on Sunday morning or reading a newspaper, it'll likely be a hard pass." However, Clapton's undisputed mastery over his guitar, and the unfaltering nature of his virtuosity, even at the age of 71, is acknowledged. This is an aspect that a review by Star2.com touches on as well: "In his first album as a septuagenarian, guitar virtuoso Eric Clapton is revisiting the blues roots that shaped his distinctive sound," they write.
Album: Fallen Angels
Artist: Bob Dylan
Dylan is back. With his 37th studio album. This one features 12 covers written by various American songwriters, all except one of them recorded previously by Frank Sinatra.
Should you tune in?
Giving Fallen Angels a 7/10, The Young Folks say: "Fallen Angels shows how terrific a recording artist Dylan is, with or without his own lyrics backing him up". Pitchfork offers a more lyrical conclusion: "The final product, then, feels adrift: just off the coast of delivering a discrete emotional impact, offering a sporadic, self-reflexive charm for fans who smile at Dylan's every left turn, whether in spite of themselves or on principle. In other words, it's a new Dylan album: the product of a life ritual no one can fathom, but which is doubtless way more typical than one might think; perennially modest; worth a faithful fan's money."
Album: Changesonebowie
Artist: David Bowie
It's been 40 years since David Bowie's compilation album Changesonebowie released. This week, it was reissued in various formats, including vinyl, CD and digital.
Should you tune in?
Pitchfork very succinctly tells us why this reissue is timely and needed: "These are the tracks that present Bowie at his hardest and straightest," the review says. "Collected, they provide a summation of his peak as a rock star and, in some ways, remain an excellent introduction to his work: it doesn't tell you everything you need to know, but it captures Bowie's essence and repackages it as a roaring good time. That's reason enough for Changesonebowie to be back in circulation."
Arts & Culture
The 24 by 20 centimetre painting of a pale figure dressed in teal clothes, with teal and red hair on a crimson background, was originally sold through a website around 2001.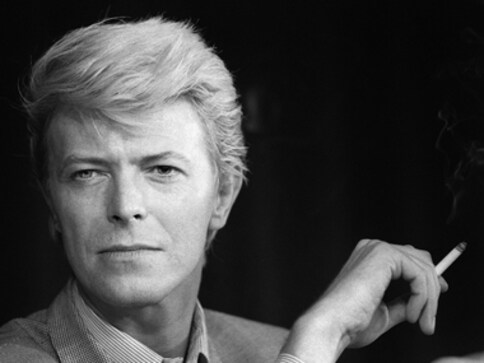 World
Now it has been claimed that his passing away may have been "stage-managed", and it has led to questions surrounding the cause of death
Life
John Lennon held out the promise he could bring out more musical greatness in legendary guitarist Eric Clapton in a letter that could fetch as much as $30,000 when it is sold at auction next month, the organizers of the sale said on Monday.