Tumhari Sulu is a throwback to the feel-good family films of yore: A look back at their era
Tumhari Sulu is a wonderful reminder of the films of Hrishikesh Mukherjee, Basu Chatterjee and Sai Paranjpe
A little over a decade ago, one of my first assignments as a rookie film journalist was to call Hrishikesh Mukherjee for a quick phone interview. I dialed his landline. "Sorry beta, I'm just back from the hospital. Can we talk next week?" he asked. "Sure, thank you," I replied, put down the phone and burst into tears. Whoever before or after that lovely gent would ever addresses a young stranger with such nonchalant kindness!
I was always familiar with, though never wild about Hrishida's pool of multiple genre hits, from tear-jerkers like Milli, Anand, dramas like Abhimaan and comedies like Bawarchi and Khoobsurat. Whatever the genre, the un-laboured gentleness of the man himself – so apparent in a brief, inconsequential telephone conversation – shone through all his films. To date, filmmakers resort to quoting him to give a context to their slice-of-real-life, middle-class oriented Indian films. Case in point, hit du jour Tumhari Sulu's producer Atul Kasbekar, who's said that his Vidya Balan film is a "Hrishikesh Mukherjee film for us set in modern day; an urban, well-written comedic kind of space".
Notwithstanding the irrepressible Balan, no film – including Hrishida's own, IMHO - can withstand the sheer Tsunami of slice-of-life, madcap delight that's Golmaal. My cable television go-to, I can chortle and giggle with the 1979 Amol Palekar-Utpal Dutt starrer on loop any day. Both terrific actors received Filmfare awards for their roles in the film, Palekar easily edging out Amitabh Bachchan (Mr Natwarlal) and Rishi Kapoor (Sargam) that year. Everything in the film worked organically — from the goofy twin brother fraud executed by a smashing ensemble cast to RD Burman's breezy music and Gulzar's  everyday quirky lyrics (apart from the sublime 'Aanewala Pal', my favourite lyrics are from the song 'Ek Din Sapna Mein Dekha Sapna' which go — Lata gaa rahi thi, main table pe the, wo mukhde pe thi, main antare pe tha…)
But above all, Golmaal works through decades because it was made in a more innocent — and cleaner, literally — time. I'd hardly call it naïve though. Lightness of being is more like it. Problems of a growing megalopolis notwithstanding, being middle class Indian in the seventies was all kinds of cool. Bombay (as it was known then) was the sort of place you wanted to live in, romance in BEST buses and hang out at Samovar Café flirting with baby boomers in bellbottoms and bush shirts... Hrishida's cinema was accessible, never mundane or contrived. Contemporary actors like (and by 'like', I mean 'only' them)  Ayushman Khurana and Bhumi Pednekar – in the exceptionally charming Dum Laga Ke Haisha and Shubh Mangal Savdhan – are perfectly relatable, lovable middle-class Palekars of our times, but they're unfortunately saddled with a much more complex and louder socio-cultural milieu.
Community Politics
If Hrishida's pioneering 'middle road' cinema flourished in the home environment, Basu Chatterjee's Chhoti Si Baat (1975) was a realistically romantic slice of office life in the urban India of the Seventies. As Arun (Amol Palekar) and Prabha (Vidya Sinha) romance all over Bandra and South Bombay, their employer, Jackson Tolaram Private Limited is the sort of cosmopolitan office space where Parsis, Maharashtrians, Malyalis and Gujratis quibble good-heartedly. Three years later, Basuda trained his easy breezy romantic oeuvre on different communities that defined Bombay. In Khatta Meetha (1978), a Parsi widower Homi Mistry (Ashok Kumar) and widow Nargis Sethna (Pearl Padamsee) decide to get married with their respective, temperamental broods tagging along unwillingly. He followed it up with Baaton Baaton Mein (1979) in which the lovely Nancy (Tina Munim) romanced Tony Braganza (Palekar) in the 9.30 am local and her home in Bandra where the family tapped their feet to the adorable 'Uthe sab ke kadam, dekho rumpumpum…'
Unlike Hrishida's genteel characters, Basuda tended towards crafting slightly naughty and smarmy fellows, like Palekar's bombastic love guru Colonel Julius Nagendranath Wilfred Singh (Ashok Kumar) in Chhoti Si Baat. That naughty, risqué streak culminated in Shaukeen (1982) where a troika of sixty-something gents travel to Goa to lech at and woo a young girl, an adult comedy that was nowhere as innocent and all encompassing as Golmaal.
Tortoises, hares and detergent salesgirls
Rounding up the troika of middle-of-the-road cinema of the early Eighties are Sai Paranjape's films, where she mercifully found a replacement for Amol Palekar. As the studious Siddharth in Chashme Buddoor (1981) and the flamboyant and selfish hare Bashu to Nasseruddin Shah's Rajaram the tortoise in the magnificent Katha (1983) the late Farooq Sheikh brought his own brand of youthful charm to the middle-class hero. He also made one of the most underrated romantic couples on the Indian screen (a personal favourite) with Deepti Naval. Whether sticking a single hibiscus flower in her hair or demonstrating Chamko detergent powder to a smitten bachelor, Naval took on the mantle of the middle-class girl next door with subtlety, grace and oodles of charm.
Their romance was as much with life as it was with each other. Real, breezy and so uniquely representative of an urbane India that it promptly strikes you with longing, even if you aren't terribly sentimental.
Entertainment
As Priyadarshan returns to Bollywood after a hiatus of eight years with Hungama 2, a look at his popular Hindi comedy films.
Entertainment
Shilpa Shetty says she refused offers of scripts about hard-hitting subjects and heroine-centric plots, as they lacked commercial value.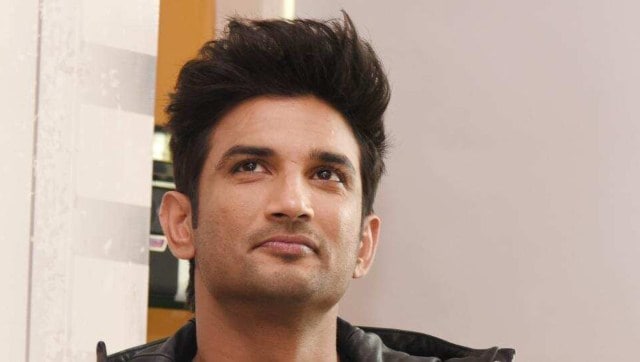 Entertainment
Sushant Singh Rajput's father Krishna Kishore Singh had appealed against the single-judge order refusing to stay the release of the film Nyay: The Justice, allegedly based on late actor's life.