Trisha, Amala Paul, Raai Laxmi lead the way as South Indian actresses embrace action-oriented roles
From learning Krav Maga to doing stunts on their own, Trisha Krishnan, Amala Paul and Raai Laxmi are willing to push the boundaries when it comes to essaying action-oriented roles on screen.
From learning Krav Maga to doing stunts on their own, southern actresses like Trisha Krishnan, Amala Paul and Raai Laxmi are willing to push the boundaries when it comes to essaying action-oriented roles on screen. No longer willing to merely play the hero's love interest, these women are endorsing action like never before in upcoming films such as Adho Andha Paravai Pola, Aadai, Garjanai, Paramapadham Vilayattu and Jhansi, proving that they're not lesser than their male counterparts in any way.
A recent visit to the sets upcoming Tamil forest-based thriller Adho Andha Paravai Pola (AAPP) gave this writer first-hand experience of Amala's action-packed role in the film, in which she plays an activist. On the sets, Amala was seen shooting an elaborate action sequence featuring Samir Kochhar and a few junior artists. Talking about the experience, she told Firstpost in an exclusive chat: "It's my most physically demanding film. I never imagined I'd do another film like Mynaa where I'd have to invest more effort, but AAPP broke that record. I play an activist who gets lost in the jungle and everything I encounter as I find my way out forms the crux of the story. In real life, I'm a very adventurous person. You would often find that I go on trekking trips, so when I heard this script and realised that it'll be predominantly shot in jungles and has lot of action, I immediately gave my nod."
Amala learnt Krav Maga, a popular Israeli form of martial arts, in preparation for the role. "Action in the film goes with the story; it's so seamless. None of the action sequences were included just for the sake of elevating the mood of the film. When we were shooting the first action sequence, there was tension on the sets as to whether I will be able to pull it off. By doing action, I earned the respect of a lot of men around me on the sets. It felt good to be respected, especially for something in my own way. I hate it when people would tell me to fight like a man. I'd do it my way and in the process feel empowered."
Just to give a glimpse of Amala's action avatar in the film. She rode a motorcycle, climbed up a 40 ft tree and rolled in mud.
Trisha Krishnan, on the other hand, performed stunts sans body double in Mohini and upcoming Tamil thriller Paramapadham Vilayattu. Director Madhesh made Mohini with Trisha because he believed she's no less than any hero when it comes to performing action. He had told Firstpost: "A lot of action in this film required Trisha to be attached to a harness. I know heroes don't like the idea of using harness because it's not a pleasant experience. When you're attached to a harness, you feel like your body is being pulled from all directions. But Trisha didn't have any qualms and she placed her faith in me."
Mohini may not have hit the bull's eye at the box-office, but it sure earned Trisha a lot of praise for her performance and action.
In Paramapadham Vilayattu, Trisha plays a doctor and a mother of a young girl. Talking about Trisha's dedication in the action sequences, director Thiru Gnanam said in an interview: "Each time she completes a shot, she would faithfully ask, 'Is that enough? Or should I go for one more take?' That is the kind of commitment she has." Elaborating more, he reveals, "The first schedule was canned in the forest area of Yercaud. There were a few action sequences involved in those scenes which were choreographed by Stunner Sham. Though, we insisted that we can use a body double, Trisha was keen to do them all by herself. They are not the typical action blocks; they are more of brainy and sharp feats."
In upcoming Kannada action-thriller Jhansi, it's the turn of Raai Laxmi to take the action route. She plays an investigative police officer in the film. "It's my first attempt at a full-length action-based script. It's not that I haven't been offered action scripts before, but this one was special as it immediately impressed me the minute I heard the narration. I briefly learnt martial arts to perform some stunts in the film," Laxmi said.
Entertainment
People are celebrating the release of Ajith starrer 'Thunivu' not just at the cinema halls but also streets of France by bursting crackers, hooting, lighting smoke bombs, dancing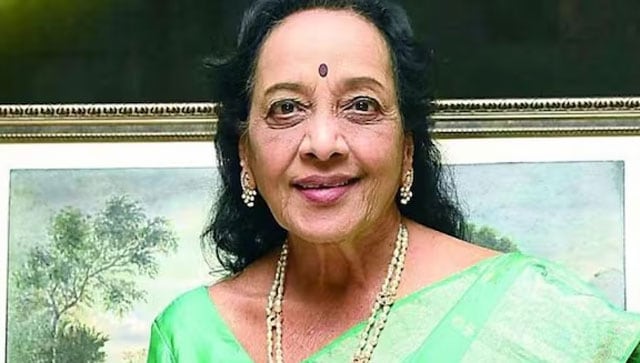 Entertainment
She had won the Filmfare award for Hindi Film 'Milan'. Some of her iconic films include 'Missamma', 'Gundamma Katha' and 'Sri Krishna Tulabharam'.