Tom Alter passes away: A longtime collaborator fondly recalls association with his 'Huzur'
He would often call me, and others whom he liked, "huzur". I, in turn, would call him "huzur, mere huzur".
Late on Friday night/early Saturday morning, when everyone was sleeping quietly, my Tom Saheb (Alter) bid goodbye to all of us. It's beyond my capabilities to describe his persona in words. But if I dare to make an attempt, I would say he lived as a complete man.
He had come to our office in Film City, Noida in July for a special program, which we were doing with him. He was as vivacious as ever, so full of life and energy. By the time we closed the program and requested him for lunch before he could leave, I had a nagging feeling that he was looking a bit tired and a bit hassled. I asked him "if anything was wrong".
He said "I am slightly tired. I have a court case to attend in the afternoon and then I have to leave for Biharsharif for a charity function." I had no idea what was going within him. Nobody had the faintest idea that he was suffering from cancer. When I pressed him for another program, he jokingly told me "ek K Asif the jinhone Mughal-e-Azam banai thi aur ek ye apne Ashif miyan....kitna kaam loge". While leaving, he told me, "take care of yourself".
Weeks later, came a friend's call to tell me that he had been admitted to a hospital in Mumbai. On hearing the news, my heart sank.
I first met him in 2010 while doing films on wildlife. I was instantly hooked by the simplicity of his persona, his deep interest in wildlife, his Hindi and Urdu shayaris, particularly Ghalib couplets that he would recite in his own characteristic style. I became his fan and he accepted me as his young friend (even though I am younger to him by 25 years). I feel privileged that he gave his voice to my films, anchored multiple shoots and made them stand out.
Tom Alter's puntucality 
His traits are unparalleled in today's time. He was so punctual, so committed to his words that once the date and time were decided, he would be there on time, no matter what. Once I had to go to Nainital for a shoot. I reached Nainital. Huzur was to come to Kathgodam by train and thereafter by road to Nainital. That day, the weather was very bad. It was impossible to contact him because he never kept a mobile or any assistant. But he managed to reach Nainital.
After we met, I urged him to keep a mobile phone. But he said, "Mobile phone makes a man speak lies. See we had decided to meet here at 11 am and we are here. Now imagine if I had a mobile phone, you could have said you are on the way, bad weather is creating all sorts of problems, there is a traffic jam even if you were having paranthas at that time. I don't trust mobile phone. People lie with it."
When Tom said he works for love, not money
I would often tell him ,"Huzur, take some rest. You keep on moving from one place to another, even to remote suburban areas." He would spend from his pocket to travel long distances and participate in charity programs.
Once I was shooting with him in the Ranthambore tiger reserve for a film. We had been working together for three years. I told him, "Huzur, three years have passed. If you say I can talk about revising terms (money)". You would not believe my statement made Tom sahib angry. "You have dared say so today, don't do that ever in future. I work for affection, I don't work for money. I earn enough money and you are not going to add to it," he roared.
Tom and Cricket
He was passionate about cricket. He loved the game. Once, during a shoot in Haldwani, he saw some kids playing cricket and walked up to them. He started playing with them. One over, two overs... and it turned into an inning. At lunch time, I asked him about the shoot, he said, "Janab, we have finished bowling, we have to bat now". And the whole day passed.
He is credited with doing first interview of Sachin Tendulkar. He told me, that interview was to be done by Ravi Shastri but he could not do it. And since no one else was available, he had to do it. I knew he was being humble.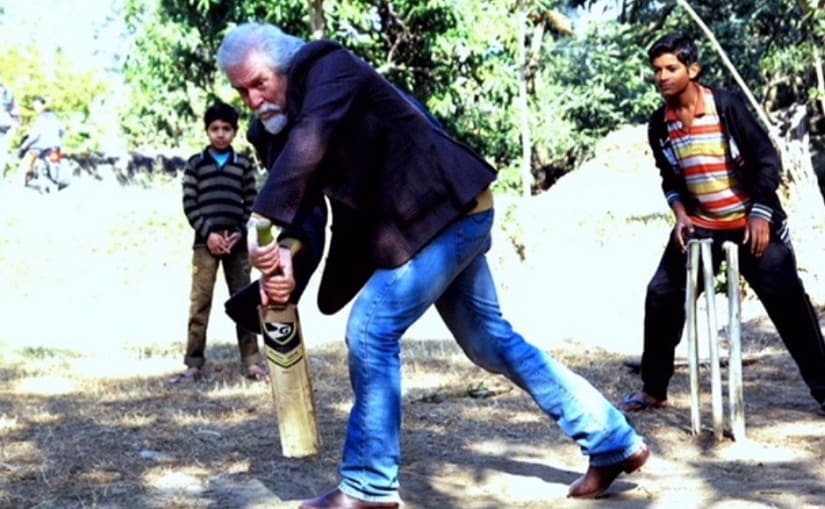 Hundred percent desi
One day, we were going to Sariska. I picked him up from the airport. As soon as he got inside the hired car, he greeted us with an aadab. The driver was surprised. He looked at me and asked if Tom also speaks Hindi. That angered Tom Saheb and he shouted at the driver, "Tere baap ko bhi Hindi sikha dunga. Main Hindustani hun." The driver couldn't be blamed for that. Blame Hindi films for that.
Maulana, Gandhi and sometimes Ghalib
He would play Maulana Abdul Kalam Azad, Mahatma Gandhi and Mirza Ghalib on stage. He would shave and become bald to play Gandhi and even turn vegetarian during the period he played Gandhi. I would often urge him for a Ghalib couplet and he would always oblige.
The beauty was he would not only play these greats as an artist but he cherished those values. During a shoot in Ranthabore, our driver Raees invited us to home for a meal. That was a very tiring day for us. We had begun shooting at 5 am and finished at 7 pm. I thought Raees had made a casual request and the matter was over. But half an hour after we reached hotel, my door bell rang and I saw a fresh Tom Saheb in white Pathani suit. "Fast! We have to reach Raees home for dinner." I could not believe. He spent hours with Raees' family.
I now live with the burden that I can never ever see him. I had booked a Delhi to Mumbai ticket for Wednesday. I was too keen to see him, even if I it meant to stand close to him for few moments. Huzur, I will always have this regret that I could not be there (in his last days), you did not receive my last salute. I had always tried to maintain punctuality with you. I never realized that this time around I would be penalized so heavily. I will be at your grave on Wednesday to read my prayer.
May your soul rest in peace. Khuda Hafiz!
The author heads Firstpost's multimedia team in Delhi.
Updated Date: Oct 01, 2017 13:47 PM