Titli review: Violent, shocking but impressive debut by Kanu Behl; Ranvir Shorey steals the show
Moments in Titli are constantly switch from the pleasant to the unpleasant, the shocking to the more shocking
Titli is not an easy film to watch. It hits you in the guts and spills out blood.
First it sucks you in. Into the narrow bylanes of Delhi's underbelly; into the tiny and crowded, claustrophobic houses and into the lives of three brothers, whose address includes a gutter. They lead a life that may make hell look like a bearable hole, if not heaven. It repels you and compels you. You flinch. You wince. You even want to shut your eyes. Because you are actually made to relentlessly feel the pain the characters feel.
Strangely, it's the sort of pain that is used to numb things out.  The way in which a newly wed wife, Neelu (Shivani Raghuvanshi, who is magnificently real) allows her husband, Titli (Shashank Arora) to inject her with local anesthesia so that she loses any physical sensation of what will happen next is a primary example of that.
It's the most horrifying depiction of both cruelty and tolerance. The contradiction doesn't lie in the husband's act alone. But also in the wife's reaction, when he tests her numbness by slapping her wrist again and again. "Thoda wait kar lo na," she protests mildly, in a typical Dilli wali tone, as if waiting for a cup of tea.
After all, she is actually waiting for better things in life, like her married lover with the cruelly apt and ironical name, Prince (Prashant Singh). You can't really blame her. Even Titli wants to fly out of his cage. He wants to run away from his family of two brothers and a father who make a living out of smashing cars, dragging people out and banging their heads with hammers.
Titli has a dream of his own. He wants to buy a garage space in an upcoming mall. This will cost him a sum of Rs. 3 lakhs. It's an amount that his family cannot afford to give him. But they can marry him off, instead. To a girl who will help them sell combs and hair oil from their loss making, small shop.
Little does Titli know that there is no bed of roses at the night with his bride. Instead, there is a quiet wrestling match, where bangles clang in furious protest instead of lusty moans. This is a remarkably well-written scene without dialogues. The intense performances by Raghuvanshi and Arora capture the disturbing under- the-sheet violence which probably mirrors many a marriage. The single bedroom's cramped interior with a small, steel cupboard, is designed and used brilliantly to showcase stifled emotions.
Strangely, the sympathies don't just lie with Titli and Neelu but also his two conniving and brutal brothers. This is where Behl and Sharat Katariya's writing shines. The short tempered, abusive Vikram (Ranvir Shorey) can blow fists, shed tears at the drop of a hat and also see through a divorce deed thrust at his face by his beaten up wife.
The other brother, Baawla (Amit Sial) is the quiet mediator. If Shorey packs a powerful punch with his gritty act, Sial is the show stealer in his unobtrusive reactions, friendly presence and gay leanings. The two brothers are a sight to watch, in their bad-blood soaked checked shirts.
Then there is the father (Lalit Behl, also the director's dad) who quietly dunks his biscuit in his chai in the midst of a family fight. He is simply happy to throw in wicked ideas and later dance at his son's wedding. There is a gem of a moment in the way he is seen briefly, moving to the baraat tunes, in the slowest, wearisome and habituated step seen at a wedding.
It's not the violence that shocks in the car-jacking scenes, as much as the way Titli reacts. At one point, he gets into the driving seat of a robbed car with a missing windshield. "Raat hai…haath saaf kar leta hoon," he says casually, referring to his driving learning skills.
That's how debutant director, Kanu Behl's Titli plays out. The moments constantly switch from the pleasant to the unpleasant, the shocking to the more shocking, the intense to the light; all within one sequence. Gruesome action is punctuated by tension filled, long silences which keep your eyes glued to the screen with bated breath. Long shots in natural light, with a hand held camera that moves with a character, bring out the details of the glum milieu.
Sometimes, the sounds are overdone, like the brushing of teeth and clearing of the throat and lungs. There is so much focus on trying to keep the world so real that you are subjected to watching Titli puke or Vikram spit while brushing.
Behl, who makes an impressive directorial debut with Titli, has earlier shown the same unique sparks in Dibakar Banerjee's Love Sex Aur Dhoka, as co-writer and assistant director. With Banerjee and Yashraj Films backing the film as co-producers, Titli premiered at Un certain Regard section of Cannes Film Festival, 2014.
Whether Titli, the reluctant brother, transforms into a butterfly and flies away or not, there is certainly no escaping from Behl's non-apologetic, brutal and bloody tale.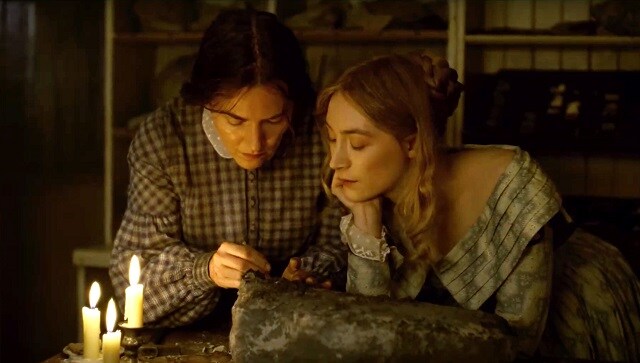 Entertainment
Ammonite suffers from a slowness, that intends to mimic the pace of life, but does not build or culminate into anything profound or satisfying.
Entertainment
The Disciple is a thoroughly Indian film, rooted in the space and cinematic time that director Chaitanya Tamhane creates.
Entertainment
Through a deceptively simple narrative, Praveen Kandregula wants his audience to see that the whole point of cinema is about making dreams come true, no matter how small or big they seem.