'Titanic' reunion, Leonardo's reaction to Lady Gaga: The best moments from Golden Globes 2016
While The Revenant and The Martian scored big on stage at the Golden Globes this year, a lot of fun stuff also happened off stage at the annual awards show.
For one, four-time host Ricky Gervais made a below-the-belt reference to Ben Affleck while calling Matt Damon on stage for The Martian, "He's also the only person Ben Affleck hasn't been unfaithful to". Ouch!
Jennifer Lawrence and Amy Schumer, Hollywood's favorite BFFS, threw their charm on, while hosting the show as well. But it was all forgotten the minute Brad Pitt and Ryan Gosling came on stage. Together. (You can take a moment to absorb that).
However, the moment of the Golden Globes, was Leonardo DiCaprio's response to Lady Gaga brushing past him to go collect her award. (She won the award for Best Actress in Television, for a movie or limited series for American Horror Story: Hotel). You have to see it to believe it:
The award for the best reaction goes to #LeonardoDiCaprio on Lady Gaga's win #GoldenGlobes https://t.co/KOt7SdROKd pic.twitter.com/UPMMZpZUBn

— IBNLive Buzz (@IBNLiveBuzz) January 11, 2016
The only thing I learned tonight is that @LeoDiCaprio hates @ladygaga yup #GoldenGlobes

— Nik Richie (@nikrichie) January 11, 2016
Needless to say the Golden Globes was the most trending topic on Twitter all of Monday. Here are some hilarious Twitterati reactions, show videos and bytes:
DiCaprio's viral thank you speech for The Revenant
Awesome!!! @LeoDiCaprio https://t.co/XtRQDchwlO #GoldenGlobes #LeonardoDiCaprio

— Lakota Man (@LakotaMan1) January 11, 2016
Leonardo DiCaprio's #GoldenGlobes win puts him one step closer to Oscar victory https://t.co/uvdJoeM7Ce pic.twitter.com/wP8apyu49Z

— VANITY FAIR (@VanityFair) January 11, 2016
This is Leonardo DiCaprio's 3rd #GoldenGlobes victory for Best Actor! pic.twitter.com/L9hmliP3VL

— Entertainment Weekly (@EW) January 11, 2016
The Titanic moment (Kate Winslet won Best Actress for Steve Jobs)
After watching the Golden Globes I still think Leonardo DiCaprio & Kate Winslet should be married. 😍⛴

— Jan. 14 (@xarsxo) January 11, 2016
Never letting go of this Kate Winslet and Leonardo DiCaprio moment at the #GoldenGlobes. pic.twitter.com/aHWsT4gZcn

— E! Online (@eonline) January 11, 2016
#tbt to Leonardo DiCaprio and Kate Winslet at the 1998 #GoldenGlobes 😍😍😍😍😍😍 pic.twitter.com/vmw67PZXI1

— Cosmopolitan (@Cosmopolitan) January 11, 2016
Leonardo DiCaprio at his first #GoldenGlobes in '94 for 'What's Eating Gilbert Grape' pic.twitter.com/gmpPcbsUhI

— Marlow Stern (@MarlowNYC) January 11, 2016
"I'll never let go, Jack." #GoldenGlobes pic.twitter.com/TjnhY2hLy5

— Jarett Wieselman (@JarettSays) January 11, 2016
Highlights of the Golden Globes
Star-studded #GoldenGlobes post-win and presenter portraits with @inezandvinoodh https://t.co/YSZwWIfSUI pic.twitter.com/ubNN8AfT64

— Instagram (@instagram) January 11, 2016
This is us. @veepHBO #GoldenGlobes pic.twitter.com/pXGQ9EsBlD

— Julia Louis-Dreyfus (@OfficialJLD) January 11, 2016
Friendship #GoldenGlobes pic.twitter.com/z9AR7hhClT

— People magazine (@people) January 11, 2016
Ryan Gosling and Brad Pitt stood together at The #GoldenGlobes and it was too damn much https://t.co/nDdddxhq0N pic.twitter.com/ytNl8RCz7p

— BuzzFeed (@BuzzFeed) January 11, 2016
And the moment of the Golden Globes, one more time: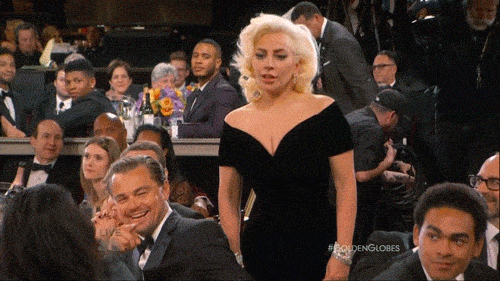 Updated Date: Jan 11, 2016 14:29:25 IST