TIFF 2018 rally celebrates women's tedious journeys in film industry, and long road ahead
The Toronto International Film Festival (TIFF) organised a rally this year to accompany the Share Her Journey campaign, which is their five-year commitment to a just representation of women in film through festival programming and participation.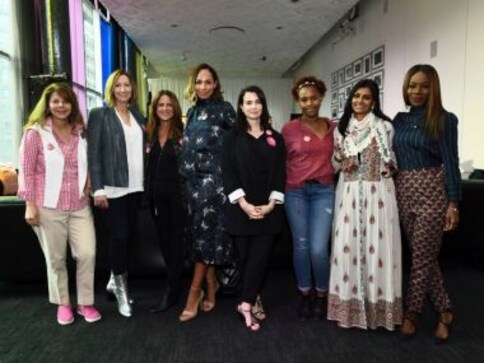 Three years ago, when Dr Stacy L Smith concluded her study on gender discrimination in representation in Hollywood films, the results were staggering; of all named or speaking characters in films, 30.9 percent were female and 69.1 percent were male. This data has remained mostly unchanged through half of the last century. Intersectionally, the data gets even more problematic as over 48 percent of films in 2015 did not portray even one black speaking character for a woman, 70 percent did not have any speaking roles for an Asian woman, 84 percent had no portrayal of a differently abled woman and only 6 percent portrayed a queer woman. It is to protest an erasure of this kind, and to pledge an increase in the visibility of women, both on and off camera, the Toronto International Film Festival (TIFF) organised a rally this year to accompany the Share Her Journey campaign, which is their five-year commitment to a just representation of women in film through festival programming and participation.
On the morning of 8 September, hundreds of women and men came together on the premises of the film festival, which ran from 6 to 16 September. Braving the chilly winds, the audience, flashing their placards and badges that proudly proclaimed "I Stand With Women in Film", assembled to hear the impressive lineup of speakers that included actor Geena Davis; Dr Stacy L Smith, Founder-Director of University of Southern California's Annenberg Inclusion Initiative; actor Mia Kirshner, founder of the #AfterMeToo movement; filmmaker Amma Asante; Cathy Schulman, Producer and President of Women in Film; Keri Putnam, Executive Director of the Sundance Institute; actor Amanda Brugel; actor-filmmaker Nandita Das and Zavia Forrest, a member of TIFF's Next Wave Committee.
Michèle Maheux, Executive Director of TIFF, spoke about the Share Her Journey campaign which continually strives to shake the seemingly insurmountable gender lines that divide the film industry and segregate talent. It is doubly important for this rally to take place in 2018, after a whole year of unearthing the ugly reality of sexual abuse that lurks behind the glitz of the Hollywood film industry, or any industry anywhere in the world, for that matter; the conversation around sexual abuse of women within the film industry has been stronger than ever. "Weinstein was not the first man, or unfortunately the last, to be doing what he did," Das noted before stressing on the importance of a continuing movement to ensure the participation of more women in the film industry and a system of trust that listens to and believes their accusations and experiences.
Das continued, "We all have multiple identities; some given and some acquired and one identity I just can't escape is that of being a woman. I am often asked how it feels to be a woman director and I tell them I have no idea how it feels to be a male director." She also related how in her initial years as a female film professional, she would want to escape being tagged down to her identities as a woman and as a South Asian woman in film. But now, she has embraced and owned this identity because that is the only way to inspire more and more women to do the same and participate in the processes of filmmaking.
Davis recalled how the fight for gender equity, for her, started when she sat her toddler daughter down and started watching TV programmes meant for children. "There were far more male characters than female characters and in programmes aimed at the youngest of kids. This was unconscious gender bias. Why are we feeding young minds with a bias we then later work so hard to dismantle?" Since then, her non-profit, the Geena Davis Institute on Gender in Media has been collecting data on gender inequity in film and sharing it with the creators of films and television programmes. Kirshner spoke at length about the need to have a legal aid group that provides aid and guidance to women who face sexual violence in their workplaces. "We have heard many leaders say, 'We stand by you.' But what do you mean?... My question is, when you stand by me, does that mean you are going to pay my legal fees because I can't afford them? Does that mean you are going to offer trauma support, mental health support because it's not available and not affordable?" She continued to speak of the need to develop a support system that sees women through the legal and psychological aftermath of surviving sexual abuse, and informed that she is working on an online support base to fill up the vacuum the lack of such a system leaves behind.
Asante brought race into the conversation as she highlighted her struggles as a black female filmmaker: "The last I checked, we black women didn't even make up one percent of the industry we work in." She insisted that equality for women of colour in film must enter the equation when one is trying to champion gender equity in films because the benefit of all women, and of the society, is intrinsically based upon the benefit of the people whose numbers rest at the lowest rungs when it comes to representation.
Putnam, herself a forever advocate of independent women film professionals, echoed the thoughts of all the speakers and laid down what is perhaps the loudest statement for the powers that decide the course of films, their making and distribution in Hollywood and beyond, "Leadership by women is different and different is not inferior."
And it is about time we embrace this difference, and listen to the stories of women in film everywhere — from the writers, to the gaffers, to the actors, to the makeup artists, to the critics, to the filmmakers and everyone in between — and take steps to create opportunities, and ensure that there is not one opportunity that goes unclaimed.
also read
Entertainment
Amidst divorce rumours of Harry & Meghan, American television presenter, Gayle King says that the couple are in a happy place and also reveals their next move. She also spoke about Harry's walk of shame at King Charles Coronation.
Entertainment
Prince Harry claimed that suspicious calls were made to mobile phones belonging to Prince William's wife Kate Middleton, his former girlfriend Chelsy Davy and Princess Diana's mother Frances Shand Kydd as his legal battle with Mirror Group Newspapers (MGN) continued in court.
Entertainment
King Charles' Coronation was the 'beginning of the end' of Harry and Meghan's relationship with the royal and how smooth operators Prince Willaim and Kate has played an important role in creating a rift between Harry, Meghan and Charles.