Throwback Thursday: From 'Senna' to 'Raging Bull' sports films to watch
One of the things that seems to have dominated the collective consciousness across the globe this season is sports.
Be it Leicester City's unbelievable rise in the Premier League, Iceland and Wales' performance in Euro 2016, Cleveland Cavaliers' epic comeback, Garbine Muguruza's French Open title, Marcus Willis playing against Roger Federer or Novak Djokovic getting knocked out in the third round of the Wimbledon, this year has already been quite dramatic.
And to top it all off, the silver screen has also put up a spectacular show of its own when it comes to sports. Sultan, Dangal, Saala Khadoos, MS Dhoni: The Untold Story, Sachin, Pelé: Birth of a Legend, Bleed for This, are just a few to have been released or soon-to-be-released sports movies or documentaries this year.
So as the year progresses, and seasons (sports) change, here are some sports movies or documentaries you should watch:
The Damned United (2009)
After winning multiple awards for The King's Speech, Les Misérables and The Danish Girl, Tom Hooper became one of the most sought after British directors in the industry. But one of his often forgotten or ignored works is also one of the best sports films out there.
The Damned United, based on David Peace's bestselling novel The Damned Utd, recounts Brian Clough's turbulent tenure as football manager of Leeds United in 1974.
Beautifully crafted, it is one of those rare movies which have the capacity to transport the viewer to a different time and place. And English league football in the 1970s is one of the better places to be, if you ask us.
Run Fatboy Run (2007)
Ever thought of running a marathon in your life? We have, and it's not easy (or pretty).
Run Fatboy Run tells the story of an out-of-shape and clueless Dennis Doyle, who decides to run the Nike River Marathon in London. And if the task in itself is not daunting enough for him, he's doing it to win back his ex-fiancée and son. And did we mention the fact that he walked away on his wedding day leaving his pregnant fiancée because he got jittery? Yeah.
Simon Pegg is brilliant in his portrayal of Dennis and the movie makes for an unconventional sports watch which is both hilarious and heartwarming.
And if you still need convincing, the movie is directed by David Schwimmer. Yes, Ross from Friends.
Senna (2010)
One of the best documentaries to ever grace the silver screen, Senna is the purest form of storytelling.
The film documents the life of Brazilian Formula One racing driver Ayrton Senna, who won the F1 world championship three times before his death at age 34, and his rivalry with fellow driver Alain Prost.
Directed by Asif Kapadia, who went on to win an Academy Award for Best Documentary Feature for Amy Winehouse documentary Amy in 2015, the documentary is composed entirely of archival footage and old interviews.
The documentary breaks away from many of the conventional practices of the format, and by the end of it, one feels like Senna himself has narrated the story of his life and fate to his audience.
Although made almost 15 years after his death, the movie is one of the most personal documentations of a life ever put on the big screen.
The Wrestler (2008)
If there's one movie which would change how you saw the world of professional wrestling, it's The Wrestler.
Directed by industry heavyweight (pun intended) Darren Aronofsky (Requiem for a Dream, Black Swan, Pi, The Fountain), the movie follows Randy 'The Ram' Robinson, a faded professional wrestler who is forced into retirement, but finds his quest for a new life outside the ring a dispiriting struggle.
Powerfully portrayed, the movie explores the dark side of professional wrestling, loneliness, modern disconnect and ultimately a desire not not fade into obscurity.
Mickey Rourke's gut wrenching come-back performance brings you face to face with your darkest demons and makes you think about things you ever-so-easily take for granted.
Raging Bull (1980)
One of Martin Scorsese's best (and that's saying something) is a boxing movie.
Raging Bull explores the professional and personal life of Jake La Motta, an emotionally self-destructive boxer, and his journey, as the violence and temper that leads him to the top in the ring, destroys his life outside it.
The film stars Robert De Niro (as Jake), Joe Pesci, Cathy Moriarty, Frank Vincent and features one of the most memorable opening credits sequence ever made.
A pure cinematic experience.
7 Days In Hell (2015)
As far as sports mockummentaries or parodies go, this HBO TV movie takes the prize.
Starring none other than the pop culture phenomenons, Andy Samberg (Saturday Night Live and The Lonely Island) and Kit Harington (Game of Thrones), the mockumentary is set up as an expose on the rivalry between two of the greatest tennis players of all-time who battled it out in a 2001 match that lasted seven days.
Simple in premise but outrageous in execution, the mockumentary also features Fred Armisen, Will Forte, John McEnroe, David Copperfield, Chris Evert and Serena Williams.
Full of tennis references and inside jokes (basic premise inspired from Nicolas Mahut and John Isner's epic 2010 Wimbledon match), the mockumentary is as absurd as it's hilarious.
Warrior (2011)
Ever wanted to watch an emotional mixed martial arts (MMA) movie which was not in-your-face cliched?
No? Well, watch Warrior anyway.
The 2011 movie starring Tom Hardy, Joel Edgerton, Nick Nolte and Jennifer Morrison manages to tell an age old story of family ties and coming home, with MMA thrown in the mix, without making you cringe.
The film also features a beautiful soundtrack by The National.
Cool Runnings (1993)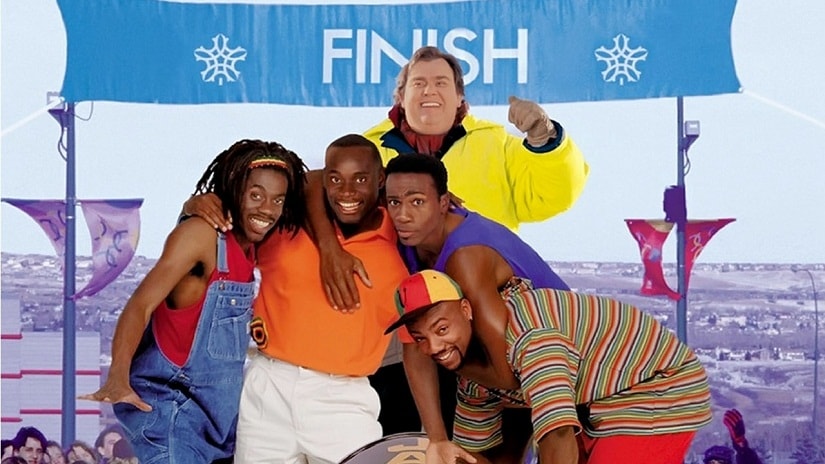 Probably the greatest Olympics story ever told, Cool Runnings is the highly-embellished true story of three Jamaican sprinters. That they can't make it to the Olympics as sprinters, and instead make it to the Winter Olympics as bobsledders — bringing along a friend to serve as brake-man — is truly one of the greatest moments in sports cinema history.
What follows is a typically Disney treatment that'll make you laugh, cry and smile your way to Wikipedia to dig out the true story. Spoiler alert: It's nowhere near as entertaining.
Updated Date: Jul 07, 2016 17:06 PM