Throwback Thursday: Five Autobiographies that offer a behind-the-scenes glimpse of Bollywood
What was 'conjecture' yesterday is the truth today. This rings true in the case of filmmaker Karan Johar and actor Rishi Kapoor as the two renowned Hindi film personalities released their autobiographies this past week.
They validated a number of rumours that had been doing the rounds at the time when those events took place. Johar was particularly candid when he discussed the strains that his equations with multiple top actors have gone through over the years, like Kajol, Kareena Kapoor Khan and Shah Rukh Khan. He has spoken at length and even dedicated large chunks of his autobiography, An Unsuitable Boy, to these memoirs.
Rishi Kapoor has not pulled back his punches or minced his words either in his book Khullam Khulla. He has recalled a detailed encounter with the underworld ruler Dawood Ibrahim and also addressed how he, along with other contemporaries, were often bitter of Amitabh Bachchan bagging all the good roles back in the 1970s and '80s.
These candid confessions make us yearn for many more of such works of literature. It is safe to say that the Hindi film industry has seen only a few autobiographies since its inception. While Satyajit Ray's was the first one to hit the book stands, a few others followed suit decades later.
On this week's 'Throwback Thursday', Firstpost recalls our five picks of the unmissable autobiographies and the reason why they created buzz at the time of their release.
The Substance and The Shadow by Dilip Kumar
The thespian's autobiography, released in 2014, was long in the making, given his illustrious career and highly speculated personal life.
He discussed the hottest news point of his 94 year old life when he confessed that he was indeed planning to marry his Mughal-e-Aazam co-star Madhubala. He clarified that contrary to popular belief, Madhubala's father Ataullah Khan did not oppose the marriage but supported it since he saw the two top actors adorn films under his production house, until the end of their careers.
But this was a deal that Kumar was not willing to strike as he was unwilling to compromise with his choice of films. He revealed that he distanced himself from Madhubala and they even stopped greeting to each other on the sets of Mughal-e-Aazam. The 'feather scene' in the film, which is considered one of the most iconic ever, was shot when the two were not even on speaking terms with each other.
And Then One Day by Naseeruddin Shah
Shah released his autobiography in the same year as Kumar. While he addressed his personal life with abandon, the most interesting confession came in the form of Richard Attenborough considering the actor for the titular character in the Academy Award-winning film Gandhi.
Shah claimed that he went to London to audition for the role but discovered that Ben Kingsley had already been finalised for the sought after role and it was a promotional strategy on the makers' part to give out the impression that they were looking for an Indian actor to portray the role of Mahatma Gandhi.
Romancing With Life by Dev Anand
While the title of his 2007 autobiography was quite apt, what was more intriguing was Anand's affair with politics back in the late 1980s. He recalled that he was banned by television and radio when he refused to support Sanajy Gandhi and Youth Congress during The Emergency.
He went on to support Janata Party and later, Bhartiya Janata Party (BJP) to demonstrate his protest against Indira Gandhi. When Indira offered him to join forces instead, he refused pointedly. "Joining hands with an autocrat was absolutely out of question," he says, in the book. Interestingly, his autobiography was released by Congress leader Manmohan Singh and was attended by Indira's daughter-in-law Sonia Gandhi.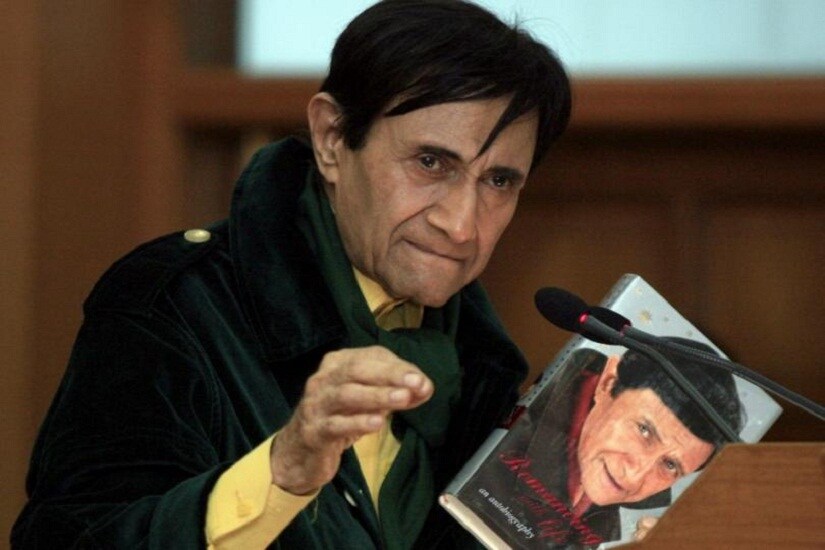 Prem Naam Hai Mera, Prem Chopra by Prem Chopra
Chopra was often dubbed as the 'serial rapist' of Hindi cinema. However, he confessed in his book that he detested doing those countless rape scenes on screen and saluted the leading ladies, Hema Malini in particular, for cooperating so sportingly.
He even admonished the rape scene ingredient of the formula films those days and claimed that they affected society adversely. "This treatment (of the rape survivor) sends out wrong signals to society. Shame was attached to the rape victim instead of focusing on society's perversity," said Chopra, in the book.
Cracking the Code by Ayushmann Khurrana
He may be the youngest actor to pen his autobiography. His is more of a memoir of his struggling days but is nonetheless, laced with candour. He reveals how he was offered a fictional television show by Ekta Kapoor but the caveat was a three-year deal with her production house Balaji Telefilms.
Since the actor had bigger plans (of entering the Hindi film industry), he walked out of the show. He stated in his book that he was rather amused to learn that Kapoor had lost her temper and "smashed her mobile by hurling it at the executive producer's face."
As is clear by these examples, the Hindi film industry has a lot of stories to tell.
Updated Date: Jan 19, 2017 17:54:04 IST