This hilarious video about Bengalis and fish curry will have you in splits
We love macch. We love to eat. And, we absolutely love music. Who are we? Bengalis, ofcourse!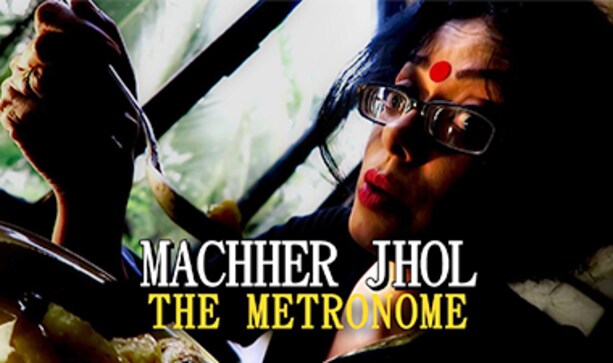 We love macch. We love to eat.  And, we absolutely love music. Who are we? Bengalis, ofcourse!
This the chord that Sawan Dutta has strung in her latest vlog post, where she ties humour with music, and melodiously teaches Bongs how to cook the one dish that connects them all - 'Maccher Jhol' (fish curry)!
Sawan Dutta, a Mumbai based musician, released her latest video titled 'Maccher Jhol' online, and it has been going relentlessly viral on social media. The video is a harmonious mockery of the popular recipe that "she got from her grandmom", in which she teaches the Bongs how to cook fish, while also talking about how it solves the typical acidity problems you'd keep hearing Bongs talk about.
She had me at the mention of ombol and amasha, almost instantly. The Bong in me could not help but stop what I was doing and listen to the entire song. 'Maccher jhol' takes me back to my home, where all of my life's problems are resolved with the fish curry my mother makes.
Is the recipe Sawan sings through, same as my mother's? Pretty much. Ironically, the artist's favourite pick from the video is the burnt potatoes bit because that's the kind of cook she considers herself to be. (I am, too, Sawan!)
In a conversation with Firstpost, Sawan Dutta mentioned the kind of hits her recent video got her. She says, "Machher Jhol's viewership exploded exponentially in a manner I'm still trying to process and understand! In fact 'Machher Jhol' is now driving my whole channel; it's raised the number of views for all the other seven songs on my blog as well."
Completely understandable. If I were a Bong living outside the comforts of my home, I would jump to the opportunity of savoring this appetizing video and revisit the days I would just wait for the dish to arrive at my dining table.
What's also exciting about it is the way it perfectly fits into the daily life of the Bengali community, and how well they can resonate with it. 'Macher Jhol' an instant bong connector.
Talking about Bengali stereotypes and our supposed inability to take jokes on ourselves too well, she says, "It was meant to be a whacky, tongue in cheek bit of fun, and I hoped wouldn't get me into trouble. I was completely taken aback by the wave of wonderful reactions that hit me, after that song."
So there, we broke the generic label and had our fair share of laughter at ourselves. Like Dutta says, "Bengali audiences are such good sports and clearly have the most amazing sense of humour in the world, which is a brand new thing that my vlog posts have educated me about."
Thanks for the nostalgia, Sawan. Brb, as I figure out who's going to cook my next plate.
Watch the 'Macher Jhol' video here:
World
The Chinese government's authorities have not yet verified the causes. Some claim that the reports are false. Others back it up with evidence from science
World
In the viral video, Nawaz Sharif can be seen getting out of a car and entering a store, while he was accompanied by a few persons
World
Holi marks the blooming of spring after a long winter season. It is celebrated on a full-moon day of spring in the Phalguna month of the Hindu calendar