They Shall Not Grow Old review: Peter Jackson's remarkable WWI docu brings horrors of trench warfare to life
Peter Jackson's WWI documentary They Shall Not Grow Old is a remarkable achievement, bringing the past so vividly to life that it feels like it could have happened yesterday.
(This is one of many films and events that Firstpost will be reviewing from the London Film Festival 2018, which runs from 10 to 21 October)
In the always-on, 24/7 news cycle age in which we live, even the relatively recent past can seem hard to recall, and the risk of a dangerous collective amnesia is ever present. Into this warp-speed flow of images that many of us inhabit today, has stepped Hobbit director Peter Jackson with They Shall Not Grow Old, his remarkable new historical documentary about the First World War, which received its world premiere at the London Film Festival on Tuesday (16th October).
Commissioned to commemorate the 100th anniversary of the end of the War next month, the film is a remarkable achievement that brings fading memories to life in a manner that is both moving and momentous. It will no doubt become a classic text of the First World War that will be seen by many millions of people, as well it should be. Some things, after all, should not be consigned to history.
This entirely archive-based film reveals what it was like to be a British solider fighting on the Western Front, taking grainy footage from the Imperial War Museum (IWM) in London and transforming it into vibrantly restored and colourful imagery of soldiers' lives both at the front and back at home in Britain, presented in both 2D and 3D versions. Combined with voice-over drawn from the letters and diaries of some of the British soldiers, along with archive audio interviews from the IWM and the BBC, the film provides a deeply personal, front-line perspective on the 'Great War', one that manages to pack enormous emotional power without once falling into mawkishness or sentimentality. Even the 3D looks great which, let's face it, is a rare accomplishment indeed.
They Shall Not Grow Old is also that rare thing: a war film that doesn't flaunt a particularly explicit position on the war itself, neither jingoistically celebrating nor blithely condemning it. Instead, the film focuses closely on the experiences of the men who fought in Belgium and France, bringing out both the obvious negative aspects, but also the more surprising positive dimensions of that experience — destruction and death, but also the camaraderie and co-existence that bound the soldiers tightly together. Some of the most moving moments, in a film full of them, are when we hear and see the respect and sense of common experience expressed by some of the British soldiers towards their German counterparts. In these moments is the true folly of war revealed, while never making fools of the those who fought.
This simple, non-judgemental, human-scale approach brings into sharp focus the harsh reality faced by those millions of men who came to fight and die in the bloody trench warfare that characterised the Western Front, many of them doomed to become casualties of battle and left behind in the mud of those foreign fields. The obvious empathy and connection the filmmaker feels for these men mean it comes as no surprise when, at the end of the film, a dedication to the director's own grandfather appears at the top of the credits. This indeed feels personal for Jackson, as it will surely also feel for many millions of other viewers who had ancestors who fought in that war. The fact that it was the first war to be so extensively filmed means that we are able to get incredibly close to the soldiers, even joining them as they use the rudimentary — but highly sociable — lavatorial facilities.
Sadly, however, while there are many cheeky cockneys and plenty of jocular Yorkshiremen, and even a smattering of bumptious Bavarians in this film, there is only fleeting mention and sight of any of the millions of men from other parts of the British Empire (as it was then) who also served in the Great War and in Western Europe, despite the fact that fully half of the total of 8 million men who served in the British Army between 1914 and 1918 were conscripted from outside of Britain.
Surely, one would imagine, the Imperial War Museum also has, down in its  vaults, archive images of these men — drawn from across Asia, Africa and the rest of the Empire — and it's a shame not to see more of them on screen here. This omission gives rise to my one significant reservation about the film, namely a sense that the patriotic unity it pays homage to — with its Union Jacks and hail-fellow heartiness — has an uneasy undertone of historical erasure underpinning it. There are — I think (I blinked so can't be sure) — a few fleeting frames with subaltern faces in them early on, and Jackson does mention the Empire soldiers in onscreen text during the credits at the end so, it's not that he overlooks them entirely, but it seems like it was tacked on, and feels like a missed opportunity. Centennials only come round every hundred years after all, and if not now, then when will such landmark narratives of the Great War start to embrace the largely unheralded contribution made by those forgotten men from the Empire?
For all that, this film is a remarkable achievement, bringing the past so vividly to life that it feels like it could have happened yesterday. And it is that use of modern technology to make such history feel so contemporary, so close to us, that makes this a profound offering, implicitly reminding us that we are not as far in time from the madness of mass-mechanised slaughter as we sometimes like to think. That the piece has been made specifically to mark the 100th anniversary of the end of the Great War, and will be shown in schools across the UK and, no doubt, internationally, makes this as much a film as it is a momentous cultural intervention, one that hopefully will ensure that the hard-fought lessons of the past are not forgotten, and the mistakes not repeated.
World
Addressing reporters at Downing Street, Sunak's spokesperson echoed a statement issued by Foreign Secretary James Cleverly in Parliament earlier this week to add that the government continues to invest in its relationship with India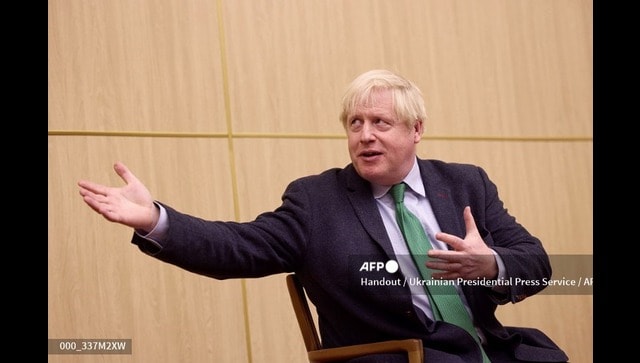 World
The BBC documentary charts the growing divide between the Russian leader and the West in the years before the invasion of Ukraine.
Entertainment
Vedikettu's anti-caste messaging is ruined by an ill-conceived finale on inter-caste equations, noise, clichés and the all-pervasive misogyny it tries to mask with a late twist.