There's more to Asha Bhosle's Madame Tussauds' wax statue than meets the eye
Delhi got the opportunity to partake in a legendary event on 3 October — witness two Asha Bhosles in one place.
A large number of people were fooled by the 'wax statue' at the venue, which was obviously Asha Tai 2.0. We are convinced that there is something the authorities have been hiding from the public.
So Special Forces took it upon itself to peruse the photos and try to unveil what has been concealed under the garb of a 'wax statue'. Here are our guesses:
First look of Judwaa 3
At first, the lady on the right might look like a wax statue to you. However, Special Forces has strong reasons to believe that this is the promotional poster of Judwaa 3 starring the talented singer in a double role. Varun Dhawan who?
Shararat 2.0 with Bhosle in leading roles
Reliable sources have informed Special Forces that Asha tai is making her Disney debut with Shararat 2.0. Apart from being an iconic singer, stories of her prodigious acting talent remain well known and therefore, according to a statement released by Disney,  she will play all the three main charatcers — Jiya, Naani and Jiya's mother.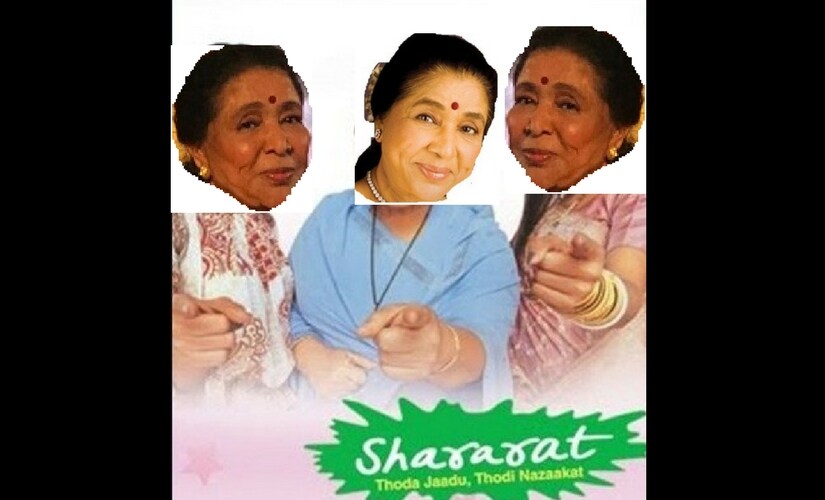 When they spotted Brett Lee in the crowd
An unnamed source has revealed that Brett Lee was in the audience, too, and upon seeing him, the ladies could not contain their excitement, and ended doubling up. Why? Because they go WAY back. (Hint: Watch Brett Lee's single with Bhosle. It's called 'Haan Main Tumhara Hoon'.)
Nach Le Ve 4 with Hema Malini and Asha Bhosle
Special Forces feels that this was a massive hint about the upcoming season of Nach Le Ve where the actor-singer duo will replace Saroj Khan. Why? Because it's not everyday that you see an energetic Hema Malini (left)  teaching an equally enthusiastic Asha tai a few Kathak steps, right?
The two stunned onlookers as they grooved together, dressed alike in dazzling white sarees. Yes, that is Hema Malini. Can't you see?

Updated Date: Oct 04, 2017 13:55 PM