The World Before Her review: Who wins the Durga Vahini vs Miss India war?
A militant Hindu nationalist camp for girls, or a beauty contest — if you had to take a wild guess, which would you say produces the more independent woman? When these two are the subjects of a documentary by a Canadian filmmaker, most people would expect the beauty contest will have the filmmaker's sympathy.
A militant Hindu nationalist camp for girls, or a beauty contest — if you had to take a wild guess, which would you say produces the more independent woman? When these two are the subjects of a documentary by a Canadian filmmaker, most people would expect the beauty contest will have the filmmaker's sympathy. After all, beauty contests — superficial as they might be — are more liberal than Hindu nationalist ideology, right?
The answer isn't quite so straightforward or simple in Nisha Pahuja's documentary The World Before Her.
Ruhi Singh is a Miss India aspirant and she's going through the drill that produces a glossy, photo-ready, modern, Indian woman. Prachi Trivedi is a regular at Durga Vahini camps where girls are given martial training and made to listen to lectures on how to be a good Hindu woman. Pahuja follows Ruhi and Prachi through their two very different training regimens to see how they're fashioned by the ideas to which they're exposed. While Pahuja strenuously tries to maintain an unbiased perspective in her documentary, it slowly becomes clear that one of the two training camps horrifies Pahuja more. Realising which is more disturbing is one of the discoveries that makes The World Before Her such an engaging watch.
There's an enormous amount of homework that has gone into this documentary, which is mostly riveting. From getting permission to film Durga Vahini's sessions to going behind the scenes of the Miss India contest and earning the confidence of the subjects and their families, it's taken a lot of patience and persistence to make The World Before Her. Pahuja's efforts have borne fabulous, frightening fruit.
Pahuja is the first person to film a Durga Vahini camp and through her camera's eye, we're allowed a glimpse inside the cloistered world of militant Hindu nationalism. Here, girls yell slogans like "Ask for Kashmir, and we'll slit your throats." Here, they're taught to fight and protest against frivolities like beauty pageants while lecturers urge them to not succumb to Western practices like women leaving homes to pursue careers.
If Durga Vahini feeds its brood a skewed worldview, the Miss India contest isn't much better. There's some chilling footage in The World Before Her, like the scene in which Dr. Jamna Pai, a "cosmetic physician", essentially forces the teenaged contestants to take Botox injections and dermal fillers. Pai's comments on the contestants' faces are supposed to be constructive, but they're cruel and designed to instil insecurities. The more insecure the girls are, the more agreeable they'd be to treatments like Botox.
At another point in the documentary, modelling coach Marc Robinson orders all the contestants to wear white shrouds that hide their bodies but leave their shorts-clad legs on view. The contestants are to walk on the ramp dressed like that because Robinson wants to see nothing but their legs in order to judge them. So out come a clutch of teenaged girls, wearing high heels and sheets with holes cut out for them to see through (imagine a Ku Klux Clan uniform cut at the hips). Erased of all individuality, reduced to pairs of legs that are being judged for their sex appeal, the contestants walk the ramp for Robinson.
Suddenly, all those rabid right-wingers who want to shut beauty contests down seem almost sensible.
The real star of The World Before Her is Prachi, a Durga Vahini member and instructor. Vehemently committed to Hindu nationalism, fiercely independent and unwaveringly candid, Prachi holds the audience's attention whenever the documentary loses focus or steam. At first, Prachi seems to be completely brainwashed. She hates Gandhi, she tells us. Durga Vahini is her life.
It's not just Prachi's intensity that makes her stand out. She steals the limelight from Ruhi because, in spite of Ruhi's Westernised affectations, the Miss India contestant turns out to be less introspective of the two. She might be wearing a bikini, but Ruhi's dreams for the future are conventional: adulation for being pretty and marriage to a suitable husband.
Prachi, on the other hand, proves to be a rebel. She fights with her parents when they talk about her marriage because she isn't interested in becoming subordinate to a man. It's an uncomfortable topic between Prachi and her parents. They are proud of her devotion to Durga Vahini but expect her to give all that up when it's time for her to become a housewife.
Much of Prachi's attachment to the camp and its ideology seems to come from the fact that Durga Vahini empowered her. It's been a legitimate way of leaving behind the closeted world that women like Prachi's mother inhabit. Prachi is well aware of the contradiction she embodies and this is what makes her so endearing. Unlike Ruhi who doesn't realise how she is being moulded (given the pout she acquires in the process of being a contestant, this is not a metaphor), Prachi knows she is part of an institution that encourages young women while seeking to control them. Durga Vahini urges its members to be strong — both physically and mentally — but only to the extent that this strength doesn't become problematic. Yet without Durga Vahini, Prachi would probably not have dreamt of the independence that she now craves.
Pahuja halfheartedly tries for a political angle at certain points in The World Before Her, but the film's strength isn't in the statement it makes about Hindu nationalism or the role that camps like Durga Vahini play when there's communal violence. The power of The World Before Her is its sensitive alertness to how these two very different platforms for Indian women both appear to be rotten planks. For all their apparent differences, Durga Vahini and Miss India have a lot in common. Whether in India or Bharat, it seems all anyone wants to do with women is mould them while pretending to empower them.
Entertainment
The ceremony gave a much-needed glimpse into a (hopefully) near future, when physical events and red carpets won't be as much of an anomaly as they are today, and simply dressing up won't be considered both inspirational and aspirational.
Politics
With all leaders who could pull others with them gone, this victory has placed Mamata Banerjee in a safe seat to rule the state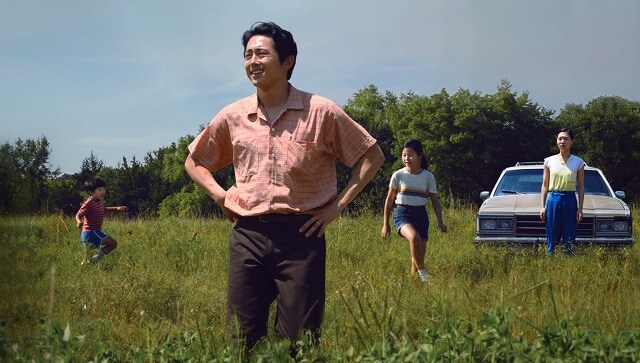 Entertainment
"Newtro" or new retro is seen in popular neighbourhoods of Seoul; music videos like 'Dynamite,' by BTS, and 'Woowa,' by Dia; and television shows like Mr Sunshine.