The Wolf Of Wall Street review: it's Goodfellas with Leo diCaprio
While The Wolf of Wall Street it is all mostly impressive, it is never immersive.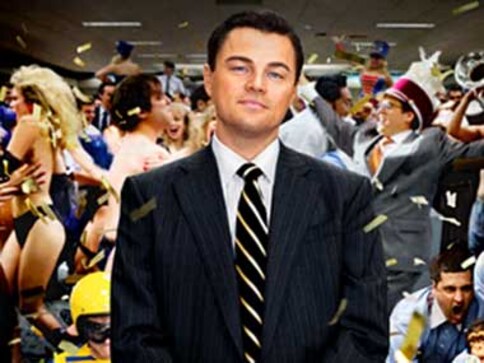 At one point in The Wolf Of Wall Street, Jordan Belfort (Leonardo DiCaprio), and his father, Max (Oscar-winning director Rob Reiner, in a now-rare foray into acting) have a conversation. By this point in the story, Jordan, based on the real-life stockbroker who duped innocent investors of $100 million, is rolling in the Benjamins and using his credit card to fund sex-and-drug-fuelled parties. When his father, an accountant, demands an explanation for his expenses, the two end up having a frank conversation about all the "things" women "do nowadays," with the senior Belfort's eyes widening in envy.
It's one of those scenes that seems ad-libbed: quick, snippety lines that often interrupt each other naturally. For a brief moment, it's not a Martin Scorsese film, but a scene from a Judd Apatow film, with dialogue by Aaron Sorkin.
Which brings me to the central problem with The Wolf: it doesn't feel like a Scorsese film. As diverse as Scorsese's filmography may be, ranging as it does from Goodfellas to Kundun and Hugo, usually his films are single-minded in their approach to the subject. Often epic in their ambition and grand in execution, Scorsese's cinema is almost a genre unto itself. The Wolf, on the other hand, feels almost schizophrenic in the way it genre-hops from black comedy to stylish stoner flick to classic biopic.
Though you can perhaps tell why he'd want to experiment in terms of style. As far as the story of The Wolf is concerned, Scorsese has already made this film before, only instead of stockbroking, it was about the mob movie and it's a classic. Jordan's character graph, formed by the trail of cocaine and prescription drug Quaaludes, is nearly the same as that of Henry Hill of Goodfellas (made 23 years ago). From wry, wise-cracking voice-over to breaking the fourth wall (albeit more often here), The Wolf is a classic case of a familiar tale cracking under the weight of its own legacy.
To the film's credit, unlike Oliver Stone's Wall Street (1987), The Wolf is not a stark morality play. Granted, Stone's film ended up having the opposite effect on bankers, who famously hailed the film's antagonist Gordon Gekko as a hero, but it also painted its characters as good or bad in very bold strokes.
The Wolf isn't as obvious. Much like in Goodfellas,  there isn't much judgement and the film refrains from showing the ill-effects of its central character's dubious deeds.
What it does show, unabashedly, is Jordan's meteoric rise. The screenplay by Terence Winter follows the real-life Belfort's memoirs closely and spends the first half showing how he makes millions, after being spat out of Wall Street after the global crash of 1987 known as Black Monday.
The key to Jordan's money spinning is a con: he dupes investors into buying worthless penny stocks, which are unregulated and come with a 50% commission (on the regulated market, selling stocks comes with a single figure commission). Quickly, he makes enough money to set up his own company, Stratton Oakmont Inc. His partners in crime are a bunch of working glass guys with no training in finance and in most cases, their work experience is limited to selling weed. Jordan gives them telephones and a script to follow when calling clients, and they're on their way to becoming millionaires.
Before long, Stratton Oakmont moves on to fancier offices and raunchier parties. There are drugs, strippers, orgies, midget-throwing competitions, invitation-delivering chimpanzees and more. Thanks to Indian censors, we don't see much nudity, and the sudden jump-cuts are very jarring.
But for all the shock value of this excessive behaviour, very little in The Wolf is surprising. The overall structure is predictable. Casting is spot-on to the point of predictability. As Belfort's right-hand man Donnie Azoff, Jonah Hill is a mean-spirited sleazebag, essentially present to provide the film's comic relief and a mixture of the roles Hill played in Superbad and Moneyball.
DiCaprio gives this film his all, but it's hard not to recall his past performances as Jay Gatsby (The Great Gatsby), Howard Hughes (The Aviator) and Frank Wheeler (Revolutionary Road) while watching him as Jordan.
This is why I found The Wolf disappointing. It lacked a distinctive identity. It seemed like a bunch of great actors acting out a bunch of great scenes based on some great source material, for about three hours.
There are some witty exchanges (such as when the FBI's Kyle Chandler visits DiCaprio), a couple of memorable set-pieces (Tarantino would've been proud of a sequence involving Quaaludes and a smashed-up Lamborghini) and impressive camera movements by cinematographer Rodrigo Prieto.
But while it is all mostly impressive, it is never immersive. Scorsese's mastery over the medium, which usually draws you into its world even in a lesser film like Shutter Island, falters here. At no point are you unaware that you're watching DiCaprio play a rich guy based on real life, in a movie. Everyone's obviously acting and the breakneck pace distracts and entertains you equally.
The Wolf can hardly be called a Wall Street movie – a prime example of that would be JC Chandor's Margin Call (2011), still one of the finest films to have been made on the finance world, which examined the 2008 economic collapse in a manner that was comprehensive yet easy to grasp. The Wolf doesn't bother trying to make the viewer understand the details – why bother, when you can just throw a midget towards the camera and freeze-frame before he hits it?
(Suprateek Chatterjee is editor of Visual Disobedience, a community for emerging indie artists, and a freelance writer. In his spare time, he likes to compose music with his electro-rock band Vega Massive and his Twitter handle is @SupraMario.)
Entertainment
Alia Bhatt is preparing for her Hollywood debut in Heart Of Stone alongside Gal Gadot and Jamie Dornan
Hollywood
The curtains are all set to go up on Tuesday evening on the 75th Cannes Film Festival, the first full-fledged in-person edition of the event in three years, with the screening of Michel Hazanivicius's movie-themed French zombie comedy Final Cut.
Hollywood
Zee5 has announced an exciting line-up consisting of Hollywood blockbusters as part of ZEEPlex's TVOD offerings.