The Winds of Winter won't release in 2018, says George RR Martin, but promises November release for Fire and Blood
Epic fantasy drama Game of Thrones may return in 2019 with its final season, but sixth instalment of writer George R R Martin's A Song of Ice and Fire novel series, on which the HBO series is based, will not release any time soon.
The author wrote on his blog that The Winds of Winter will not be released in 2018. "No, winter is not coming not in 2018, at least. You're going to have to keep waiting for THE WINDS OF WINTER,'" he wrote.
Martin, however, has a book which will hit shelves in 2018, with the previously announced Fire & Blood set for release on 20 November. The book is part one of a two-volume exploration of the Targaryen kings of Westeros and will feature 75 pages of black and white illustrations.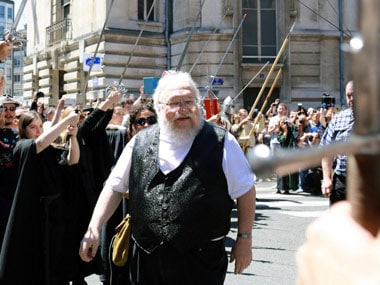 "It's a hefty book, almost a thousand manuscript pages (okay, 989, if you want to be precise). That's not quite as long as 'A GAME OF THRONES' or any of the later volumes in 'A SONG FOR ICE AND FIRE,' but there's a lot of reading there, and I hope you'll enjoy it. This first volume covers all the Targaryen kings from Aegon I (the Conquerer) to the regency of Aegon III (the Dragonbane), along with their wives, wars, siblings, children, friends, rivals, laws, travels, and sundry other matters. For those not up on your Westerosi history, that's Aegon I, Aenys, Maegor the Cruel, Jaehaerys I (the Conciliator), Viserys I, Aegon II (and Rhaenyra), and Aegon III (the regency). Oh, and there are dragons too," Martin added.
The author is still not sure if HBO will pick Fire & Blood for any of the proposed prequels to Game of Thrones. "The only answer I can give is ah, well, no one is sure yet, and anyway, I am not allowed to say. So let's move that to the side.
Updated Date: Apr 26, 2018 12:58 PM