The Walk review: Joseph Gordon-Levitt is cute but the film is more Hollywood spectacle, less story
The Walk is a Hollywoodised story for those who haven't seen the documentary Man on Wire and the filmmakers have played it safe to deliver a short climactic spectacle, rather than a truly compelling story.
The first question that comes to mind when one begins watching The Walk is quite simply: what is the point of this film? Why was it made, you ask yourselves, considering Man on Wire, a stunning 2008 documentary covered the same story just a few years ago?
The answer lies in the marketing-oriented mind of Robert Zemeckis, a filmmaker who is known for making crowd-pleasing films that are enveloped in the treacle and soaked extensively in the 'filmi' elements of Hollywood. Zemeckis' aim is simple – the mainstream crowd does not watch documentaries, so a populist crowd-pleasing version of the same story released on a gigantic scale, with a universally liked star in the lead could make a lot of money.
Zemeckis is kind of right on that front. This is the same filmmaker who famously marketed Cast Away with trailers that gave away the whole film, because he believes audiences only watch movies in the theater to get a big screen version of trailers they've already seen. If you've seen the recent box office numbers of the Transformers films and the Marvel movies and compare them to their spoilerific trailers, you'll know Zemeckis is right.
Whether The Walk is a good film is another story. This film is a 'filmi' version of the real life story of Philippe Petit, a Frenchman who walked across the twin towers on a tightrope. The 'filmi' elements are abundantly on display – beginning with Joseph Gordon-Levitt who plays the Frenchman Petit who speaks in a corny French accent. Why everyone in France is an American who speaks in French accented English is explained with a lame excuse, but that's the least of the film's problems.
The life of Petit is whitewashed in typical Hollywood style, thereby making the central character more sympathetic. The James Marsh documentary Man on Wire presented Petit's personality as highly complex, self contradictory and at times impossible to fathom. Walking across the twin towers is a crazy idea but what drives this craziness was beautifully presented in Marsh's film. This movie on the other hand paints Petit in broad strokes – as an idealistic, charming, romantic Hollywood star pulling his crazy stunt as some sort of a heart-warming message to the audience. His inner conflict, his tumultuous relationship with his wife and friends is left unexplored. Instead we get Ben Kingsley in yet another role of a 'hard on the outside soft on the inside' mentor with a hard to place accent.
What the film does right is establish how freaking scary the actual walk was. In this day and age of special effects you think you've seen everything, but nothing will prepare you for the dizzying spectacle of this film. Zemeckis has always had a stronger grasp on CGI than on story and characters, and his years of experience is on full display here. The cameras swoop over the towers, making the traffic below look like little insects. There are shots of the gap between Petit's feet as he is walking across the towers a mile above the ground. In 3D it actually makes you believe you're on the rope right next to Petit. Rest assured, those with a low tolerance for height are going to need a fresh pair of underwear.
Even in the walk sequence the film kind of overdoes it. Once Petit begins walking, there's such strong visual poetry it doesn't need extra bells and whistles to amplify the effect. Yet there's the usual schmaltzy Hollywoodised music to tug the heart strings. The walking sequence also goes on for far longer than you expect it to, and also takes a couple of questionable (read: unbelievable) turns. To make the situation more fanciful Petit does a few things his real life counterpart didn't. Zemeckis needed to understand that the real life Petit's stunt was crazy enough as it is, adding extra cheese on top only makes things more manipulative and thereby less effective.
Ultimately The Walk is for those who haven't seen Man on Wire, with all the standard feel good elements that you expect from the genre. Plus there's enough JGL cuteness to please his fans. But there's no denying that the people involved with this film played it safe to deliver a short climactic spectacle, rather than a truly compelling story.
Find latest and upcoming tech gadgets online on Tech2 Gadgets. Get technology news, gadgets reviews & ratings. Popular gadgets including laptop, tablet and mobile specifications, features, prices, comparison.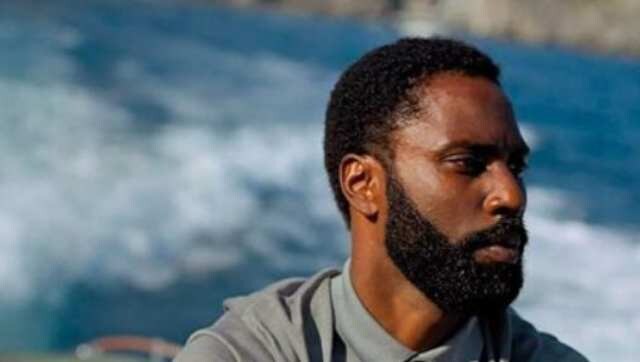 Entertainment
Tenet represents a dangerous gambit in the age of COVID-19: a blockbuster so must-see the studio hopes audiences will risk infection and death just to catch a glimpse of its brilliance. But in the end, Tenet is just a movie, as it was always going to be.
Entertainment
Nimic's central theme of identity may lead to severe existential crisis, but perhaps that's the crowning jewel of the twisted pleasures of a Yorgos Lanthimos production.
Entertainment
Movies about disabled people are typically nothing more than "triumph of spirit over body" stories with intrinsic catharsis for able-bodied audiences. Sound of Metal avoids that with an immersive screenplay and impressive sound design.