The Voice loses Indian-American, Sharon Mathai
Mathai, who sang Carrie Underwood's 'Cowboy Casanova,' thanked the show and her fans across the United States for making her realize she wants to sing for the rest of her life.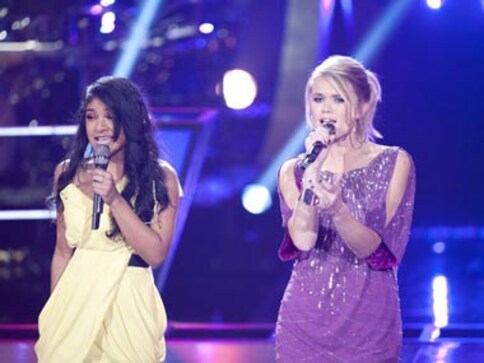 New York: Mathai of Team Adam and Cheesa of Team Cee Lo were sent packing from The Voice on Tuesday night as the popular TV singing contest narrows its competitors ahead of next month's finals.
Mathai, who sang Carrie Underwood's Cowboy Casanova, thanked the show and her fans across the United States for making her realise she wants to sing for the rest of her life.
Cheesa received an embrace from her coach, Cee Lo Green, as the show's credits began to roll. Both contestants used only one name as their stage names.
During several minutes of sharing his thoughts on the progress of Mathai and fellow at-risk singer Katrina Parker over the past few weeks, coach Adam Levine praised Mathai's energy, saying "your whole spirit is infectious." However, he said that she never caught fire with audiences the way he had expected.
As for Parker, Levine said she started out the show "like an unpolished diamond," but by Tuesday's episode she had transformed. "You blew my mind," Levine said.
Fellow coaches Blake Shelton and Christina Aguilera agreed with Levine's decision to save Parker, leaving Green as the only coach who said he would choose Mathai.
While all of the coaches were impressed by Cheesa's Monday night performance of Whitney Houston's I Have Nothing, they criticised her Tuesday night rendition of Already Gone as pitchy and often flat, despite its energy. Green said fellow singer Juliet Simms's voice was "like art imitating life," and announced his decision to keep her on the show, declaring, "I cannot argue with America."
The departure of Mathai and Cheesa follow the demise of Phillip "Pip" Arnold from Levine's team and James Massone from Green's team, who were cut in an instant elimination on Monday night's performance segment of the TV show.
Florence and the Machine opened Tuesday's show with their song No Light, No Light, which is featured on the soundtrack of the upcoming movie Snow White and the Huntsman.
The Voice is an American spinoff of a similar Dutch show, and has been a runaway success for NBC since it premiered in 2011. Four celebrity coaches choose teams of singers through a blind audition process, and singers compete for a recording contract in a contest that involves both audience voting and selection by the show's coaches.
Reuters
Entertainment
Maroon 5 was supposedly locked by the organisers owing to their all-star collaborations, like with Cardi B, SZA, Future and Kendrick Lamar
Entertainment
Maroon 5 frontman Adam Levine and Behati Prinsloo have tied the knot in a rustic ceremony in Mexico
Entertainment
Maroon 5's new song featuring Cardi B was released recently and it has star studded cameos from accomplished women from different fields.